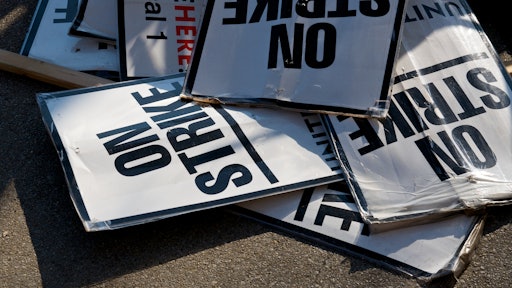 Getty Images
General Motors have been on strike for the last 30 days, and now executives are faced with a deadline to reach a proposed tentative agreement with the UAW.
According to the Detroit Free Press, the union moved a meeting with the National GM Council to Thursday, which some are reading as a pressure tactic to prompt officials to reach a deal that is deemed acceptable to the UAW.
Talks continued yesterday with GM CEO Mary Barra and President Mark Reuss. They were joined by UAW President Gary Jones and UAW's lead negotiator Terry Dittes.
It is expected that the negotiations are in its final phases as union members meet with GM officials, though at the time of this publication, an agreement has not been reached.
The Detroit Free Press reports that product allocation - which refers to company commitments to invest in U.S. plants to create or preserve jobs - is one of the main topics of negotiations. GM has reportedly committed $7 billion over the four-year contract that would create or preserve 5,400. However, it is reported that only half of those jobs would be new, and some of the investment would be through joint ventures whose jobs would pay less than GM autoworker positions.
In order to reach a tentative agreement, both sides must agree to the following:
UAW's accept GM's offer, becoming a proposed tentative agreement
Local UAW presidents and chairpeople on the National GM Council vote
If leaders vote for a ratification, it will be sent to 46,000 union members for either ratification or rejection
If a tentative agreement is reached, the National GM Council will decide when the strike will end
The UAW International Executive Board will implement the contract upon membership ratification
The union will negotiate with GM first, using the contract as a template for a deal with Ford and Fiat Chrysler Automobiles. However, if the union does not get an acceptable contract by the company by Thursday's meeting, union leadership would be recommended to switch to Ford as the target company, leaving GM on strike, the Detroit Free Press reports.
People familiar with the matter say that the union has already received the contracts it wants with Ford, creating a disaster for GM production has already been frozen in 55 sites across 10 states.