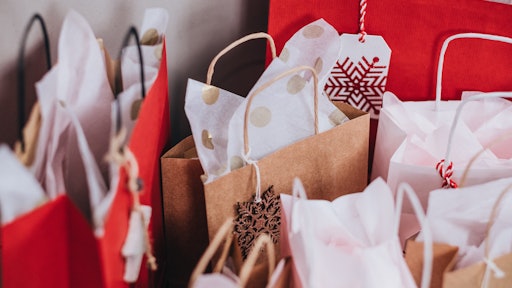 Pexels
Retailers are expecting another strong holiday season, despite the looming trade war between the United States and China.
Earlier this summer, the Trump administration announced that it was temporarily suspending some tariffs so that retailers could stock up on goods.
Various consumer electronics, shoes and other items would be spared from hefty tariffs until mid-December. The White House is also dropping 25 types of products from the tariff list altogether "based on health, safety, national security and other factors," such as car seats, shipping containers, cranes, certain fish and religious literature.
Trade groups have reportedly welcomed the delay of tariffs for the holiday seasons.
However, American factories are continuing to be hurt by the duties, and signs of consumer confidence is starting to unravel. In addition, the service sector is starting to slow down. Though, retail sales during the coveted holiday season is predicted to grow between 3.8 and 4.2%, up to $730 billion.
According to the National Retail Federation, retail sales have grown an average of 3.7% over the last five years.
"There are probably very few precedents for this uncertain macroeconomic environment," NRF Chief Economist Jack Kleinhenz says. "There are many moving parts and lots of distractions that make predictions difficult. There is significant economic unease, but current economic data and the recent momentum of the economy show that we can expect a much stronger holiday season than last year. Job growth and higher wages mean there's more money in families' pockets, so we see both the willingness and ability to spend this holiday season."
Retailers will reportedly hire between 530,000 and 590,000 holiday workers to help with increased demand, up from the 554,000 seasonal workers that were hired in 2018. Macy's already has plans to hire approximately 80,000 workers for positions at its retail locations, call centers and distribution and fulfillment centers for the holiday season.
Tariffs on suspended items will go into effect on December 15 and retailers are using a myriad of mitigation tactics to limit the impact on consumers, and the impact will ultimately vary by company and product.
Small business have already been forced to raise prices, and consumers are growing more concerned that tariffs will causes prices to rise, potentially impacting their holiday spending.
"The U.S. economy is continuing to grow and consumer spending is still the primary engine behind that growth," NRF President and CEO Matthew Shay says. "Nonetheless, there has clearly been a slowdown brought on by considerable uncertainty around issues including trade, interest rates, global risk factors and political rhetoric. Consumers are in good financial shape and retailers expect a strong holiday season. However, confidence could be eroded by continued deterioration of these and other variables."