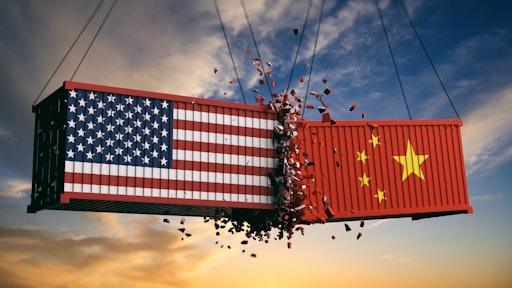 Getty Images
On August 23, China announced it will impose tariffs on $75 billion worth of U.S. goods. According to the country's State Council, tariffs of 5-10% will be imposed on U.S. products.
The tariffs will go into effect in two phases, the first of which begins in September and the second scheduled to start in December. Reports indicate the second round will include a 25% tariff on all automobiles manufactured in the U.S.
CNBC cites the State Council as saying the new round of tariffs are in response to measures taken by the U.S. government to impose tariffs on Chinese goods. President Trump announced the new round of tariffs on products from China on August 1. The council says it hopes to work together with the U.S. on resolving differences and bringing an end to the trade escalations.
On August 13, the Trump administration announced it would delay or remove some tariffs against China beginning September 1. Products on which tariffs will be delayed until include cell phones, laptops, video game consoles and some clothing and footwear. Thus far the administration has said the delay will be until December 15 so as to protect American consumers from the effects of the trade war during the holiday shopping season.
The U.S. Trade Representative office says the new 10% tariff on half of the Chinese imports into the U.S. will still go into effect on September 1.
According to The Hill, the nonpartisan Congressional Budget Office has estimated the trade wars will reduce the average U.S. household's income by $580 by 2020.
The effects of the trade war have already been felt many many sectors within the heavy-duty equipment industry. ACT Research recently announced the trade war will be a factor on market forecasting for the North American commercial vehicle market. It notes the escalating trade tensions between the U.S. and China is making goods more expensive and raising the risk of a deeper global downturn.
In the Association of Equipment Manufacturers' (AEM) latest agricultural tractor and combine sales report, Senior Vice President of Ag Services Curt Blades said, "AEM is committed to advocating for pro-growth trade policies and the end to retaliatory tariffs." The tariffs have had an impact on the agriculture industry as crops have been one of the goods onto which tariffs have been imposed, impacting farmers' ability to purchase new equipment.
Many of the most recent quarterly reports from manufacturers within the industry have also noted the effects tariffs are having on their sales and the higher cost of supplies such as steel which are necessary for building their equipment.
This article first appeared on our sister publication, OEM Off-Highway.