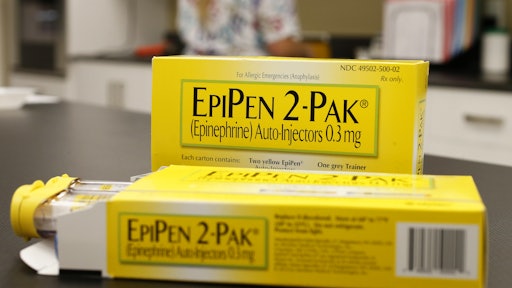 EpiPens are undergoing a shortage in parts of the U.S., but people should still be able to find the emergency treatment, NBC reports.
The FDA added EpiPens, generic epipens and Adrenaclick autoinjectors to its list of drug shortages, saying that there have been supply disruptions even though the maker, Mylan, is still making and distributing the drug.
The current shortage doesn't mean that people won't be able to get the medicine. They might have to look harder or utilize a different brand, however.
The FDA expects the shortage to be short-term.
Doctors are advising those who carry Epipens or other auto-injectors to not wait until an emergency occurs, but check their supplies now and look at expiration dates.
It is currently unknown what caused the shortage, but the FDA is working to control the situation.
Patients have allegedly been calling the FDA to declare a shortage of Epipens for a number of weeks, NBC reports.
The auto-injector devices make it easy for patients to deliver a dose of epinephrine to stop a life-threatening allergic reaction.
Mylan has rejected the accusations that there's a shortage of Epipens in the U.S., however, it has confirmed shortages of the product in Canada and Britain.
According to NBC, last year Mylan recalled EpiPens after they failed to work during two separate emergencies. The FDA went on to say that Mylan failed to investigate problems and that it also failed to investigate numerous complains about EpiPen failures.
It is unclear if the shortage is related to the recall. However, the FDA went on to say that drug shortages are often caused by poor manufacturing, not FDA compliance actions or warning letters.
To read the full original article, please click here.