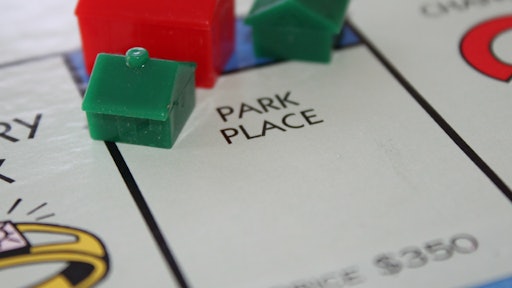 Low interest rates, healthy consumer spending and strong e-commerce are forming perfect conditions for industrial and logistics real estate growth in 2017, according to JLL. Potential investment in infrastructure and continued company expansion are also expected to fuel demand for warehouses and distribution centers despite global economic uncertainty.
"We are leaving 2016 on a record high, with industrial real estate demand reaching new heights, with leasing in excess of 250 million square feet," said Craig Meyer, president of JLL's industrial group. "Many companies continue to expand, while others adapt and perfect their supply chains to be closer to urban cores and their customers, driving record low vacancy rates even further and increasing leasing rates in response.
"With new construction still trailing demand, not only will we see ground-up development across major markets, but we will see creative and adaptive reuse of assets, a rise of infill development, and the introduction of multistory construction in or near urban locations," he added.
Five Factors Driving Demand in 2017
Even with positive insights for 2017, JLL's Chief Industrial Economist Walter Kemmsies said, "The only safe prediction for 2017 is that many things are going to change. There are numerous factors that could impact the freight movement industry next year and beyond, ranging from changes in trade policies and regulations to specific issues that affect how goods are transported. However, the need for infrastructure investment and the continued proliferation of e-commerce will keep industrial real estate booming."
JLL identifies five factors that will impact the sector in 2017:
The infrastructure revival. The urbanization of U.S. cities cannot continue with functionally obsolete roads, bridges and other infrastructure. As upgrades are planned, raw materials and warehouses to store them will be needed. Investing in the Rust Belt's infrastructure would mean reviving dozens of Mississippi waterway terminals that served a dated American manufacturing-based economy. Already zoned for industrial use, these ports are being repurposed to transport materials needed to build infrastructure for new industries driving the U.S. economy.
The continued rapid evolution of e-commerce and urban logistics. Online shopping and consumer demand for rapid delivery is changing what, where and how many distribution centers are needed to feed the consumer e-commerce appetite. In the second half of 2016, growth in e-commerce, coupled with industrial occupiers expanding their presence in new U.S. markets, helped the national industrial market's vacancy rate reach a 16-year low, pushing below 6 percent. This number is expected to continue declining in 2017.
Ports benefiting from both infrastructure updates and e-commerce. The revival of America's ports system is driven by the consumer economy, and the need for surrounding warehouse and mixed-use infrastructure. The coastal ports of Los Angeles and New York/New Jersey have been the darlings of the industrial sector. However, with the revival of infrastructure and the repurposing of obsolete terminals, 2017 could be the year the Mississippi waterway reclaims its former glory in the global supply chain. Demand for industrial real estate in the region is expected to follow.
Higher-than-ever institutional investor interest. Institutional capital still views industrial real estate as a lucrative investment opportunity. In fact, year-end industrial investment sale volumes could reach upward of $45 billion, the second largest annual tally since 2008. This investment activity is indicative of the asset class's ability to weather global economic, political and financial uncertainty.
The rise of creative industrial real estate development. As demand for industrial real estate continues, companies could employ new and creative real estate strategies. Unprecedented industrial real estate demand and the push to improve last-mile delivery services may influence development throughout the country, persuading some companies to seek space in secondary or tertiary markets, such as Charlotte, Tampa Bay and Kansas City. Smaller urban core warehouses and fulfillment centers, reconverted assets and multistory warehouses could become last-mile solutions for many companies in 2017.