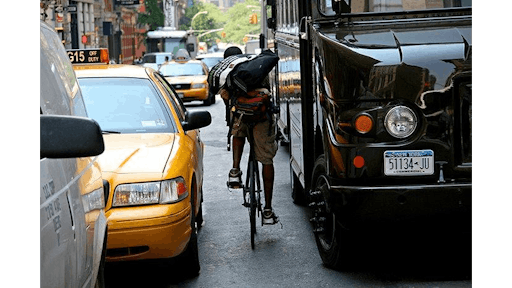 On the steps of New York's City Hall, a group of bike messengers launched the New York Messengers Alliance, a first-of-its-kind organization for couriers who work for on-demand apps like Instacart, Postmates and Uber.
While not a formal union, the alliance aims to build power and solidarity among the labor force that supports the delivery-app economy, its organizers say. They want to use this power to negotiate for better working conditions and their first priority is worker safety—specifically, a demand for company-provided safety gear like helmets and workers' compensation when they're injured on the job.
Of the half dozen workers who attended an organizing meeting for the alliance earlier this month, two wore casts, and a third rolled up his sleeves to show grisly scabs from a recent crash. Sadio Bello, an Uber Rush courier who has worked as a bike messenger for 17 years, rode and made deliveries with a fractured ankle this past summer, he told BuzzFeed News, because he didn't want to lose money.
Bike messengers working for the on-demand apps are classified as independent contractors, rather than employees, just like Uber drivers. They don't receive any paid leave or medical cover.
To read the full story, please click here.