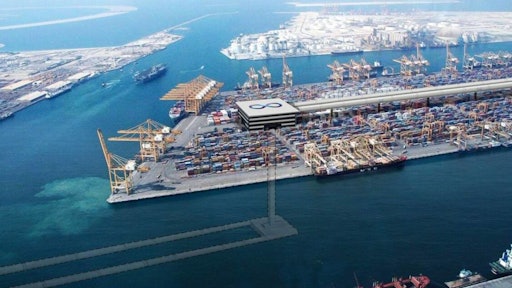 The futuristic transport system Hyperloop could be coming to a Dubai port, as freight company DP World mulls the potential of the magnetic, vacuum-sealed technology for shunting goods around.
The company is in talks with Hyperloop One—one of the companies vying to make Hyperloop a reality—to assess the viability of the technology in unloading ocean cargo at the Jebel Ali port. Containers could then be beamed via Hyperloop to an inland container depot in Dubai.
"The potential to use these kind of technologies in emerging markets outside the United Arab Emirates (UAE), such as Africa and Asia, with large land mass is significant," said Sultan Ahmed Bin Sulayem, CEO and chairman of DP World, in a statement.
Hyperloop is the brainchild of Tesla co-founder and SpaceX CEO Elon Musk, and imagines passengers or goods transported in pods, which are levitated by powerful magnets inside vacuum-sealed tubes. Accelerated by motors, these pods would whip along almost friction-free, at nearly the speed of sound.
To read the full story, please click here.