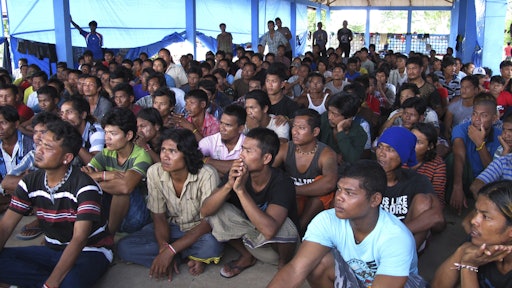 "Business has a vital role to play in helping to eradicate modern slavery; therefore, creating a positive environment where business can begin to get to grips with all the multifaceted issues, is vital," Andrew Wallis, chief executive of anti-slavery charity Unseen, told Sputnik.
​According to U.K. law, all businesses operating in the U.K. with a global turnover of US$47.3 million or more must publish an annual statement on the steps they have taken to tackle slavery issues in their supply chains and in their own organization.
The Transparency in the Supply Chain (TISC) databank allows companies to confidentially disclose information they might learn about their suppliers using enslaved workers. However, a recent report suggests that only 100 British companies have paid to sign up to the anti-slavery database set up to help fund an anti-trafficking helpline.
'Simply Misleading'
Wallis believes that the lack of takeup of the TISC databank, "is because many businesses are still developing their approach and drafting their statements, which need to be approved by the board and signed by a director.
To read the full story, please click here.