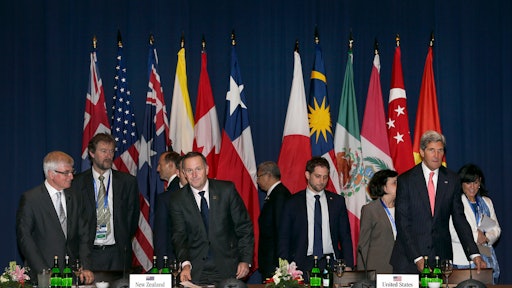 Greetings from Birmingham, Alabama, where few residents have heard of the Trans-Pacific Partnership and even fewer would consider it beneficial to their livelihoods. Yet their congressional representatives will be asked to pass a bill to bring it into law. Herein lies the problem for the agreement's architects and advocates.
The World Bank estimates that, by 2030, the total effect of the Trans-Pacific Partnership on U.S. gross domestic product will be just 0.4 percent. Not 0.4 percent per annum but a total of 0.4 percent after 15 years. It's a rounding error and the American people instinctively know it. The estimated benefit for Australia is a tiny 0.7 percent of gross domestic product.
Developing countries like Vietnam and Malaysia would benefit most, with estimated increases in gross domestic product of more than 8 per cent.
Among U.S. presidential aspirants, the Trans-Pacific Partnership is virtually friendless. Donald Trump and his angry white Trumpeteers despise it. Hillary Clinton, who as secretary of state supported it, has since distanced herself from the deal, pledging to renegotiate it. America is turning inwards. Both its left and much of its right are anti-trade, fed up with economic dislocation and the movement of manufacturing offshore. For a time, cheaper domestic energy attracted many manufacturing operations back onshore, but the pace of offshoring is now fast outstripping that of onshoring.
To read the full story, please click here.