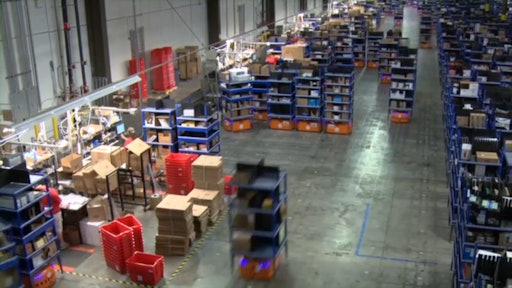 Amazon acquired Kiva for $775 million in 2012, but only started using the orange robots in its warehouses in late 2014. The deal was expected to make inventory management more efficient. It's now beginning to become clear by how much.
The click-to-ship cycle used to be around 60 to 75 minutes when employees had manually to sift through the stacks, pick the product, pack it and ship it. Now, robots handle the same job in 15 minutes, according to a Deutsche Bank note based on Amazon's metrics.
These robots are not only more efficient, but they also take up less space than their human counterparts. That means warehouse design can eventually be modified to have more shelf space and less wide aisles. At the end of the third quarter of 2015, Amazon was using 30,000 Kiva robots across 13 warehouses. Each Kiva-equipped warehouse can hold 50 percent more inventory per square foot than centers without robots. In turn, the company's operating costs have been sliced by 20 percent—or almost $22 million—per warehouse.
If Kiva robots are dispatched to the rest of the 110 Amazon warehouses, the tech giant could save almost $2.5 billion, according to Deutsche Bank. However, since it takes $15 to $20 million to install robots in each warehouse, the one-time savings is expected to be closer to $800 million. "In our vision for Amazon's future fulfillment footprint, we see Kiva robots playing a much bigger role in improving efficiency if mega-fulfillment centers are deployed in Asia," the bank's analysts wrote.
To read the full story, please click here.
Companies in this article