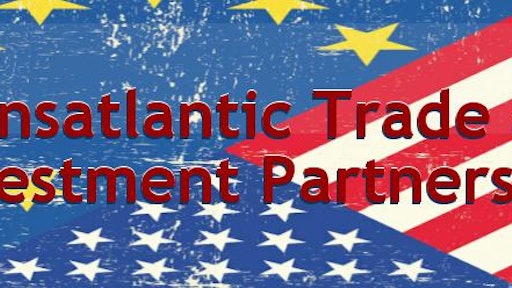 Brussels—May 3, 2016—Aspects of a sweeping trade agreement being discussed by the European Union (EU) and the U.S. are of serious concern for consumers and the environment, Greenpeace said, citing internal negotiation documents it later leaked. But the EU's trade chief quickly dismissed such concerns, saying no EU trade deal would lower the level of protection the EU offers consumers, food safety or the environment.
The world's two biggest economic blocs have been discussing the so-called Transatlantic Trade and Investment Partnership, or TTIP, since 2013. The deal would leave tariffs close to zero, and remove or streamline a host of regulations that hinder trade in goods ranging from cars to chemicals.
Greenpeace Netherlands posted 248 pages of draft documents on its website. The documents, Greenpeace says, comprise about half of the draft text as of April 2016, prior to the start of the latest round of trade negotiations between the two sides, which took place in New York last week.
Greenpeace outlined four specific areas of concern, including that long-standing environmental protections appear to be dropped and that climate protection will be harder under the trade deal.
To read the full story, please click here.