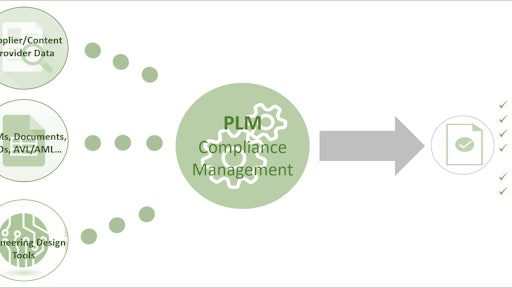 As manufacturing increasingly "goes green," importance must be placed on the growing number of environmental regulations that are focused on sustainability. This includes the Waste Electrical and Electronic Equipment (WEEE) Directive and the United States Conflict Minerals Directive, as well as the European Union (EU) directives of Restriction of Hazardous Substances (RoHS) and Registration, Evaluation, Authorization and Restriction of Chemicals (REACH). With many entities involved along the supply chain, the following article explains how manufacturers can more readily comply with a multitude of regulations that can have a major impact on their business.
Simplify the Environmental Compliance Process
Transitioning to an environmentally-compliant organization requires investments of resources, people and time. Manufacturers and their suppliers/supply chain partners need to keep track of the substances, minerals and chemicals used in their products. The impact on manufacturers is massive, and non-compliance can cost organizations millions of dollars.
Superior data and documentation management, as well as supply chain visibility, is necessary in order to meet these regulations. Environmental regulations will continue to evolve as various countries initiate their own directives and existing regulations are revised. It is extremely important that manufacturers implement systems and processes that can adapt to this every-changing environmental movement and its influence on their supply chain.
Product Lifecycle Management (PLM) technology provides a central repository for all product-related information and can offer a single platform for presenting supplier data. PLM can push and pull data from various systems such as supply chain management (SCM), enterprise resource planning (ERP) and manufacturing execution systems (MES) in real time, creating a holistic product and SCM system. Since PLM systems provide the backbone for managing data during design/development phases, design engineers can access supplier data directly from the PLM system and do not need to access these other systems. This also allows manufacturers to address compliance and supply chain issues early on.
In the case of RoHS compliance requirements, the contents of parts must be identified down to the material composition level. This directive pertains to electrical and electronic products, along with component parts, and states that all must be virtually free of six hazardous materials: lead (Pb), mercury (Hg), cadmium (Cd), hexavalent chromium (CrVI), polybrominated biphenyls (PBB), polybrominated diphenyl ethers (PBDE) and four different phthalates (DEHP, BBP, BBP, DIBP). It is essential to classify component parts early in the design cycle to capture any issues up front. Tracking RoHS data early on with PLM ensures that engineers are equipped with supplier information to design items that are most appropriate for compliance and can make better design decisions up front to eliminate costly re-designs.
Identifying Supplier Issues
A good PLM system should capture all potential quality and/or environmental non-compliance issues and relate them directly to the product record. PLM with a closed-loop quality management system facilitates capturing quality issues and associating them to the product record. This supplies manufacturers with the ability to aggregate data from multiple product lines and across all suppliers to produce reports for non-conformance and better isolate problems in the supply chain.
Collaboration with online supplier, distributor and content provider systems helps to ensure design engineers always have the most up-to-date component and compliance information when creating new parts. By integrating with these systems, engineers can have direct access to critical information such as component availability, product change notifications, compliance status and compliance documentation from within the PLM environment. This also proves to be a more cost-effective method because manufacturers can detect supplier issues and mitigate supplier risk early on.
Software Solutions Ensure Compliance
In order to meet and maintain compliance in the long term, manufacturing companies will need to rely on software solutions that can ensure that supply chain information sharing and data classification is completely accurate, automated and accessible to all product development parties.
PLM can alleviate the costs and risks of non-compliance by automating the data management process, providing supply chain awareness, and enabling manufacturers to easily track, store and report pertinent information in a central location. PLM technology can also help manufacturers keep on top of new and evolving regulatory changes by providing the data management and visibility needed to respond to various regulations.