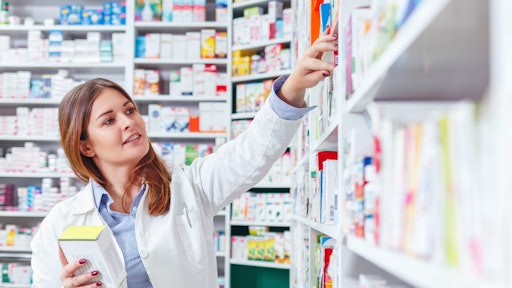 Karanov/stock.adobe.com
Among the many lessons we've learned in the last few years, one of the most important is how vulnerable our current supply chain can be. One of the industries most impacted by this disruption has been the pharmaceutical industry, which must deliver products and therapies to patients in a timely manner, regardless of what's happening to disrupt our supply chain.
Amid the stay-at-home orders and shut-downs early in the pandemic, many consumers transitioned to purchasing products online. According to PwC's Global Consumer Insights Pulse Survey, 41% percent of respondents said they shop daily or weekly via mobile or smartphone, compared with 12% five years ago. It was an acceleration of a trend that many in our industry weren't adequately prepared for. Carriers became overwhelmed, which affected distributors who rely on them to transport critical medications.
Two years later, consumer behavior has evolved, but deliveries remain high and multiple areas of supply chains are still catching up. Although we have adapted to the added pressure, there are still disruptions that threaten to prevent medication from reaching its destination. Staffing shortages have capped our ability to move smoothly through supply chain processes. Already in 2022, we've seen winter storms and inclement weather threaten the ability of supply chain distributions to get from point A to point B.
But as capacity to move shipments decreases, volume is increasing. And the delays that come as a result of supply chain challenges, particularly in the field of pharmaceutical distribution, can have far-reaching consequences. If delays occur, patients may be forced to wait longer for medications. If shipments sent in temperature-controlled packages struggle to arrive on time, their contents may be compromised.
Any good third-party logistics business knows that being prepared for disaster is at the core of everything they do. The past two years have been full of reminders that contingency plans are key and progress to improve our processes should never stop. We know the value of committing time and resources to building, testing and reassessing our contingency plans, which are a priority every year.
As an industry, we never know when disruption might occur, which makes those preparations critical. To improve our supply chain efficiency and durability from the top to bottom, our industry should work toward progress in the following areas:
Better disruption monitoring
While some events can come by surprise, many winter storms and hurricanes can be seen up to a week in advance, a crucial period in which we can prepare. By dedicating time to monitoring when and where storms are headed, manufacturers can make informed decisions with clients or logistics partners on whether to stick to the agreed-upon schedule, next day air versus ground to get ahead of the storm, and if they should send extra product to critical locations in case the storm causes a transportation issue immediately after.
Improve knowledge of customer capability
Having an in-depth understanding of how much inventory your customers carry could be the key to weathering a particular logistical storm. If you know that the supply chain is about to be delayed by a number of days, this information can help inform decisions about whether to ship out the supply immediately or wait until after the disruption has been resolved.
Better alternative preparations
There are many ways to ensure a product is available to your customers, so they do not need to worry when the supply chain is strained. With specialty drugs accounting for 73% of all medicine spending growth between 2011-2016, cost of drugs continues to be one of the largest concerns for hospitals and providers, who look for innovative ways to store the expensive drugs, without paying for them upfront.
Consignment inventory can lighten the demand during times of crisis by enabling your customers to stock expensive drugs and therapies, without the upfront cost. By stocking products still owned by pharmaceutical companies, there is less of a concern that supply chain disruptions may result in access issues for critical medications.
Understanding cold chain capabilities
Advancements in cold chain technology can help cushion the blow caused by unpredictable delays. Even if a shipment is delayed long past its original delivery date, advanced cooling capabilities that allow longer sit times can ensure that the quality of a medication is not compromised on the long journey. In being trusted with transporting life-saving medications, it's critical that we stay at the cutting edge of this technology to ensure the best chance that these drugs arrive in the appropriate condition.
A forward-looking approach to supply chain transparency
With a hyper focus on patients, the need for transparency in the supply chain is greater now than ever before. Having the right tools and systems in place provide real-time visibility that allows us to provide that transparency. We can pass along tracking updates to the next link in the supply chain, communicating delays and challenges real-time or as close to real-time as possible to minimize impact to patients who rely on us for these critical medications. Consistent tracking of shipments throughout their distribution adds the obvious benefit of more up-to-date information on disruptions and how to solve them.
The last few years have proven that we can no longer operate under the assumption that processes will move smoothly once they leave our hands. We're very familiar with the many potential disruptions that can have major consequences in our supply line. And with a patient on the other end of our logistics, we can't afford to lose track of things we distribute or assume that our old processes are good enough.
It's time to review what has worked and what hasn't. It's time to work with our logistics partners, customers and carriers to combat the global supply chain disruptions that will only continue to occur.