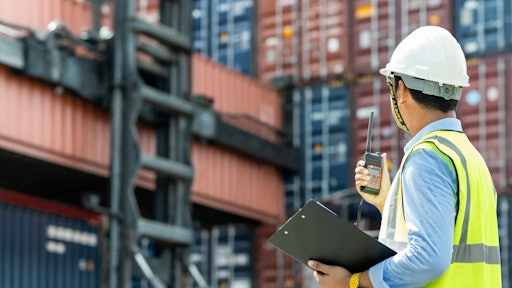 weerasak/stock.adobe.com
Major disruptions to global supply chains have been unrelenting since the earliest days of the COVID-19 crisis. Now with a raging war in Ukraine and economic sanctions against Russia, global trade is in further disarray. Companies across all industries are feeling pressure to reevaluate their supply chain vulnerabilities and strategies - and it's not just the big companies that need to take action.
Small and mid-sized companies should be equally concerned about these disruptions - or even more so as they often do not have the margins to offset significant slowdowns in their businesses and might be less agile in responding to increased customer demands and shifts in the regulatory, economic, and technology landscapes. Here, we take a step back from the overwhelming global geopolitical crises unfolding to explore five practical ways for mid-sized businesses to build supply chain resiliency with risk management practices.
Think broadly about your supply chain
First, let's define it. A supply chain is the network of individuals, companies, resources (knowledge, public utilities, materials, services, etc.), processes, and technologies used to make and sell a product or service. The broad stroke of this definition offers a comprehensive approach to help build a matrix that enhances visibility into your supply chain. As a first step, business leaders must create an exhaustive list of suppliers for each category, then prioritize your providers relative to your dependency level and the materiality of a disruptive event. Next, expand the matrix by beginning the risk management process - identifying your risks and assessing them in terms of frequency and severity of impact.
Here are two examples of how to approach risk identification and assessment:
Consider talent supply chain risks by examining the resources and methods used by your organization to attract, hire, engage, and retain talent and manage succession for executive roles. Quantify the likelihood and severity of experiencing higher than normal resignations, wage inflation, unionized workforces, recruitment costs, and the sharp rise in demand for wellness benefits and programs over the next 12 months.
Consider a materials supply chain risk by examining critical materials dependencies both upstream and downstream. Quantify the value of those supplier relationships and the impact on customers and internal teams in the event of disruption. Consider alternative sources for the kind and quality of goods or services that each provides. You should also assess your organization's rank and standing with key suppliers and be intentional about fortifying your agreements and purchasing strategies. Every supplier has its top and preferred customers list, but is your business on your suppliers' lists? Large supply distribution companies generally offer volume-based pricing or preferred purchasing programs and for some, in the time of crisis, that can result in prioritized purchasing ability and delivery. Your mid-sized business could be a big deal to a supplier on a local or regional basis so it's important to take action to improve your status before a crisis event or disruption occurs.
Improve supplier auditing
After identifying and prioritizing critical suppliers, consider adding meaningful contract provisions and auditing processes to key contracts. There are many options for supplier auditing platforms or you can develop your own questionnaires and methods. Here are a few sample questions you might ask in an audit:
Does your company have a documented supply chain strategy?
Does your supply chain strategy clearly support our engagement? How?
Is your supply chain strategy supported by clear and understandable functional, team, and individual performance objectives? Please describe.
How do you notify customers of supply chain disruptions or shortages?
Another option is to contractually require suppliers to provide their business continuity and disaster recovery (BC/DR) plans and/or testing results annually. For integrated suppliers or those upon which you have significant dependencies, consider requiring bi-annual live BC/DR tabletop exercises using creative and relevant scenarios as a service level agreement.
Increase supplier diversity
Many women, veteran, and minority-owned businesses were decimated by the pandemic when their supply chains slowed to a crawl or failed altogether and they couldn't keep pace with customer demand. However, following an infusion of small business grant and loan support by governments and record-breaking private funding, training, and infrastructure support, a strong class of diverse businesses has emerged. Diversifying your primary supplier base through targeted new relationships with these types of businesses enhances your corporate social responsibility profile, fills gaps and builds redundancies in critical areas, promotes innovation, and increases brand recognition among different demographics.
Clean up siloed tech suppliers
Technology is undoubtedly essential to supply chain management. While having multiple technology tools and platforms to support your operations is often necessary, acquiring tech in a silo can put organizations' logistics at risk. Well-established companies with highly segmented operations and fast-growing new companies alike that don't have centralized IT roadmaps, vetting, and approval processes often adopt tools and platforms without cross-checking their use cases or cross-functional impact. An IT inventory that examines the key features of third-party and homegrown legacy systems can reveal tech that is outdated or unnecessarily redundant that creates more pain points during system outages, cybersecurity attacks and breaches, and when tracking access to confidential information. IT strategic planning and discipline in tech acquisition are integral to risk mitigation as the growing trends of advanced automation, analytics, and digital supply chains continue. This is one area where business leaders must establish strong controls, streamline partners, and audit for security compliance and solvency.
Put supply chain trends in the right context
There is no shortage of articles on emerging supply chain management trends, and still many could not have predicted today's geopolitical landscape with an invasion in Europe, spiking global oil prices, and the onslaught of ransomware attacks that are disrupting supply chains daily. It's important to remain practical and focused on controlling the right risks, in the right way, at the right time for your organization because you cannot address everything.
Talk to your trusted advisors - insurance brokers, attorneys, and trade groups - about relevant trends that you need to prioritize for your business, and don't overlook your internal business leaders and teams. Oftentimes, internal matters are a driving force behind supply chain and business disruptions - from talent shortages, understaffed purchasing departments, improper financial forecasting, aging buildings and technology infrastructure, employee burnout, and more. Focus inward and strengthen collaboration between functional leaders to gain insights on the trends that are most impactful to your strategy.
Applying risk identification and assessment methods can help you understand the gaps in your organization's supply chain management strategy and lead to comprehensive, well-informed actions plans. As you implement, monitor, and adjust those action plans based on experience and emerging risks, your mitigation practices will mature and lead to an improved state of risk control.