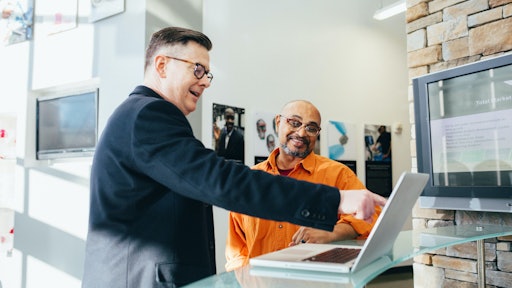 Pexels
For many companies that require consistent supply of technology products and components, and even in spite of occasional black swan events over the past decade, supply chain risk management has not always been a high priority. The Coronavirus disease (COVID-19) has changed all that -- at least for the foreseeable future -- as raw material shortages and stock-outs combined with component obsolescence continue to threaten the economic health and survival of businesses around the world.
Increasingly, COVID-19 has served as a wake-up call, prompting senior corporate managers to establish or improve the internal processes and controls necessary to ensure technology supply chain sustainability, reliability, resiliency and transparency and to establish those disciplines as organizational priorities.
Here are 5 major risk categories projected to impact supply chains post-COVID-19:
1. Multi-sourcing capability
Leveraging multiple suppliers to fulfill product demand is key to cultivating a sustainable supply chain. Having access to multiple suppliers reduces risk and provides viable options when unexpected events occur, ranging from trade policy changes, labor issues, material shortages and black swan events.
2. Specification flexibility
Flexibility in specifications enables companies to value-engineer solutions and optimize product supply; therefore reducing the risk of material shortages or products going end-of-life.
3. Inventory buffers/safety stock availability
Management of safety stock and on-hand levels as a buffer provides greater reliability and reduces the potential impact of stock-outs of products or raw materials for any of their components. This also mitigates risk of delayed delivery or an unanticipated increase in demand.
4. Custom product concentration
Custom and built-to-order products or components not only add rigidity in the supply chain, but can also involve long lead times and may not be readily available if customer demand increases. Custom products always result in higher risk.
5. Component lifecycle
Platforms with multiple components involve multiple lifecycles, and when a single component goes end-of-life, it can halt the entire production process, affecting revenue as well as market reputation.
It's recommended to select and validate components with anticipated lifecycles of at least three years. Components with shorter lifecycles often involve greater risk and may require last-time buys to secure stock to avoid material shortages, stock-outs and products being pulled from the market.
A quick self-diagnostic to identify supply chain risk exposure
The risk mitigation evaluation process can take a number of weeks to complete and involves dozens of detailed questions. It's a rigorous endeavor for customers who are serious about supply chain risk mitigation.
This 10-question self-diagnostic chart is a small sampling of the factors applied when measuring a company's potential exposure to supply chain risk, to give customers a simple, informal means to identify factors that may increase their risk levels.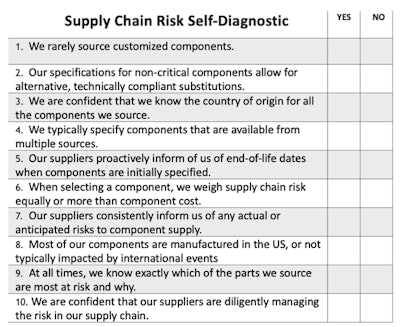 The goal is to help determine whether a more comprehensive, disciplined approach to risk mitigation may be appropriate in a post-COVID-19 world.