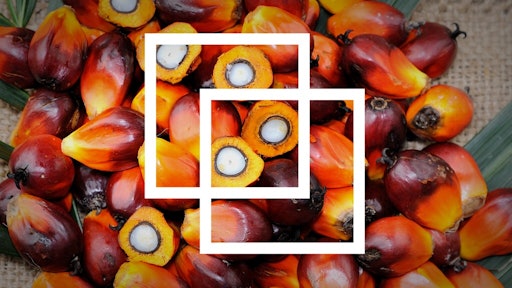 Palm oil is one of the most ubiquitous ingredients in the world—it's used in everything from cosmetics to cleaning supplies to food. It is derived from the African oil palm and is popular because of its versatility. Both the pure oil and its numerous derivatives are widely used.
At the same time, palm oil is one of the least sustainable, most controversial ingredients in the world. Deforestation is a major issue as top-producer countries, such as Indonesia and Malaysia, continue cutting down tropical forests and draining peat marshes to create land for oil palm farms. Non-sustainable growing methods combined with slash-and-burn techniques result in the loss of animals and their habitats, contribute to forest fires, and send harmful gases into the atmosphere.
Child labor is also associated with the industry, with many documented instances of young children carrying large loads or spending the day bent over picking up fruit from the floor, often for little or no pay. As consumer awareness of these myriad abuses increase, the palm oil industry is coming under heavy fire—and buyers, including behemoths such as McDonald's, Nestle and Yum Brands, said that they will either eliminate palm oil from their supply chains entirely or source only sustainable oil.
Palm oil, like many staples, is a low-margin crop, and prices fluctuate in response to palm prices, yields, refinery capacity and alternative oil production (competition). There are many small producers, but a handful of trading companies control most of the global trade. The small producers sell to the global traders, which in turn, sell to the large packaged food and cosmetic product buyers. This gives the traders unique leverage when it comes to applying pressure to the plantations to improve sustainability and labor practices. Major palm oil trading companies—such as Wilmar, which moves close to 50 percent of the product—are expressing their willingness to reform the industry by participating in sustainability, fair labor and supply chain transparency initiatives.
To keep margins from shrinking further as they implement fairer practices, traders should also look to transform the transportation logistics supporting the trade.
Freight booking for commodity traders, palm traders included, involves working with a logistics team that goes through a process of contacting freight capacity providers by various means to get quotes. The process hasn't changed in decades—most shops are indifferent to technology that would enable them to automate that process. But it's time for that to change.
Freight is the largest variable cost for many traders in many industries. Palm oil is no different—but palm oil is unique in that the industry must rapidly transform in response to consumer calls for sustainability. Therefore, instead of calling a handful of providers for quotes or entering into long-term tenders for freight capacity, palm traders should be using a trade technology platform that enables them to access the entire market for capacity. They can locate the best-value providers and, on average, see savings of 18 percent if they use such a platform.
As we think about aligning incentives across all parties in the palm oil supply chain—producers, traders, buyers, local residents and concerned global consumers—we see that being smart about logistics enables companies to conduct more mindful and sustainable business while remaining profitable.
Renee DiResta is the co-founder and director of marketing at Haven, a global trade technology platform modernizing freight procurement for commodity and food shippers.
Companies in this article