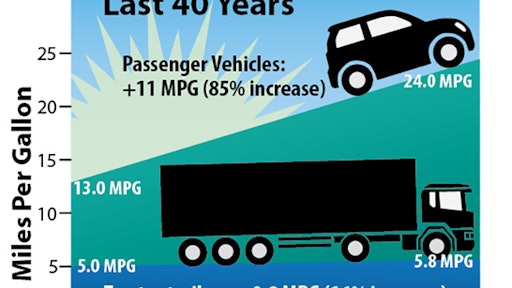 Every day, U.S. regulatory bodies churn out hundreds of standards, rules and updates, of which most of us are blissfully unaware. But for anyone involved in freight transportation, the recent announcement out of Washington DC on fuel efficiency standards for heavy trucks deserves very close attention.
Here's a quick primer on the new standards and what they mean.
What's New?
On June 19, the U.S. Environmental Protection Agency (EPA), and National Highway and Traffic Safety Administration (NHTSA) proposed new regulations governing fuel efficiency in heavy-duty truck tractors and trailers. The tractor standards cover model years 2021 through 2027. Standards for trailers start in model year 2018.
Why Do We Need New Standards?
Trucks are big polluters:
70 percent of U.S. freight is hauled by Class 8 trucks.
16 percent of U.S. corporate greenhouse gases are produced by freight movement.
58 percent of all logistics-related greenhouse gases come from heavy trucks.
With no change to current standards, climate pollution from our nation's trucks is projected to increase by nearly 120 million tons between now and 2040—the largest increase in carbon dioxide (CO2) emissions from any single source, according to the Energy Information Administration.
What Happens as a Result of New Standards?
Once the new standards are finalized in 2016, tractor and trailer manufacturers, along with makers of engines and other core components, will begin engineering products to meet or exceed the standard by the target dates. The new technology required to do that will raise the cost of a new tractor by $12,800 and a trailer by $1,400 in 2027, according to the EPA. But that cost would be recouped in less than two years through fuel savings.
Why Should Shippers Care about the Proposed Truck Fuel Efficiency Standards?
Put simply, strong standards offer the best opportunity for the business community to reduce the environmental impact of product distribution, while also delivering dramatic cost savings. In this case, what's good for the environment is very good for business.
Let's take a look at the numbers.
According to the American Transportation Research Institute, fuel is the largest single component of truck operating costs. Whether you operate your own fleet or pay a carrier, one way or another, you're footing the bill. Improving truck fuel efficiency by 40 percent over 2010 levels, which is a bit beyond the current EPA/NHTSA proposal, would reduce truck operating costs by a whopping $0.21 per mile, based on a cost analysis by the Environmental Defense Fund (EDF) and Ceres. That translates into an annual savings potential of $35 billion across the supply chain. For a typical large consumer products company that logs 50 million annual truckload miles in distribution, the fuel savings would make a welcome impact on the bottom line, adding up to an annual savings of $10.5 million—pure profit—by 2030.
What Support Do the New Regulations Have?
Many of the country's leading manufacturers and fleets, including Cummins, Eaton, FedEx Freight, Wabash National and Con-Way, recognize the importance of new standards. Pepsico, which operates the largest fleet in America, took a vocal stand in support of a bold fuel efficiency standard. In a Wall Street Journal opinion piece, Pepsico Chairman and CEO Indra K. Nooyi said, "Strong truck fuel-economy standards will keep American moving in the right direction."
Do the Proposed Regulations Go Far Enough?
The new fuel efficiency rules are a positive step in the right direction. The White House is staying true to its commitment to drive down the impact of freight transportation on climate change and that's a good thing. But the proposed standards, as they exist, delay the most critical protections until 2027 and leave cost-effective reductions on the table. These unrealized savings are ultimately paid for by freight shippers.
There is evidence that technology is already ahead of the proposed standard. The new rules will boost the miles per gallon (MPG) in heavy trucks from 7 MPG in 2017 to close to 9 by 2027. But earlier this year, Daimler Trucks North America unveiled a SuperTruck prototype that road tested at 12.2 MPG. In 2013, Cummins and Peterbilt developed a SuperTruck that tested at 10.7 MPG. Prototypes aside, leading fleets like Hirschbach Motor Lines are occasionally achieving 10 MPG today through a combination of driver techniques and current technology.
The purpose of regulations is to enable manufacturers to bring cost-effective fuel-saving technologies to market at scale. This helps to maximize fuel reductions and drive cost savings for shippers. Good, strong fuel-efficiency standards empower companies that are already embracing fuel efficiency to do even more and expand the pool of companies that are benefiting from the adoption of available fuel-saving technology.
What's the Next Step?
The regulations are currently in draft stage and are expected to be finalized in the spring of 2016. From now until September 11, regulators are accepting public comments, from industry and from individual companies. Freight shippers can support their companies' own environmental and financial objectives by encouraging the EPA and NHTSA to adopt strong final standards.
As regulators fine-tune these new rules, we have an unprecedented opportunity to transform America's trucking industry, and to usher in a new generation of clean trucks—based on technology available today.