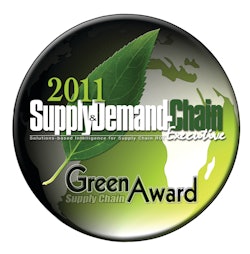 With the 2011 Green Supply Chain Awards, Supply & Demand Chain Executive magazine is recognizing leaders that are forging ahead with a range of sustainability initiatives having a direct impact on the supply chain. They are making sustainability a core part of their supply chain strategies.
The Awards also highlight a variety of approaches to sustainability and the range of strategies and solutions that companies are employing to incorporate sustainability in the supply chain. And, finally, the Green Supply Chain Awards puts the spotlight on concrete results that many of these leaders are seeing thanks to their sustainability initiatives.
Supply & Demand Chain Executive received 120 submissions for the 2011 Green Supply Chain Awards through an open nomination process. Nominations were made in two categories: companies implementing sustainability strategies within their own supply chains, and providers of supply chain solutions and services that are assisting their customers in achieving sustainability goals. The magazine's editorial staff reviewed the submissions based on the clarity and content of the goals and strategy, the extent of the steps being taken, and the impact of the results to date, as well as projected results.
The recipients of the 2011 Green Supply Chain Awards are listed below, along with summaries of their projects.
Featured Leader
DB Schenker Goes Beyond Stringent EU Regulations in Environmental Issues
In 2007, member states in the European Union agreed that the EU is to use 20 percent renewable energy in the future and that it must reduce carbon dioxide emissions by at least 20 percent in 2020.
DB Schenker, (www.dbschenker.com) the Essen, Germany, subsidiary of Deutsche Bahn is a leader in all environmental areas, but casts a particular focus on carbon dioxide (CO2) emissions. The intermodal specialist developed strategies and solutions along the entire supply chain to reduce emissions during the transportation of goods—whether rail, land, ocean or air.
Schenker has developed solutions along the entire supply chain, including low carbon freight transport, comprehensive staff training, and new, environmentally friendly technology. It also has introduced across-the-board training for its more than 91,000 employees in 130 countries. It formed an Eco Excellence Team to stress its company-wide philosophy of environmental responsibility and climate protection.
"This team organizes regular environmental training courses for all of our staff, and explains to them how they can save energy and resources in their daily work," Schenker writes in its environmental material. For example, all 20,000 truck drivers who work in Europe on the company's behalf are trained in fuel-saving driving, as are more than 4,500 train drivers. The company also conducts energy audits in its logistics centers.
All of this is embodied by the ECO2PHANT, which is designed to show exactly by how much customers can reduce their carbon emissions. The ECO2PHANT is the company's new unit of measurement for environmental protection. Each ECO2PHANT stands for five tons of carbon dioxide reduced—about as much as a real elephant weighs. The ECO2PHANT not only enables customers to choose how much carbon dioxide they reduce, but also the way in which they do it. Depending on the route, emissions can be reduced, offset, or even completely avoided.
The company designed a tool, the Eco Optimizer, to analyze its (and its customers and partners) global CO2 output for the end-to-end supply chain, allowing constant observation of emissions. It is based on data from goods shipments and logistics services for the selected period. This means that customers can always see the extent to which their environmental targets have been reached and makes it quantifiably easier for them to demonstrate it to their customers and the public.
In other areas, the company's Eco Charter is flying Boeing 777s with plans to soon use Boeing 747-8F aircraft, which feature lower consumption engines, aerodynamically optimized winglets on the wing tips, Ultralight carbon-fiber structures and greater load volumes. Schenker also is using more direct flights on the major trade routes to avoid additional fuel-guzzling takeoffs and landings.
Schenker's Eco Plus for rail transport is available for all routes within Germany, saving about 85,000 truck journeys daily, and almost 20,000 tons of CO2. For its customers, they calculate the amount of electricity transport consumes on the basis of distance and the goods involved. They then draw up a plan using 100 percent renewable energy. DB Energie GmbH purchases the necessary amount of renewable energy and feeds it into the rail power network. No CO2 is produced. In addition, 10 percent of the earnings from Eco Plus are reinvested into construction or expansion of plants that generate and store electricity from renewable sources.
Eco OceanLane is reducing CO2 emissions by up to 50 percent on container ships. On non-time critical routes carrier curb their speed because a 15 percent reduction saves up to 30 percent in CO2.
Schenker bases its warehouse construction, what it terms Eco Warehouses, on such global green standards as LEED (Leadership in Energy and Environmental Design), BREEAM (Building Research Establishment Environmental Assessment Method) and DGNB (German Sustainable Building Council). They include heat-insulation techniques, use of rapidly renewable and locally available resources, installation of solar power and rainwater harvesting techniques, optimal location and more. They also select eco-friendly suppliers and material handling equipment.
2011 Green Supply Chain Award Enablers
Basware (www.Basware.com) is committed to helping companies eliminate the vast amounts of paper received and printed by delivering automated enterprise purchase-to-pay solutions and helping companies embrace e-invoicing. For example, Lloydspharmacy, a United Kingdom chain, receives 1.2 million invoices annually. By moving to an electronic invoicing system, they will save more than 419 trees and 3.5 million pieces of A4 paper year.
Brightpoint (www.brightpoint.com) provides supply chain (forward and reverse logistics) repair, refurbishment and distribution services for wireless carriers, service providers and manufacturers. In 2010, the company handled more than 99 million devices on a global basis to help clients reach their green goals. The company closely monitors its impact on the environment by tracking and reporting facility-level consumption of electricity, natural gas, water, recycling services and trash, leveraging the data to make business decisions.
Cass Information Systems (www.cassinfo.com) uses technology to provide cost and processing efficiencies for its customers, which in turn help the customers achieve their own green supply chain goals. Solutions include accelerating the amount of electronic interchange between the customer, their freight carriers and Cass, resulting in significant reduction of paper transactions in shipping documents, billing, payment transactions and information delivery.
DSC Logistics (www.dsclogistics.com) has established a Green Team that is at the core of its strategy. The team, called the Supply Chain Council, provides suggestions for future initiatives and remains closely connected to the needs and goals of customers. For example, because distribution for a number of their customers calls for a high volume of corrugate, DSC named corrugate recycling as one of six 2010 initiatives. As a result, 100 percent of DSC Logistics Centers no recycle the product. On such center recycled about 36.6 tons of corrugate in a single year.
EcoVadis (www.ecovadis.com) believes in and practices what it calls sustainable procurement. It operates a global platform for supplier sustainability ratings, allowing purchasing organizations to manage risks and drive innovation in their supply chain. By leveraging a cloud solution with corporate social responsibility (CSR) expertise, the EcoVadis Supplier Profile platforms gives access to reliable supplier scorecards covering 150 purchasing categories, 90 countries and 21 environmental, social and ethical criteria. The scorecards contain both quantitative scores that allow customers to benchmark their suppliers, as well as customized alerts and highlights, allowing buyers to quickly define a performance improvement plan with selected suppliers.
IHS Inc. (www.IHS.com) Besides being considered by some to be the No. 1 environmental solutions provider in the market, IHS continues to demonstrate innovation and thought leadership in supply chain areas such as conflict minerals, electronics waste (e-Waste) regulations, restriction of hazardous substances (RoHS), and import/export laws, in addition to implications of these types of issues on material availability, component obsolescence, counterfeit parts, and supplier risk.

Image Microsystems (www.imagemicrosystems.com) is a reverse logistics provider for IT and consumer electronics products. It provides asset recovery, product returns management software and services, depot repair and e-waste recycling for major retailers, OEMs, large corporations and municipalities. The technology keeps these products out of landfills or overseas dumping grounds via refurbishment, parting out, or recycling returned or end-of-life electronics. Currently, more than 80 million pounds of e-waste is diverted annually from U.S landfills. The company's new facility will be capable of processing 240,000 pounds of e-waste per day, an additional 87,600,000 pounds per year.
Inmar (www.inmar.com) minimizes the supply chain's negative impact on the environment by viewing sustainability broadly—eliminating all waste, regardless of source, in products that go to landfills, in processes, and in inefficient transportation models that increase the carbon footprint and drive up costs. In 2010, the company's services kept more than 181 million pounds of material out of landfills. Its transportation analysis capabilities, including sourcing and network distribution, determined that a large Midwest grocer could save 10 million miles per year.
ModusLink Global Solutions (www.moduslink.com) introduced a Sustainable Solutions Suite in 2009 to help clients reduce the environmental impact of their supply chain processes on a global scale. One client, Hewlett-Packard, improved the sustainability and efficiency of its packaging operations by reducing the size its packaging, using more recyclable materials, decreasing carbon emissions and cutting transportation costs. HP eliminated 74,000 cubic feet from packaging; reduce greenhouse gases by 62 metric tons; 144 barrels of oil, 6,974 gallon of gasoline, and recycled 20.9 tons of waste.
OB10 (www.ob10.com) helps global companies receive electronic invoices from their suppliers around the world. Their clients can receive e-invoices form more than 100,000 suppliers in 157 countries, reducing paper consumption by approximately 15 million sheets a year. In three industries along, technology, food and beverage and pharmaceutical, OB10's environmental impact has resulted in 17 million sheets of paper, 230 barrels of oil saved, 2,000 trees saved, and 6,500 pounds of air pollution removed.
Packsize International (www.Packsize.com) enables end users of corrugated boxes to make their own packaging at the right moment in the right quantity and in the right design, significantly reducing supply chain waste. The fibrous wood pulp in corrugate can be recycled up to seven times. It takes 24 trees to produce one ton of dry paper pulp and 1.6 tons of dry pulp are necessary to produce a single ton of corrugated material (in a complex supply chain). With Packsize's model, a single major fulfillment company saves roughly five million pounds of finished boxes per year, saving about 90,000 trees. The company also will save about 55 million pounds of CO2, greatly reducing its carbon footprint.
Paylode (www.paylode.com) provides its customers with thermo-formed plastic dunnage designed to replace the corrugated cardboard and wooden dunnage traditionally used to protect loads. Companies that have bought or are testing Paylode's product include Anheuser-Busch, Coca-Cola, H.J. Heinz; Hostess Brands and MillerCoors. To help reach its goal of eliminating waste entirely through recycling, Paylode has a standing offer to its customers: It will buy back the product at end of life at resin market value, and will regrind the material and start the process all over again.
SYSPRO (www.syspro.com) recently developed Project Green Enable, a series of programs across three dimensions: energy efficiency, waste reduction and recyclable/re-use of resources and energy efficiency. Its ERP solutions can aid manufacturers in returning to a more cost-effective, lean and green make-to-order manufacturing strategy as opposed to maintaining large, costly inventories of finished product. It facilitates green through energy savings, re-use of resources, waste reduction, electronic data management, sophisticated forecasting, inventory optimization and more.
More Green Supply Chain Enablers
Also Energy
American Global Logistics
Damko
Ebuilder
Full Circle Wireless
Greenstream
Innerworkings
Insight, Inc.
Kenko
Green Supply Award Recipients
Arizona State University
BT
Columbia Manufacturing
D.W. Morgan
EMC
Fresh & Easy
Fujitsu Network Communications
National Instruments
Paccar Parts
Saddle Creek
Spinnaker