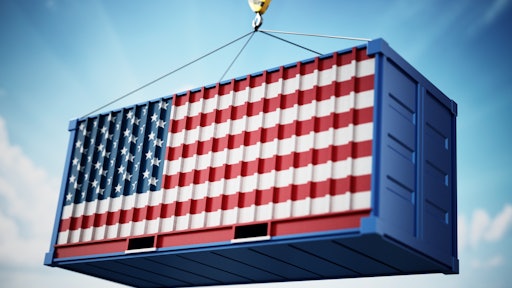 Destina
The effect of global trade policies on companies' supply chains cannot be overstated. Notwithstanding the current port delays, businesses are suffering from increasing production costs, access to efficient labor and regulations over who they can buy from and who they can sell to. The changing administrations brought increasing uncertainty surrounding trade regulations. It is almost one year into the Biden administration. Has the uncertainty begun to clear?
There are some parallels between the Biden administration's "Build Back Better" plan and the Trump administration's "America First" policy. For example, the Biden administration has proposed changes to strengthen the 70-year-old "Buy American" policy by increasing the domestic content threshold, strengthening domestic supply chains for critical goods by providing a stable demand for domestically produced critical products and establishing a more detailed reporting requirement. There is also consistency in Biden's positions on trade with China. Biden is maintaining the Trump Administration's positions on Section 301 duties on imported Chinese products, the treatment of Hong Kong as a part of China rather than an autonomous region, minimizing U.S. reliance on Chinese imports of rare earth metals and semiconductors and prohibiting products made from forced labor, particularly from the Xinjiang region.
So what is different? The Biden administration is increasing efforts to resolve disputes with traditional U.S. allies and international organizations. Biden renewed the U.S.' support for the Paris Climate Agreement and the World Trade Organization and is engaging its allies to implement reforms. Biden also struck a deal with the European Union to end the 17-year-old Boeing-Airbus dispute, suspending tariffs for the next five years. The administration seeks to shift U.S. reliance on adversaries like China and Russia to traditional U.S. allies and find a balance between promoting free trade and protecting the U.S.' domestic industry. For example, while the Section 301 tariffs remain in place, the administration is sensitive to the negative effects on U.S. business.
As a result, the U.S. Trade Representative is reinstating a number of previously expired tariff exclusions to alleviate the domestic impact of the tariffs. So, how should companies adapt to this current landscape?
Companies that will most successfully weather these global trade issues are those that take a holistic view of the process. Supply chain and global compliance must be a part of a company's strategic planning—it can no longer be a middle-management issue that rarely floats up to the C-suite. The most successful companies will be those that are easily adaptable and work to come up with creative solutions as issues arise. Here are a few things that company executives should take into consideration.
Be proactive
Global geopolitical risk and possible environmental, social governance (ESG) issues must be taken into account in supply chain planning. Companies should consider these issues upfront by identifying how expected regulations will disrupt their imports and exports and adjust the supply chain proactively.
Companies should conduct an export classification review of all products and technologies to identify whether any are controlled under U.S. export laws. Even if a company does not offer its products or technology outside the United States, knowing if an item is export controlled can protect a company from other risks. For instance, sharing technology with foreign employees, consultants or other business partners, whether that be over the internet or within the United States, may be prohibited or require an export license. Additionally, as a result of the pandemic, many people are now able to work from anywhere – an employee working remotely on controlled technology outside the United States could also potentially implicate U.S. export restrictions. Finally, companies should consider whether certain corporate transactions, such as mergers, investments, joint ventures or other deals, would attract the scrutiny of U.S. regulators based on the nationalities of parties that are directly, or even indirectly, involved. Knowing whether a product or technology is export-controlled can help confirm whether the Committee on Foreign Investment in the United States might consider it a critical technology with national security implications and intervene in the transaction.
For importers, companies should ensure that they are correctly labeling their products. It is imperative to confirm the correct country of origin for imported goods and services, as this affects the calculation of import duties, liability for penalties under customs regulations and ability to take advantage of benefits under the Buy American Act. All import classification numbers and tariff codes should be reviewed periodically, as to not accidentally affect the company's imports.
To prepare for all of this, companies should know where they can shift production, find alternative suppliers and find new customers or investors in case an entity or region in their supply chain becomes prohibited or particular investors raise national security concerns with the U.S. government. And, how will the company learn that the region or supplier is prohibited?
Institute a robust compliance program
As the Biden administration continues to roll out more policies, now is a perfect time for companies to review or institute robust compliance programs. And, this doesn't just apply to companies that export—these regulations can affect companies who also hire foreign workers or use imported technology. A healthy compliance program should include a few key aspects.
First, companies must do sufficient due diligence on all foreign suppliers, agents, customers, distributors, end-users or other third parties. Asking questions about sourcing and ownership could save companies from paying hefty penalties for exports or sanctions violations. For example, under U.S. sanctions law, if a party is 50% owned by a sanctioned entity, then that party is considered sanctioned. Although the U.S. Treasury Department recently indicated it would seek to use economic sanctions more surgically, and with multilateral partners, the administration continues to implement a number of sanctions programs targeting a wide variety of activities, individuals and entities. The administration is also publishing more guidance on sanctions risk, most recently involving ransomware payments and digital currencies. Such guidance provides companies a compliance framework to reduce the risk of violations but also puts companies on notice that there is an increased investigation and enforcement risk in those areas.
Restricted party screenings should be conducted on all customers or third-party entities before the transaction, and should be re-conducted once a quarter for entities with whom the company has an ongoing relationship. Companies should also put safeguards in place to ensure that sanctioned entities are not interacting with them via their website. To avoid this, companies should implement IP address blocks to mitigate the risk that entities in embargoed locations are engaging with their business and reject any transaction with an address in a sanctioned location.
Finally, companies should conduct regular compliance audits and educate employees on the purpose and process of the compliance program. Employees are a company's eyes and ears on the ground—they should know how to identify potential violations and where they can go to report them. Implementing such procedures can save a company's reputation and protect it from severe financial or criminal penalties.
Successful companies will be those resilient to the capricious nature of trade policies. Companies can become resilient by being flexible and adjusting to the incoming changes, educating themselves on current U.S. trade policies so they can see what is coming down the pipeline and including supply chain and logistics discussions in their strategic planning.