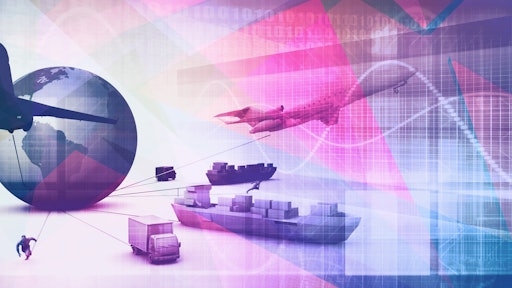 kentoh/stock.adobe.com
Transport and storage have grown faster than any other industry: In the UK, the number of businesses in that category was 88% higher in 2021 compared to 2011. For many logistics teams though, antiquated systems are yet to catch up and many rely on lengthy linear communication channels.
This means delays and repercussions on supply and demand—caused by human behavior, pandemics, and natural disasters—are difficult to predict. Yet, with real-time end-to-end communication across the supply chain, much of the internal setbacks and knock-on effects can be controlled.
From business transformations to changes in customer preferences, let's look at what factors are set to cause delays in 2023 and how automated communication can help anticipate and mitigate the fallout.
Expect delays due to new partnership negotiations
To develop more resilient, sustainable, and cost-effective operations, some logistics providers are turning to new collaborations that provide efficiency in the supply chain. This includes Italian food manufacturer, Colavita USA, and e-commerce tech provider, Boxed who share resources to automate fulfillment. Others divorce in order to better prioritize their unique propositions.
Take Maersk and Mediterranean Shipping Co (MSC), for instance. The two largest shipping lines built an alliance to maximize economies of scale and meet the rising trade demand. However, excess vessel capacity pushed freight rates down, leading some importers to opt for paying market rates instead of securing fixed-term contracts. Due to trade volumes weakening, the two shipping companies have chosen to end their vessel-sharing partnership by 2025. Instead, the two partners will focus on their individual strategies to regain market power.
Nevertheless, cargo owners using the alliance's vessels could face disruptions if ships end up idled or sailings are canceled, as a result of restructuring workforce and resources. With any collaboration or break-up comes new and potentially unexpected challenges. If you are considering a new partnership, think about how it will affect key stakeholders, related businesses and the public to make more ethical decisions and increase protection from potential bottlenecks. Putting in automated communication channels will help to send updates to key stakeholders in one go, enabling affected parties to act in a timely manner.
Logistics companies planning on joining forces must consider cultural working differences and future uncertainties. That's where contingent contracts come in. These "if, then" scenarios guarantee that each partner will take specific actions depending on how the future plays out. Electronic signatures are an efficient tool that provides a digital record of agreements while skipping timely printing and collection of physical copies.
Collaborations will be a rising trend across the supply chain, and industry professionals must ensure every process change is communicated and agreed on for a successful transition.
Digital transformation rocks the boat
Some 46% of transportation and logistics businesses are concerned by the lack of real-time data leading to decisions made on inconsistent or outdated information. Logistics companies are increasingly turning to artificial intelligence (AI) and analytics tools to gain greater insight into their operations and encourage data-driven decision-making. However, with any new software or process, stakeholders must be mindful of migration periods that can impact the pace of work.
For example, fleets with built-in GPS systems enable trucking companies to track their fleet, identifying when goods are early, on time or late, which anticipates delays further down the supply chain. This means truckers can implement automated updates to warehouses, preparing staff for arrivals. At the same time, continuous communication and data visibility helps maintain reliable and trustworthy contracts with their stakeholders.
In addition, with geolocation visibility, logistics providers can optimize routes and receive real-time driving directions based on live traffic updates and road conditions. The ability to avoid obstructions drives worker and customer satisfaction while increasing vehicle utilization rates. Added features could include preventive maintenance and speed tracking so trucking companies can carefully plan maintenance stops within existing journeys, reduce breakdown delays and save on fuel costs.
When objectives are clearly aligned with the business purpose, the long-term benefits of digital transformations outweigh the delays caused in the short term. This is why logistics providers must have well-defined goals for any new tools. For example, system overhauls that take a phased approach mean teams can carefully implement and test each component, gathering feedback from all relevant stakeholders.
Forecasting troubles with volatile markets
Cases will always arise where transit times are delayed, manufacturing plants are down, or workers go on strike. Logistics providers need enough time to respond, whether that's by buying or renting more containers to transport goods during slow container retrieval, relocating resources or identifying new routes and warehouses. This is why 12 weeks of advance visibility is a recommended minimum for successful logistics. But how is this achieved?
After two decades of operations in China, Apple will move production to India instead, demonstrating how clients can up sticks and move in a new direction. Therefore, logistics providers must prepare to relocate their resources too. China's "zero-Covid" strategy and strict lockdowns have tested many regional operations. And the tech giant left a clue about its transition when it decided to make the iPhone 14 in India in September 2022.
Logistics professionals must continuously stay up to date with stakeholders across the supply chain as they plan their months ahead. While forecasting trade volumes a week in advance could reach over 90% accuracy with the right tools and good-quality data inputs, this leaves little time to prepare for larger disruptions such as relocating workers and assets to new production sites.
Forecasting trade volumes ahead of 12 weeks requires logistics teams to be aware of any potential changes to clients' locations, production lines and trends. However, these trends can also change by the week. To avoid the tedious, resource-heavy, and expensive task of manually incorporating weekly updates into planning, logistics teams are increasingly beginning to invest in logistics forecasting software. This enhances their planning and incorporates all the necessary factors, such as demand, supply or weather-related impacts, automatically communicating updates to business users.
Centralized communication supports all three
With goals to reduce carbon footprint and save costs by maximizing efficiency, real-time data visibility is facilitating just-in-time (JIT) logistics. Yet, this is only useful for streamlined supply chains with clear communication channels between manufacturing, transport, retail and consumers.
If the actual demand is much higher than the forecast, then the supply chain won't have enough stock to deliver the items on time. However, this isn't often the case: Normally JIT operations rely on data models to accurately forecast demand and find the optimum level of safety stock to deal with shipping variance. This requires logistics professionals to frequently monitor transit times, port capacity and idling, road congestion, weather and changing consumer demand to ensure their fleet is in the right place at the right time for the most efficient delivery.
Whether your logistics business is expanding with new partnerships, updating its existing systems or streamlining its processes, digital advancements are altering the competitive dynamics. Logistics professionals must carefully review their supply chain, improve communication channels and increase automation to anticipate and efficiently respond to delays and maximize the bottom line.