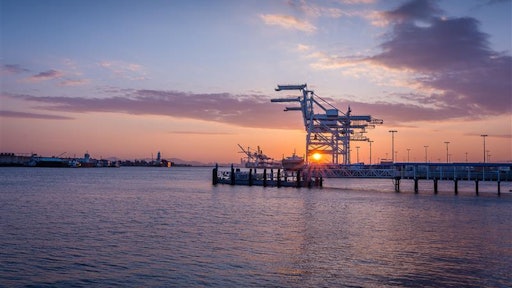 Chris Adobe Stock - Port of Oakland
The American Association of Port Authorities (AAPA) has been awarded $100 million to over 44 U.S. Port Authorities by the U.S. Department of Homeland Security's Federal Emergency Management Agency. The funding will further enhance the protection of critical port infrastructure from threats, enhance maritime domain awareness, improve port-wide maritime security risk management and maintain or reestablish maritime security mitigation protocols that support port recovery and resiliency capabilities.
"The Port Security Grant Program is utilized by ports around the country to stay vigilant and continuously improve their security posture in light of ever-evolving threats. In our everyday lives we have felt the disruptive and dangerous impacts of the increase in cyber-attacks and ransomware situations around the world. This program is vital to protecting our workers and our supply chain," says Derek Miller, American Association of Port Authorities (AAPA), Government Relations Manager. "We continue to urge Congress that the Port Security Grant Program is adequately funded and to increase the amount that goes directly to public port authorities. We thank Congress, FEMA, and the entire Department of Homeland Security for their tireless work on behalf of America's maritime gateways.
"Ports support communities all across the entire United States, so our champions in Congress reflect that diversity. But ports are especially grateful for Congresswoman Lucille Roybal-Allard (D-CA), Congressman Chuck Fleischmann (R-TN), Senator Chris Murphy (D-CT), and Senator Shelley Moore Capito (R-WV) who oversee the Port Security Grant Program funding," he continues.
The Port Security Grant Program is one of seven grant program awards announced on July 16, 2021, under DHS's preparedness grant programs to support state, local, tribal and territorial partners.
The total allocation for FY 2021 preparedness grants was $475 million (an increase over the $385 million awarded in 2020).
According to FEMA, the agency gave priority consideration for projects that enhance protection against cyber vulnerability, susceptibility of soft targets/crowded places, domestic violent extremism and emerging threats.