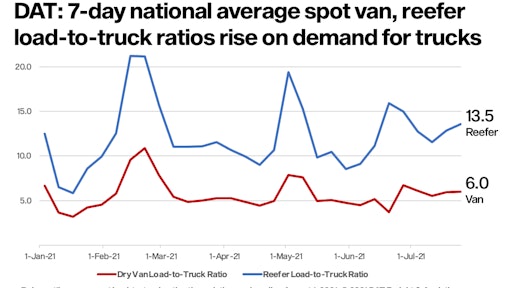 DAT
During the week of August 1, the number of available loads on the spot truckload freight market increased 0.3%, according to DAT Freight & Analytics. However, the number of available trucks dropped 1.2% compared to the previous week.
It is typical to see truckload rates decrease after the Fourth of July, however, the numbers were elevated throughout the month of July. Still, volumes declined compared to June, according to DAT.
Dry van load-post volumes increased slightly and equipment posts remained flat last week, and the national average van load-to-truck ratio was virtually unchanged at 6.0.
The average outbound van rate from Los Angeles was $3.70 per mile last week and Los Angeles to Phoenix, a key lane for imported e-commerce freight, hit $4.61 a mile.
The number of reefer loads rose 4% last week while truck posts declined 1%. The national average reefer load-to-truck ratio inched up from 12.8 to 13.5 last week and the national average spot reefer rate rose 1.7% to an average of $3.15 per mile (rates include a fuel surcharge).
The national average spot flatbed rate held at $3.00 per mile last week, 11 cents less than the July average. Flatbed load-post volumes fell 2% week over week and are now down 4% over the last month. Capacity tightened with an 8% decrease in equipment posts compared to the previous week, which pushed the flatbed load-to-truck ratio higher from 44.6 to 47.4.