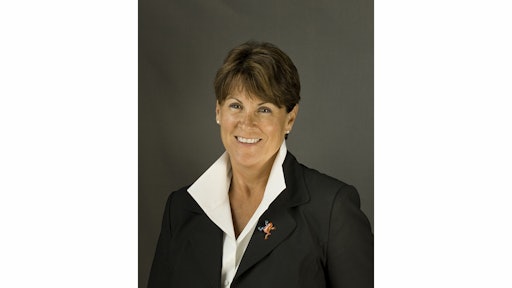 Fort Atkinson, Wis. (Sept. 11, 2014) – Kris Flitcroft, executive vice president of AC Business Media, was selected for Folio's inaugural list of Top Women in Media, recognizing her innovation, creativity and accomplishments in the male-dominated construction and building industries.
Honorees will be celebrated during an awards luncheon on Oct. 1 at the Grand Hyatt in New York City.
Flitcroft manages the heavy construction and supply chain brands, including Supply & Demand Chain Executive and Food Logistics, and other resources recently purchased by AC Business Media from Cygnus Business Media. The owners of AC Business Media recruited her to continue in her executive leadership role and assist in developing the infrastructure for the new company. Flitcroft serves on several committees for the Association of Equipment Manufacturers (AEM) and in 2011 was inducted into the MIN Sales Executive Hall of Fame.
A 19-year veteran of the media industry, Flitcroft has spearheaded innovative media programs and solutions for some of the construction industry's biggest manufacturers. Her leadership resulted in numerous accomplishments, including:
ForConstructionPros.com, one of the industry's earliest, most innovative web portals that continues to embrace new technology, such as responsive design
Construction News Tracker, a twice-monthly construction newscast unique in the industry
Sustainable Construction, an app-based publication promoting the efficiency and profitability of sustainable practices in construction
Living-steaming video broadcasts from the show floors of World of Concrete and CONEXPO
Successful expansion of National Pavement Expo as the premier trade show serving the paving and pavement maintenance segment
Engagement Report, providing clients with a unique measure of how readers consume their digital content on ForConstructionPros.com and a comparison with the client's competitors