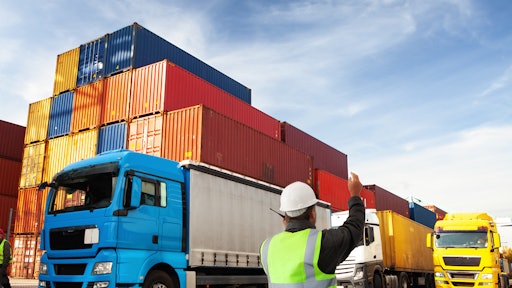 sculpies AdobeStock_244001622
The United States imports over $22 billion worth of fresh produce annually from all over the globe, and while it receives fresh produce from over 125 countries, 77% of fresh fruits and vegetables come from Mexico and 11% from Canada. Since fresh fruit and vegetables have limited shelf lives, it is imperative to transport them efficiently. For some products, logistics bottlenecks simply mean delayed sales. For perishable foods, logistics bottlenecks can render truckloads of products worthless due to food spoiling.
The challenges of cross-border logistics
Importing food from Mexico and Canada allows U.S. consumers to take advantage of more diverse growing seasons, ensuring that grocery stores can stock a wide variety of fresh foods year-round. However, shipping across borders requires a unique set of considerations and expertise.
Warehouses, cross-docking facilities and distribution centers in the United States must account for potential delays caused by inspection agencies when shipping between Canada and Mexico. In fact, recent changes from the Department of Homeland Security are now requiring 100% of all vehicles coming from Mexico to be screened with Customs and Border Protection (CBP), raising concerns about further exacerbating border congestion. While transit over the U.S.-Canadian border is significantly quicker than its southern counterpart, maneuvering perishable foods across the northern border can still be tricky business.
To take full advantage of the benefits associated with importing fresh food and other perishable goods without the difficulty of managing cross-border logistics, companies often turn to third-party logistics (3PL) providers.
Cross-border 3PLs: 3 considerations
By partnering with a 3PL, businesses are able to focus on their core competencies without throwing transportation management and cross-border logistics into the mix. The right 3PL will bring decades of experience and relationships to the partnership, helping businesses navigate the complexities of cross-border logistics and ensuring their shipments arrive on time, every time. While many 3PLs offer cross-border services, their quality ranges widely. Here are three key considerations when evaluating the cross-border services of a 3PL:
Prioritize strategic geography
Homeowners know that when it comes to real estate, location is everything. The same is true for logistics companies. When considering a 3PL for cross-border logistics services, it is important to ask about their presence in three places:
1. At the border
2. On the Canada/Mexico side of the border
3. On the U.S. side of the border
The CBP recognizes 328 ports of entry throughout the United States. Having warehousing or cross-docking options near those points is crucial to smooth and timely cross-border shipments. Despite the fact that many 3PLs may offer cross-border services, some of them do not have trained staff at or near the border. When problems arise and logistics experts are not nearby, solving these time-critical problems can be much more difficult. By prioritizing a 3PL with strategic locations along the U.S. border, companies ensure that knowledgeable personnel will be present where the action is: the border crossing.
Furthermore, it's important that 3PLs also have strategic locations further inland of the border on either side. Having cross-border logistics experts present at the border should be a minimum requirement for considering a 3PL with cross-border services, but it's also important to choose a 3PL with personnel present on both sides of the border. A 3PL with trained staff in the United States as well as Mexico and Canada can take advantage of a more robust infrastructure of locations and offer higher quality service grounded in deep relationships with carriers and customs brokers.
Utilize temperature-controlled LTL for greater efficiency
Flexibility is key to logistics, and utilizing less-than-truckload (LTL) shipping provides more flexible shipping options for distributors with faster transit times and lower costs. However, coordinating LTL shipments is complicated and even more so with perishable goods and foods that need precise, constant temperature control. LTL requires sophisticated management, and to get the most out of it, a 3PL must have a large network of consolidation points. This network should include sites for cross-docking, transloading, as well as short-term and long-term warehousing for temperature-controlled freight.
While some 3PLs offer customer consolidation, which places responsibility and liability on the customer, others offer true LTL consolidation for cross-border shipments which maximizes trailer utilization, reduces mileage, and reduces handling, all of which result in lower prices. After all, cross-border logistics isn't just about filing paperwork to get shipments across the border. It's ultimately about getting products to their final destination on time and on budget.
Not only does utilizing LTL reduce touch points, allow for faster transit times, and reduce costs, it is also a safe and compliant option adhering to strict FDA and FSMA regulations through the use of innovative technologies like cooler blankets and temperature-controlled transfer stations. An LTL option with cross-border transit not only gives customers more control of their products with transfers of equipment, but it is also frequently the most cost-effective option for market value. From refrigerated and frozen options for products like pork and ice cream to vented trailers for products like onions and apples, LTL should be high on the logistical possibilities radar for perishable goods.
Look for highly trained, bilingual personnel
Given the complications of cross-border logistics and the possibility for changes at a moment's notice, clear communication between all parties involved is critical. To remain competitive and ensure that shipments are made efficiently, 3PLs must have highly trained personnel ready to do business in various languages. Relying on translators for skilled staff results in vastly different customer service for shippers, depending on their location. When skilled staff are available to do business in either language, customers on both sides of the border receive the same level of quality, and shipments are handled with the same level of care.
Rolling into a successful future
Cross-border shipping will always have unique nuances depending on the global political environment, changing government-mandated compliance standards, and unforeseen events. However, regardless of current events that lead to shortages and backlogs, food is a constant need for consumers. The right 3PL provider can help navigate these complexities by offering a menu of transportation options, no matter the requirements.