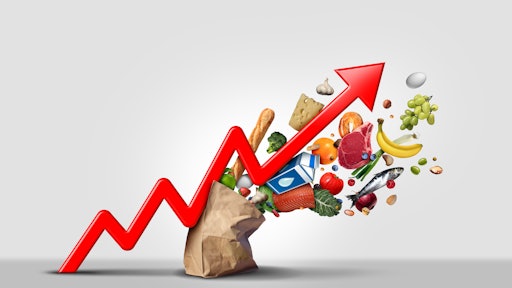 freshidea AdobeStock_476362981
As we adapted to the "New Normal" (whatever that is) last year, every facet of life, including holiday shopping, was impacted. In 2021, holiday shoppers were concerned about whether gifts would arrive in time or if they'd be able to find ingredients for their favorite holiday recipes.
This year, consumers are slightly optimistic, with fewer delays and more inventory available. However, shoppers will have to navigate this year's holiday season amid inflation. A recent SAP survey polled 1,000 U.S. adults on their expectations around the economy and holiday shopping, and 75% of respondents believe a recession is coming within the next year. With this in mind, it's challenging to predict how this season will go for shoppers and retailers alike.
Understanding how consumers are shifting their priorities will help brands and retailers better plan, forecast and source for this holiday season. Technology, including a robust business network, can be a powerful asset in adapting to these changes, especially as consumer behavior is difficult to predict and constantly changing.
What factors are causing consumers to change how they spend?
With inflation continuing to dominate headlines and talk of a potential recession, 59% of Americans are planning to decrease spending to adjust to the current climate. With this decreased spending, few are motivated to stay loyal to their favorite brands amid volatility. Only 19% of consumers are planning to stay loyal to the brands they prefer. Along with changing how much they spend and what brands they spend with, people also plan to adjust what they're spending money on. More than half plan to cut spending on experiences, travel and dining out, while 22% plan to decrease spending on essential items.
While the current climate is impacting everyday shopping habits from what brands consumers are choosing to whether they decide to eat out or stay in, it is also affecting holiday shopping. Due to inflation, 66% of consumers are planning to change their holiday shopping habits in comparison to recent years. Some of the changes shoppers plan to make include shopping earlier in the season and spending less on gifts. Shoppers are adjusting their purchasing habits, from timing to budget, as well as their method of shopping. This season, 54% expect inflation to impact how they shop for holiday gifts, with 38% shopping online more.
Sustainability attracts loyalty, but takes back seat to price for the moment
Sustainable goods and practices have gained popularity in recent years and have become a quality consumers look for in brands. However, according to the SAP survey, only 27% chose a brand's sustainability initiatives as the most important factor when making a purchasing decision. This is compared to 55% who noted it as a top priority just six months ago and 45% who selected price as their biggest purchasing factor right now. While sustainability isn't the top priority for consumers at the moment, it did rank above a brand's delivery speed and return policies in terms of importance.
The focus on sustainability also varies by generation, as you'd expect. Overall, 68% have tried to buy more sustainable and ethical products during the past two years. Breaking this down, 80% of Gen Z and 81% of Millennials do this, while only 45% of Baby Boomers make an effort.
Given that sustainability has become increasingly important to younger consumers and has even ranked above vital parts of customer satisfaction such as delivery and returns, companies will need to ensure they are practicing sustainability from procurement to marketing to ensure they're meeting the expectations of the next generation of customers. When the economy eventually levels out, sustainability will surface to the top of consumers' priority list again.
Shortages, along with inflation, remain a top concern
Amid volatility, companies not only have to manage changing consumer habits, but also continued supply chain challenges. We've all experienced the burn from supply chain challenges in recent years, and it has impacted consumer expectations. The effects of inflation, combined with fears of shortages, have changed the way consumers purchase.
Currently, consumers worry about potential supply shortages, specifically in food products. Of the consumers surveyed, 77% said they are worried about food being in short supply in the coming year – a big increase from 48% in a survey conducted by SAP in February 2021. Despite an increase in worry about food scarcity, consumers are less concerned about shortages now compared to six months ago, but this has yet to level off to pre-pandemic levels. Additionally, consumers fear future supply chain disruption as a result of a recession, with 96% of people believing a recession would impact the supply chain in some way.
This shows how pandemic-era shopping experiences have shaped consumers, and that companies will need to deliver in order to show consumers that the brands they purchase from are resilient and can manage the constantly shifting environment.
Technology can help you keep up with consumers, long after the last gift is unwrapped
With the holiday shopping season well underway, it's clear that the attitudes and buying habits of consumers will continue to adjust to economic conditions and their own personal situation ꟷ long after the last holiday gift is unwrapped.
To pivot quickly in changing conditions, brand and retail planners, procurement and supply chain professionals need visibility into their supply chain to answer some critical questions:
· Will my suppliers have the goods customers want?
· If not, how do I find alternate sources quickly, and at the right price?
· Are there suppliers that meet my sustainability goals?
· How can I ensure goods delivered on-time, without spending a fortune?
· Who can help me staff my stores and warehouses quickly?
Business networks provide the web of connections necessary to answer these questions. They offer visibility into the multiple tiers of your supply chain, making it possible to collaborate closely with your trading partners to meet the ever-changing demands of consumers.
As the holiday shopping season unfolds, business network technology is helping businesses stay agile and resilient. It will also prepare them for the next wave of buying, long after this season is over.