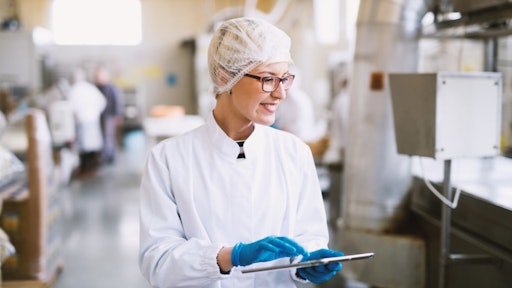 Consumer Brands Association
In the cold chain, safety is a top tier priority as the actual health of customers are in the hands of third-party logistics providers (3PLs). And, now that a pandemic reached worldwide lengths and upended lives, safety is top of mind for most consumers and companies.
There are a set of regulations and rules in place from numerous organizations to maintain security in food health, most notably the Food and Drug Administration (FDA). But, how do 3PLs stay on top of these protocols? Currently, most individuals are primarily concerned about contracting or spreading the Coronavirus disease (COVID-19), but the threat of foodborne illnesses still looms. It only takes one major event or outbreak to cause regulators to create several new ordinances that companies must maintain.
"Larger service providers continue evaluating technology to differentiate their service offerings, while keeping in mind that the industry is only one 'nuclear event' (i.e. a spinach salmonella outbreak) from mandatory enforcement of food safety regulations," says Jason McCourt, senior solutions consultant at Aptean. "This typically includes evaluating technology providers that can provide control of TRUs (reefer units) as well as temperature-monitoring devices, for example, in trailer compartments, on pallets, totes or individual products."
For instance, a series of disastrous foodborne illnesses in the early 2000s caused the FDA to create the Food Safety Modernization Act (FSMA) of 2011.
What is at stake?
Visibility is in demand throughout the entire supply chain, but when it comes to food safety compliance, it is even more important. Clear transparency throughout the cold chain and 3PL operations helps to stay on top of these frequent regulation changes as well as prevents future outbreaks.
"The biggest trend across all aspects of supply chain is the demand for increased end-to-end visibility and transparency that extends to temperature controls and traceability throughout the supply chain, both of which have clear implications for food safety and compliance with regulations," says Tom Madrecki, vice president of supply chain and logistics at Consumer Brands Association (CBA).
A lack of visibility or data can cripple compliance efforts, and the company along with it.
"Properly documented data is the cornerstone of supply chain compliance," says Cindi Hane, vice president, product management and general manager, Eyefreight TMS at Elemica. "But, cold chain is just like any other 3PL operation, and risk comes from a variety of different sources. There are 12 common categories of compliance oversight in cold chain 3PL environments."
Failure to collect the correct data from the company itself as well as compliance data from partners, share and analyze the data in a timely manner, keep up with current protocols, adequately plan for compliance contingencies, perform source due diligence, audit employees and manage compliance data causes downfalls throughout the third-party cold chain, according to Hane.
"None of these things alone sound very complex or intimidating, but taken together and managed properly, they keep even the best cold chain provider or customer on their toes," she adds.
Effective training and a strict set of best practices is crucial in food logistics. A simple issue such as a driver incorrectly shutting a door can have detrimental effects.
"From a shipper's perspective, it's lack of enforcement or attention to best practices, such as pre-cooling of trailers," continues McCourt. "From a carrier's perspective, it's lack of driver training, specifically on how a [transport refrigeration unit (TRU)] is designed to work. For example, it's surprising how many drivers are not trained to turn off a TRU during delivery, and when the unit is running with the door open, it's blowing cold air out and sucking hot air in. Also, not understanding the most common fault codes can lead to catastrophic failure of the unit.
"Further, many carriers use the data-logger technology built into the TRUs themselves and could fall into the trap of using the unit's 'return air sensor' to document the temperature of product at time of delivery," he says. "If doors are open when the unit is running, the temperature in a cooler or freezer compartment can easily spike 20-40°F during a delivery, easily exceeding thresholds defined by the shipper and thus risking claims or other issues if data is requested."
Modern compliance
Ever-changing regulations and common pitfalls are difficult to maintain, but modern technology alleviates some of these pain points and adds greater insurance. Blockchain, distributed ledger, digital disclosure tools, artificial intelligence, proof of delivery and the Internet of Things (IoT) are some of the technologies that assist in compliance.
"This is actually a really exciting time for cold chain compliance technology," says Hane. "In the now, a few high-impact technologies impacting 3PL cold chain are the Internet of Things, blockchain, specialized digital platforms, advanced analytics and the low cost of cloud computing.
"Connecting everyday vehicles, devices, spaces, pallets, boxes and equipment with IoT sensors is making compliance management and monitoring easier and more cost effective. Detailed temperature, humidity, location and other data is now available to all stakeholders, often in real time. And, pairing IoT tools with GPS and ELD data streams offer even more insight."
The temperature factor in the cold chain complicates compliance, but temperature monitoring technology's capability grew in the past few years. McCourt explains that Aptean's proof-of-delivery system is an example of how technology streamlines temperature compliance and accountability. Temperature sensors and data-loggers provide readings that the driver enters in the platform with an image.
"Some [Hazard Analysis Critical Control Point] plans or cold chain best practices require drivers to make note of the reefer settings at time of dispatch/delivery, and those recordings could be incorporated into the fleXipod workflow as well," he says.
Many electronic logging devices (ELDs) also incorporate temperature monitoring. And, temperature tracking devices alert drivers or operators of a temperature deviation as well as provide data from the start of transportation to finish. Also, single-use indicators look at how long the temperature threshold was exceeded to determine if a shipment is still safe to sell and consume or needs to be discarded.
In general, the move toward digitization streamlines compliance in the cold chain, as the sector specifically requires a large amount of documentation.
"Taking into consideration all of the compliance documentation required, the last 10 years or so has seen a trend of extensive digitization, integration and automation of back-end systems to help document measures taken at each step to remain in compliance," Hane says. "When, for example, outbreaks of Listeria affected a number of enterprises in 2019, many cold chain customers and 3PL providers were able to put their hands on digital records quickly and share that data to uncover potential oversights in real-time."
All these technologies made even more of an impact in the past few months during the COVID-19 pandemic, as it eased strains caused from the need to social distance.
Maintaining protocol during a pandemic
During COVID-19, regulation audits are strained, and companies look to technology to find new ways to maintain safety standards. In March, the FDA halted on-site audits and checks and switched employees to telehealth operations to contain the spread, as many other companies and organizations did. However, despite the emergency situation, the safety of perishables is still paramount, and regulations must be maintained.
"The United States has the safest food supply in the world, and this has not changed as a result of the COVID-19 pandemic," says Roberta Wagner, vice president of regulatory and technical affairs at CBA. "All food facilities are required to have controls in place each and every day to assure the production of safe food, regardless of whether or not there is an inspector on-site. Industry has the primary responsibility for ensuring the foods they produce are safe and they continue to take this responsibility seriously. Consumer Brands commends those involved in the production of food, personal care and household products for assuring safe these products that American use every day has remained available to consumers during this difficult time."
Online portals and growth of messaging services allow for audits to continue without physical interaction.
"Regulatory compliance has changed rather drastically since COVID-19," says Kevin Williamson, chief executive officer of RJW Logistics Group. "Between travel restrictions, facility visitor restrictions and regulatory agencies no longer making in-person visits for safety reasons, many things have been postponed. Because of this, most agencies are behind schedule on routine inspections and third-party auditors have been forced to conduct audits via Zoom or FaceTime."
The future of compliance
The pandemic's imprint on the cold chain, among other sectors, will likely remain following its end. The steep growth of online ordering in the grocery sector during the beginning of the pandemic caused an increase in the need for detailed labeling, as consumers do not have the ability to see what they are purchasing in person. When purchasing food online, labels are the only way consumers know what they are buying, meaning more details, the better.
"The COVID-19 pandemic dramatically impacted consumer shopping behaviors; specifically, there have been massive increases in at-home food preparation and consumer migration to online purchasing," says Wagner. "When COVID-19 subsides, Consumer Brands expects the trend of online purchasing to continue and envisions that the development of standards and best practices to assure product safety through delivery to consumers' front steps will occur. The pandemic also emphasized the need for instituting a uniform, systematic expansion of digital disclosure. In fact, the crisis has shown that consumers are not only ready for this; they are already embracing it. While online buyers lack access to package labels and physical product information on the package, they are using digital technology to adequately evaluate product ingredient information, nutritional facts and other labeling disclosures and this will likely continue post COVID-19.
"Consumer Brands also expects that temporary labeling flexibilities provided by regulators during COVID-19 will become norm and not the exception, specifically flexibilities that allow products targeted for one supply chain stream, i.e. restaurants and institutions for foods, to be easily be redirected to another part of the supply chain, i.e., grocery store shelves," she continues. "We also believe that the government will be expected to find a way to continue to provide 'speed of business' regulatory responses as was done during the COVID-19 pandemic. Regulators consistently provided complete and timely responses to stakeholder questions, which had not been seen prior to the pandemic. In addition, during the COVID-19 pandemic, a process for expeditiously creating just-in-time industry best practice documents and sharing them with relevant federal and state government agencies for their concurrence as opposed to clearance prior to posting them on the web was established and implemented. Consumer Brands anticipates that such processes will be the 'New Normal,' with the federal government partnering with industry to achieve this goal."
The strain on the supply chain, especially in the perishable food market, during the novel Coronavirus outbreak pressures companies to take a look at any potential risk within their supply chain and logistics processes to better prepare for emergencies in the future.
"As painful as this process has been, there will be a number of positive trends moving forward for cold chain managers and stakeholders," Hane says. "For one thing, enterprises will likely be more aggressive in both integrating and de-risking their supply chains. That will mean an insistence on more visibility, redundancy, forecasting and source diversity—especially for sources closer to the consumer when possible."
Heavier regulations may also become the norm in the future, as well as organizations reevaluating operations to better balance return on investment. Resilience remains a buzzword in the supply chain moving forward.
"Looking ahead, there will be a need for greater supply chain resilience, an increased focus on risk mitigation and a need for increased agility," McCourt says. "Businesses that have invested in systems that enable them to analyze data to understand their fleet operations and respond quickly to the volatile environment will be well positioned to deal with the changing requirements, including regulatory compliance."
Technology's introduction into the supply chain will also be a long-lasting effect from COVID-19. Working from home and the use of telecommuting software will remain, most likely, as part of the auditing process as well. A study from the Global Cold Chain Alliance showed that 53% of respondents believe the percent of employees working remotely will increase. Before the outbreak, the percentage of those in the cold chain that worked from home averaged 4.5% of workforces. That has increased to 19.8% of the workforce during the pandemic, and there is an expectation that about 10.6% of the workforce will continue to work remotely.
Beyond working remotely, new technologies streamline compliance and ensure accuracy. The pandemic's influence on companies to further embrace digital means a more efficient cold chain in the future.
"Advances in materials science will likely redefine thermal management standards," Hane says. "Renewable energy and carbon mandates will impact transportation costs. Wearables and augmented reality will likely give cold chain providers new tools in identifying off-temperature inventory or non-compliant conditions. And, of course, autonomous vehicles have the potential to take transportation regulations in a whole new direction."
Foodborne illness outbreaks, changes in regulations, emerging technologies and a global pandemic have all and will continue to influence the cold chain 3PL sector. Leniency on digital tools continues to grow, moving the supply chain toward a stronger, more resilient and leaner operation. The importance of compliance in the 3PL sector for perishables remains great, and always will.
Companies in this article