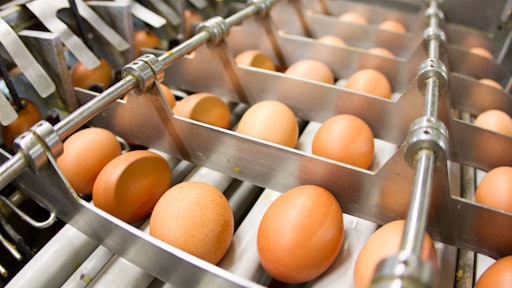 Food supply chains are embracing technology at a rapid pace as data volumes accelerate. While a host of factors are fueling the data explosion, the newly enacted food safety rules are pressing supply chains especially hard. Many companies are reviewing, if not overhauling, their data management systems to comply with the Food Safety Modernization Act (FSMA), a comprehensive law that becomes effective in stages.
The FSMA gives the Food and Drug Administration expanded enforcement authority to achieve higher rates of compliance with prevention- and risk-based food safety standards, and it provides a means to better respond and contain problems when they do arise. While the law includes seven separate rules, it requires more extensive documentation and record keeping for supply chain players.
Many food companies have outdated information management systems that hinder their ability to meet the FSMA requirements. An assessment on the food industry's readiness to meet FSMA requirements by Deloitte Consulting LLP, a business research and analysis consulting firm, found that many companies lack visibility and analytical capability to enhance quality assurance and control processes.
Some companies lack a centralized or integrated document management process, making it difficult to respond to the law's 24-hour records access requirement. In addition, many companies' analytics capabilities cannot support proactive sensing to identify food quality issues in a sufficient time frame.
Not all assessments about FSMA readiness are as alarming as Deloitte's.
Survey Measures FSMA Readiness
A survey by Sparta Systems Inc., a provider of enterprise quality management software, found that a majority (61 percent) of food and beverage (f&b) professionals in the United States feel confident that their organizations are prepared to meet FSMA requirements.
Respondents from large or enterprise-level organizations were particularly certain in their organizations' readiness for FSMA's Foreign Supplier Verification Program (FSVP), which requires importers to perform risk-based tests to verify that foreign-manufactured food or food ingredients are as safe as those produced in the United States.
The respondents from enterprise and large organizations overwhelming agreed or strongly agreed–90 percent and 82 percent, respectively–that their organizations have visibility into their suppliers' food quality and safety. The majority of respondents from both small and medium organizations agreed or strongly agreed–63 percent and 72 percent, respectively–that their organizations have visibility.

But the Sparta Systems' survey also revealed a lack of automated systems for managing compliance across the supply chain: More than a third (38 percent) said their organizations manually track, manage and report food quality and safety, while 56 percent of respondents classified processes as partially automated. Only 7 percent reported fully automated systems.
When asked what would help improve food quality and safety, more than half (60 percent) of the respondents indicated improved supply chain visibility. In addition, 37 percent believe automation of quality and safety processes would yield a positive impact.
Software Responds
Software providers have developed programs to improve supply chain visibility and automated collaboration with trading partners to better manage food safety programs and streamline documentation.
Ferrara Candy Company, the largest non-confectionery manufacturer in the United States, has deployed a system from ICIX to improve supply chain visibility and automate trade partner collaboration. Ahmet Hepdogan, Ferrara Candy's vice president of global procurement and supplier quality, says the company is expanding its use of the software to comply with the FSMA. The software manages both customer and supplier relations.
"The law impacts every part of the supply chain," Hepdogan says. "In the past, you looked at critical areas in your own plants, and you were done. That's not true anymore." He reports food companies will need to look upstream and downstream in their supply chains to track product integrity, food safety, and the quality assurance element throughout their network."
Before addressing the FSMA, Ferrara Candy realized that managing its supplier documentation was a challenge. "First, we need to know our suppliers' quality program at a facility level. We have specific questions on an ingredient or packaging level. To be able to have a successful quality program, you really need to be able to have both a facility view as well as an item-level view."
Before bringing ICIX on board three years ago, Ferrara Candy was gathering information manually. It was difficult to know the timeliness of documents being collected. "It's pretty hard when you look at the 300 facilities we source product from and the close to 3,000 parts [ingredients and packaging items] we buy," Hepdogan says. "If you keep on doing the math over and over again, we're talking about tens of thousands of documents that needed to be collected by email, which was just not very effective."
Efforts are not focused on content as much as collection. "It automated the collection process so we can now focus our energies on the content we get back," he says. "We truly understand the risks and opportunities from a specification point of view."
Software deployment took cross functional collaboration. "You need an executive leadership level of support," Hepdogan says. "A small group of employees have to be dedicated to the design [blueprint] element. And then once you go live, you need to have a group that's really in charge of the data management." To that end, the company did not change its headcount, but it repurposed people.
Supplier Input Critical
One of the more unique aspects of the software is that it interfaces with suppliers and allows the company to input supplier data.
The company's supplier quality team and the procurement team functions changed the most on account of the new software.
The warehousing operation also became more efficient. After the data was gathered, the information technology team used advanced analytics. "There are added benefits as you become more advanced and your compliance goes up," Hepdogan says. "The more supplier information is in ICIX, the more you can do advanced analytics in your ERP program."
The logistics team uses the data for determining origin destination and knowing what commodity is being picked up on the inbound. "They will be able to look at temperature requirements by each item," he says. "It's very good with very fast response. In the past, they would not know who the transportation manager is at a supplier level. Now, all the information is very current. They know exactly who to call if there was a transportation related inquiry. They know exactly who to call if there was a quality related inquiry."
"You give the control of the information to the user," Hepdogan notes. Users no longer have to wait to get information from someone else in the organization. "You can extract what you need very quickly."
As for FSMA readiness, Hepdogan says, "We feel more ready than ever before." The company is currently in the training phase of FSMA compliance.
The FSMA's preventive controls rule takes effect in September, Hepdogan says, and 90 percent of the company's employees have been trained to meet the rule's requirements. The company has also developed a supplier questionnaire that will help them to comply with the rule more consistently.
A key aspect of this readiness is the company's extensive understanding of the FSMA rules, which the government finalized in stages.
"It makes it tremendously easy to be able to run reports at a moment's notice," Hepdogan says. "Out of five facilities that make candy, every user has the capability of logging in directly from their desktop."
Ferrara Candy had a dedicated compliance team that began working on its FSMA readiness when parts of the law became final last fall. The company worked with Silliker, a global provider of food safety, quality and nutrition services. ICIX was also very knowledgeable about FSMA.
"It was good to know we had a partner that knew about the changing environment," he says.
Another key aspect to the company's readiness is the cooperation from its suppliers. "We are approximately 95 percent compliant, with 5 percent to go, and those are just the new additions [partners]," says Hepdogan.
Third Party Safety Audits
He thinks third party safety audit organizations will play a role in enforcement of FSMA since they will have to apply the law in their audits. "It's going to be very much up to those Global Food Safety Initiative audit teams to quickly integrate FSMA rules to their audit schemes," he says.
Hepdogan expects compliance by the food industry will take time and will have some leniency, depending on the various levels of risk by each industry.
"FSMA is requiring that companies are able to furnish documentation upon request within 24 hours and to have that information for two years," says Brian Roufa, chief marketing officer and senior vice president of sales operations at ICIX. "You need to have programs and processes in place, supported by systems, with technology that enables you to have that information stored electronically, and makes it easy to share."
"You'll be assessing the risks and hazards, what controls you put in place, and then how you verify that information," he says.
ICIX has developed FSMA best practice templates that companies can use as they build and refine their assessments. "You need to automate, connect with your trading partners to enable collaboration and information sharing," Roufa notes. "You then want to conduct your assessments. That would involve leveraging your best practices. This is an ongoing process."
"There's a significant need for automation to help continue to drive transparency," he adds.
The government is not the only party that will be requesting information related to FSMA compliance, says Roufa. In some instances, a company's customer might request compliance documentation for their own compliance needs.
For retailers, FSMA will impact the management of private label offerings. "FSMA applies to them [retailers] more directly when you look at the private label products," notes Roufa. Retailers need more transparency in their supply chains to get the necessary documentation from trading partners.
"They want to gather food safety plans, and they want to ensure that their trading partners are compliant," he says.
ICIX, being a cloud-based platform, can integrate with any data set, both internally and externally.
Deloitte Steps Forward
Deloitte has created modular components using Open Text technologies that allow food companies to link data to SAP ERP business processes to help meet FSMA requirements. There are currently five components: traceability and recall execution, recordkeeping and documentation, preventive controls, food defense and foreign supplier verification. Deloitte offers guidelines for how companies can set up time lines for complying with the FSMA.
SAP's global batch traceability solution is a helpful tool in responding to a recall, says Stephen Phelan, industry value engineer for consumer products at SAP America Inc. In the case of a recall, companies have to process data immediately for the data to have value.
The batch traceability tool enables a company to advise customers when a recall occurs, as well as give information on the cause of the recall. This is possible because of S/4 HANA ERP, which integrates disparate data faster than previous enterprise software. The power of the ERP enables companies to monitor more of the end-to-end supply network in real time than before, enabling them to anticipate and react to issues to mitigate risk.
Phelan points out that while it's difficult to anticipate every scenario, the ERP provides better decision-making capabilities for rapid response.
The Deloitte offering also includes a proactive sensing solution that can provide an early warning for quality and safety issues. An early warning can reduce the duration, scope and cost of recalls.
The solution utilizes data from social media websites, customer review websites, consumer complaints, the United States Department of Agriculture, the FDA's adverse event reporting system, manufacturing intelligence and enterprise quality data from InfinityQS, SAP ERP, and distributor and supplier information.
Mobile Enterprise Management Arrives
Kelly Frey, vice president of product marketing at Telogis, a mobile enterprise management software provider, agrees that technology provides new ways to meet food safety requirements. "Many of the vehicles that you're buying today already have telematics devices deployed in them," he says. "We can very easily put temperature sensors onto those vehicles to be able to pull that information either over Wi-Fi or Bluetooth, or even sometimes right over the "engine bus" itself. It's getting easier to get some of these in-transit temperature readings required to meet the FSMA regulations."
There has also been an "explosion" in mobile devices, he adds, referring to smartphones and increasingly, wearables. "We're going to have an opportunity to use the wearables, and easy-to-use temperature probes and temperature scanners tour drivers are carrying to 'shoot' the food for temperature reading when it gets to its final destination."
The devices will provide a temperature record for when the food gets delivered. "It's going to get easy as we move forward to bring in some of this information to help satisfy the FSMA. What's underpinning that is an explosion in mobile applications," he says.
Telogis has partnered with Apple under its mobility partner program to develop new applications.
"We can also do some neat things around on-premise navigation–navigating a guy to a washout area, verifying that they in fact were there, when they washed the vehicle, how long were they there, and verifying that a thorough driver vehicle inspection has been completed," Frey adds. Vehicle-mounted cameras will allow drivers to take pictures of the freight as it's being delivered which can be paired with temperature readings.
Frey says open systems like iOS and Android devices can be more cost effective than proprietary, closed systems.
Temperature Monitoring Improves
Another important change is that it's getting easier to use temperature monitoring. "We now have the ability to bring in multiple different sensors," Frey says. Telogis has a product called Vehicle as a Hub that serves as an Internet gateway. "That allows us to connect multiple different sensors. A temperature sensor is a great example of that. We can take in this different sensor information and report on it along with the route of that vehicle."
"Temperature monitoring on route is really critical," he says. It provides a means for companies to verify that the trailer was received, pre-cooled to a certain temperature, and to verify that the temperature was maintained throughout the route until the point of destination when it was delivered to the receiver.
"As home delivery expands, it will be important to verify the product was delivered to the home at the appropriate temperature," he says. "That's a bit of a challenge since sometimes that homeowner may not be there when we drop off the food."
A back-office reporting and alert capability is also important in meeting FMSA rules. "We need to maintain a full record of that temperature profile throughout its journey," he says.
As far as getting drivers up to speed with FSMA, one of the most important things is to do a full proper vehicle inspection. Telogis has recognized the driver vehicle inspection report (DVIR) as a tool to support the FSMA. "Our solution allows a custom DVIR to be created," he says. "And we've created one specifically to include elements that are important to the FSMA."
Using the built-in accelerometers and the GPS capabilities of mobile devices, Frey says, "we can verify that the driver has in fact walked around that vehicle, how long it took, how many steps they took, etc., to give a confidence score that they truly did do a full vehicle inspection for that vehicle."
The company has created a product called Telogis Coach that empowers drivers by sharing their performance information with them on a leaderboard. This gives feedback on hard braking and excessive acceleration, speeding, etc. "Any of the different telematics information or operational information we have related to a vehicle inspection adhering to the FSMA can be included into a score for that driver." The tool allows the company to share what "good" looks like to the driver.
"We have to be able to verify that the drivers have received the appropriate training to adhere to the FSMA," he says. Open devices allow the sharing of training videos, questions about the video and veriication that they saw the video. Mobile technology makes it easy to upload videos and verify training.
"Ultimately what we want to do is automate a lot of these processes," he adds.
"The law just elevates your awareness of your supply chain, as well as your plants' network," says Ferrara Pan Candy's Hepdogan.
Food Safety Action Plan
Companies can reduce the risk of recalls, minimize the cost of recall execution and contain legal liability by following a food safety action plan. Deloitte Consulting LLP offers the following guidelines.
Prepare for FSMA–aggressively remediate gaps.
Employ practices and governance processes to improve records and document management processes (and comply with the 24-hour rule).
Review and optimize batch management, traceability and recall processes with a focus on increasing response time and reducing risk.
Incorporate analytics into processes to gain deeper insights for decision making; leverage social media analytics as an early warning system to identify potential food safety issues.
Drive efficiency throughout the organization through data collection, retention and recall capabilities.
Implement process improvements to manage quality issues and centralized corrective and preventive action activities.
Companies in this article