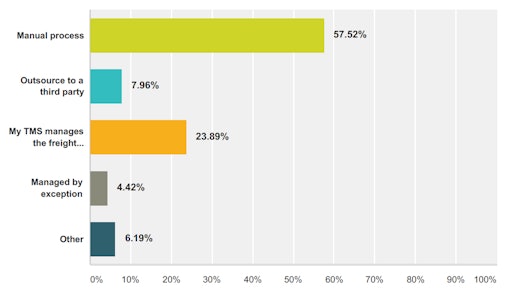 Let's face it: organizations across industries face increasing pressure to cut operational costs while growing revenue and keeping customers happy. It can be a daunting task, especially when expenses associated with shipping such as tight capacity, fuel price volatility, growing highway congestion, stricter regulations and new customer demands are always on the rise. In addition, lax oversight can quickly drive up overspending on fuel, increase regulatory risk exposure, create unnecessary customer service complaints and negatively affect performance throughout the entire supply chain. As a result, it's no secret that cost pressures continue to be a top concern for shippers.
Continuous scrutiny of supply chain operations has become the norm as companies look for ways to drive down costs through business process improvements. But even in doing so, one area that is overrun with inefficiency is often overlooked: transportation management. One of the top ways businesses — especially food and beverage producers — can ease some of these cost burdens is to revamp their transportation strategy.
Transportation is a fundamental component of any well-run supply chain; for companies focused on getting the most from their transportation spend, the rewards are high. Eliminating inefficiencies, automating processes and gaining greater visibility and control across the transportation management function can offer huge opportunities for cost savings – up to tens of millions of dollars a year. However, an industry survey conducted by Kewill, Inc. and Food Logistics found that despite the myriad benefits of implementing TMS software, market penetration is relatively immature and that many companies are still using manual processes or not realizing the full potential of their existing TMS.
Key survey highlights include:
Well over half (57 percent) of respondents manage freight payment and reconciliation components manually, while 49 percent use a manual system to connect with carriers.
Almost 70 percent of respondents do not have a system or repository to manage the contract rate process, and roughly half do not have any standard analytics and reporting capabilities.
Over two-thirds of respondents indicated they do not have an automated process for consolidating orders into multi-stop truckloads.
Most modern TMS software is cloud-based, so it's easy to deploy and upfront costs are kept to a minimum. As a result, there's almost an immediate return on investment thanks to improved planning and better management of rates and carriers. Beyond that, TMS solutions give companies deeper insight into their supply chains by allowing them to manage by exception and take proactive steps rather than reactive ones.
Ultimately, TMS software gives organizations rich and detailed information, that when applied effectively throughout the transportation function, can yield powerful business intelligence and enhanced financial and operational efficiencies.
Many companies surveyed seem to realize this. When asked how important carrier performance reports are to the organization, three-quarters of them said it was "important" to "extremely important" – even though many companies don't have the capability to produce such reports.
Given the high level of value, why have companies been slow to implement transportation management programs? The biggest hurdle for most is a lack of infrastructure to adequately support collaboration with suppliers. Transportation concerns tend to rank low on the list of IT priorities and it is often assumed that the level of connectivity and communication required to run an efficient transportation program would be too difficult and costly to put in place.
Today, however, this is a baseless concern. New Cloud and software-as-a-service (SaaS) transportation management systems have made transportation programs much faster and easier to implement. Cloud-based transportation management solutions on the market today enable shippers to:
Facilitate communications with carriers and suppliers.
Bridge internal gaps between procurement, transportation and supply chain management.
Create reliable data and automate data flow.
Provide end-to-end visibility into order and shipment status.
Cloud-based transportation management systems give businesses a much stronger business case for transportation management, where there's a fast return on investment, the upfront costs are lower and the solution can have an immediate and positive impact on core operations.
Survey Results
Kewill and Food Logistics conducted an online survey about Transportation Management System software from May-August of 2015. The following are some key results from the 113 respondents.
How do you manage your freight payment and reconciliation components?
Do you use an online or manual system to connect with your carriers?
Do you have a system or repository to manage the contract rate process?
Do you have any standard analytics and reporting capabilities?