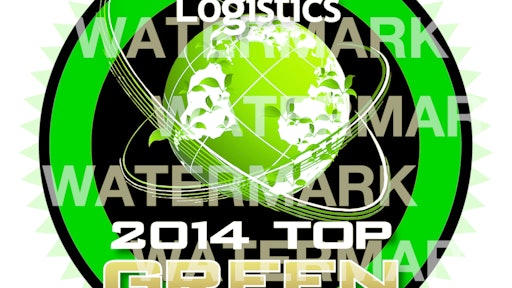 Sustainability has become a driving force for nearly every type of business today. For companies in the food/bev sector, taking an active role in promoting sustainability throughout their operations is paramount considering the urgency to reduce the food chain's carbon footprint and preserve the already thin profit margins.
Food Logistics' annual Top Green Providers offers logistics professionals a guide to the providers, manufacturers, and software and technology companies that have found new ways to promote sustainability throughout their operations and those of their customers.
AceLink Logistics Pte. Ltd. (www.acelink-logistics.com)
Recognizing increased globalization and movement of goods across borders, Singapore-based transportation provider AceLink Logistics Pte. Ltd. constantly monitors emerging food hazards such as pathogens, antibiotics and pesticides. The company continuously assesses the risks to food safety and applies appropriate risk management measures.
Airclic (www.airclic.com)
Trevose, Pa.-based Airclic uses a cloud-based, mobile food distribution software that eliminates paper and paper processes across every step of the food distribution process, reducing overages, shortages, as well as damages and customer service costs, while improving fuel efficiencies of delivery fleets. This reduces paperwork and data entry errors in the field and eliminates the need for scanning paperwork at the food distribution center or home office. Barcode scanning is used during loading (including at cross docks), upon delivery and customer return, and again at check-in, leading to cost savings and reduced inventory shrinkage.
Americold (www.americold.com)
Based in Atlanta, Ga., Americold owns and operates 177 temperature-controlled warehouses in the U.S., Australia, New Zealand, China, Argentina, and Canada. The company's green initiatives include alternative fuels, recyclable materials and responsible chemical management. Americold and its affiliates operate an auto-distribution process where electronic versions of warehouse documents are delivered by email to customers who choose to participate in the program, in place of sending the hard copy versions.
ArrowStream (www.arrowstream.com)
Chicago-based ArrowStream's Crossbow solution has allowed distribution organizations to become more sustainable by creating collaborative decision-making between purchasing and logistics departments. Crossbow connects existing replenishment and transportation management systems into one patented planning layer. Food and beverage organizations are able to plan optimal product flow into distribution facilities, increasing truck utilization, and reducing the miles driven. On average, supply chain organizations have seen a 10 percent reduction in miles traveled in inbound transportation. All customer data and software solutions operate on a cloud-based platform, meaning less paperwork and no resources being used to create hardware.
Buzzatti Trasporti (www.buzzatti.it)
This Belluno, Italy-based company estimates that in 2013 its intermodal transport solutions resulted in a reduction of CO2 emission of more than the 80 percent in comparison to pure road transport. Besides strong use of the railway, the company keeps its vehicle fleet constantly up to date by replacing the oldest and most polluting trucks with newer, more eco-friendly vehicles. The company optimizes reverse logistics to minimize the need to move empty containers for long hauls, thereby reducing significant emissions. With more than 500 pressurized silo containers that can travel via various means of transportation, the company also minimizes the use of trucks.
CaseStack (www.casestack.com)
Santa Monica, Calif.-based CaseStack employs its SmartWay Logistics Tool to compare freight transportation options to provide customers with better business decisions. The company combines a transportation and warehousing system with proprietary, Web-based software to provide end-to-end fulfillment services, enabling customers to reap the benefits without the infrastructure costs. This commitment to sustainability and efficiency has been recognized and certified by the Environmental Protection Agency as a SmartWay Transport Partner.
Chainalytics (www.chainalytics.com)
By reducing the size of its primary package by an eighth of an inch, Atlanta, Ga.-based Chainalytics added two more items per case, which resulted in 64 more cases per load. In turn, this allowed 6,848 more items per load, translating into an increase of 8 percent area efficiency and 3 percent density per truckload, and 133 fewer truckloads per year. Other savings: 66,500 in miles traveled; $133,000 in travel costs; 9,500 fewer gallons of diesel fuel; and a $175,000 savings in material costs.
CHEP (www.chep.com)
Livonia, Mich.-based CHEP provides reusable, collapsible bulk containers (Pallecons), which allow food and beverage manufacturers to eliminate the use of one-way packaging that would otherwise erode natural resources and end up in landfills. In addition, the collapsibility of a Pallecon allows more to fit per truck, reducing the number of trucks needed to backhaul empty containers after use. Another sustainable supply chain benefit comes from the efficiencies of partnering with a pooler, which reduces the number of trucks on the road and cuts down on the emissions required to operate food and beverage supply chains.
CHEP USA (www.chep.com)
CHEP USA, based in Atlanta, Ga., has set several five-year targets to minimize environmental impacts. Those goals are to reduce greenhouse gas emissions by 20 percent from a 2010 baseline, source 100 percent of lumber for CHEP USA wooden pallets from certified sources by 2015, send zero lumber waste to landfill by 2015, and have year-over-year reductions in water consumption and general waste generation. Its GreenLanes™ program helps customers increase productivity and eliminate unnecessary empty return truck trips by working with third-party transport companies to fill empty space on customers' trucks, or that of a transportation provider.
C.R. England (www.crengland.com)
C.R. England, a global temperature-controlled carrier based in Salt Lake City, Utah, has been testing two models (four trucks each) of CNG tractor units in the interest of reducing fuel costs and greenhouse gas emissions. The company also utilizes its TempStack, 53-foot, temperature-controlled containers, which double-stack on the rail to provide greater fuel efficiency. The containers ride on a nationwide network of trains and are complemented by drayage trucks. Together, they are 60 percent more fuel efficient than over-the-road trailers, according to the company. In addition, C.R. England uses its IdleAir service to reduce idling in the summer months.
Crown Equipment Corp. (www.crown.com/usa)
New Bremen, Ohio-based Crown notes its RM 6000 Series reach truck and the TSP 6500/7000 Series turret truck's standard regenerative lowering reduces energy consumption by returning energy to the battery during the lowering function. This feature supports fewer battery changes, more productivity, and longer operating time. It provides 12 to 15 percent more run-time for improved energy utilization and reduced costs. Both eco-friendly trucks reduce the energy required to run warehouses with lift heights up to 505 and 675 inches, respectively. Instead of building additional square footage, both trucks allow facilities to store more product in a smaller footprint.
Dematic Corp. (www.dematic.com)
Grand Rapids, Mich.-based Dematic equips its conveying systems with energy-saving motors designed to meet international legislation. The company also uses a double-zone storage concept, which provides energy savings. Double-zone storage has other logistics benefits as well. All storage and retrieval systems have simultaneous access to all temperature zones. In the event that customer demand ratios for ambient or cooled products should change, the warm and cooled layers can be adapted to the new requirements simply by pressing a button. As no partition walls are necessary, the double-zone concept saves money at the installation stage. Savings in energy costs of up to 30 percent are feasible.
DSC Logistics (www.dsclogistics.com)
Des Plaines, Ill.-based DSC Logistics is a Smartway carrier partner and has reduced its carbon footprint by buying green, reducing waste and saving energy. The company purchases Energy Star rated equipment through certified vendors. All of its logistics centers that have waste corrugate are now recycling it, as well as many other materials. The company has also retrofitted lighting systems with energy efficient lighting at logistics centers and has installed automatic shutoffs to reduce energy use.
enVista Inc. (www.envistacorp.com)
Carmel, Ind.-based enVista offers a TMS optimizer that can calculate carbon savings for each optimization run. The company also looks at cost and miles minimization and encourages intermodal, both of which reduce carbon emissions. enVista also works with vendors to enforce order consolidation (moving ship dates forward/back) to combine orders for fewer shipments. The company consolidates pickups, and leverages multi-stops and pool distribution. All of these efforts reduce miles (carbon usage) and improve efficiency. Green services include supply chain network design, inventory optimization, facility design, transport strategy, labor productivity and systems selection and implementation.
Fetch Logistics Inc. (www.fetchlogistics.com)
Amherst, N.Y.-based Fetch Logistics Inc., founded in 1997, has been a partner of the EPA's SmartWay program since 2008. As a SmartWay partner and provider of transportation services to the food and beverage industries, the company has utilized the services of those carriers that have taken measures to reduce fuel consumption and the emission of greenhouse gasses. The company reports its progress in sustainability efforts to the EPA annually.
FST Logistics Inc. (www.fstlogistics.com)
Columbus, Ohio-based FST Logistics Inc. recently opened of a new compressed natural gas (CNG) filling station as it converts almost half of its fleet to CNG. The company also achieved a 30 percent decrease in electric cost by installing motion sensor lights, using quick-charge forklifts and reinsulating coolers. Furthermore, FST Logistics will also donate over 160 hours of volunteer time again this year to Earth Day activities.
Genco Inc. (www.genco.com)
Genco, a Pittsburgh, Pa.-based third-party logistics provider, has helped customers achieve zero waste to landfill status at several distribution centers. In addition, the company has implemented various energy reduction projects including lighting retrofits, hydrogen fuel cells and forklift activity monitoring. Zero waste to landfill efforts are measured by the actual waste tonnage being sent to the landfill versus the materials sent to recycling channels and/or incineration. These are measured on a monthly basis at each location. Energy reduction projects are measured by the reduction in kWh utilized at each facility.
GreenMile (www.greenmile.com)
GreenMile, headquartered in Orlando, FL, is a SaaS based vehicle performance solution that provides route execution, real-time dispatching, actual vs plan (AvP) reporting, mobility management, and vehicle telematics along with a full service territory planning and route optimization consulting division. Using this real-time information from the field, companies are able to monitor key KPI's on their mobile workforce, including the ability to track the vehicle's actual route path compared against the planned route. The immediate impact is a reduction in miles driven, along with a decreased number of routes & vehicles deployed into the field on a daily basis, thus reducing the carbon footprint while increasing customer satisfaction levels.
Hellmann Perishable Logistics (www.hellmann.net)
Hellmann Perishable Logistics, based in Doral, Fla., is part of Hellmann Worldwide Logistics, an international logistics provider based in Osnabruck, Germany. The company uses telematics to evaluate fuel consumption and incorporates the information in managing its fleets. The company has reduced emissions by 43 percent. All company-owned warehouses and refrigerated coolers are ammonia free. Electronic vehicle charging stations are available to employees at headquarters, with more planned for the future. The headquarters is heated and cooled with geothermal energy.
Hyster-Yale Materials Handling Inc. (www.hyster-yale.com)
Electric lift trucks from Greenville, N.C.-based Hyster-Yale Materials Handling Inc. reduce energy consumption through weight reduction and greater drive train and hydraulic system productivity. The trucks are built to recapture energy during braking and lowering of loads, allowing the energy to be reused. Performance settings on multiple truck series enable users to pair fuel and energy economy with optimum productivity. Hyster Tracker provides a wireless asset management system offering three levels of management, ranging from wireless monitoring to wireless access to wireless verification, providing customers with a customized level of asset management for their specific application.
IFCO (www.ifco-us.com)
Based in Tampa, Fla., IFCO recently released a study confirming its returnable plastic containers as a sustainable packaging option. The returnable plastic containers generates 82 percent less solid waste, consumes 92 percent less water, requires 49 percent lower energy demand, and lowers ozone depletion by 76 percent for a weighted average of 10 top produce commodities compared with shipping the same amount of produce in display-ready corrugated boxes.
iGPS Inc. (www.igps.net)
The iGPS pallet is 35 percent lighter than the typical multi-use wood pallet, according to the company, thus reducing fuel costs during transport and helping reduce pollution from greenhouse gas emissions. The pallet's full top deck coverage reduces product damage and returned loads, adding efficiency to the supply chain. If a pallet(s) is damaged, however, it will not end up in a landfill, but will be 100 percent recycled by being molded into a new one.
Inmar (www.inmar.com)
Winston-Salem, N.C.-based Inmar provides real time supply chain data and analytics for products as they move through the forward and reverse supply chain. The company's supply chain analytics team helped clients reduce damages by 40 percent while its technology and networks help better manage returns and recalls in the food and beverage supply chain.
Insight Inc. (www.insight-mss.com)
Manassas, Va.-based Insight Inc. finds that clients can reduce costs between 5 and 20 percent by implementing green initiatives such as lowering mileage and idle times and filling trucks to capacity. One customer placed pallets on two levels, allowing them to reduce the number of daily truckloads by 40 percent and to save $110,000 per year. PepsiCo Inc. saved $44 million by switching from corrugated to reusable plastic shipping containers for one liter and 20-ounce bottles, conserving 196 million pounds of corrugated material.
JustFoodERP. (www.justfoodERP.com)
Pittsburgh, Pa.-based JustFoodERP uses Microsoft software to help food processors and food distributors lower inventory costs and improve food safety. Each JustFoodERP customer measures their own food waste, energy consumption, and paper usage, in their JustFoodERP systems. This year, the company launched a new product—JF Plant—that provides real-time metrics on a tablet right at the start or end of a food production line, resulting in best practices in the recording of data around production energy usage.
Kane Is Able (www.kaneisable.com)
Scranton, Pa.-based Kane Is Able utilizes a concept called collaborative distribution to reduce the costs in the supply chain while minimizing the impact on the environment. Through this initiative, the company pools the inventory and shipments of middle-market consumer goods manufacturers so common retail customers can receive fewer, larger shipments. The program reduces costs across the consumer goods supply chain and reduces carbon emissions, since the same volume of goods is delivered using fewer trucks.
Kenco (www.kencogroup.com)
Chattanooga, Tenn.-based Kenco recently upgraded the lighting at facilities in Chattanooga and Reading, Pa. managed for a large U.S. coffee and coffeemaker manufacturer and a large U.S. food tray and food container manufacturer. The lighting array has saved about 222,170 kilowatt hours annually and is anticipated to reduce greenhouse gas emission by 137.2 tons in one year.
The company has continued to implement sustainability dashboards, which track usage of electricity, natural gas, and water. The dashboards also monitor labor costs and measure the output of both landfill waste and recyclable materials.
The Kennedy Group (www.kennedygrp.com)
The Kennedy Group, based in Cleveland, Ohio, provides solutions to help customers package, promote, identify and track their products..The company's sustainable solutions product line features environmentally friendly labeling, packaging and identification products that promote recycling and sustainability. The company's Placard Label Holder complements reusable packaging applications. It is ideal for labeling and relabeling reusable containers and pallets, as well as racks and shelving. The self-adhesive placard label holder is designed to permanently adhere to reusable packaging. It allows labels to be applied and removed as often as necessary, while keeping containers neat and clean.
Lineage Logistics Inc. (www.lineagelostics.com)
Colton, Calif.-based Lineage has improved insulation at its facilities, increasing the efficiency of compressors, and has worked with partners to reduce empty miles—those miles where trucks are not carrying optimal loads. The company has also used the Internet to share loads and greatly reduce the cost per mile as well as CO2 emissions. Other energy reduction initiatives include bale pack (no-pallet) wheat corrugate shipments, "lock n' pop" case adhesives and "track and tune" energy savings in cooperation with utilities.
Locus Traxx Worldwide (www.locustraxx.com)
Jupiter, Fla.-based Locus Traxx Worldwide, a provider of real-time temperature, location, and security monitoring for perishable and high value shipments in transit, operates in full compliance with environmental legislation and strives to reduce its carbon footprint. The company's SmartTraxx Go Green Recycling Program encourages material recycling at the last stage of its product life cycle.
Missouri Northern Pecan Growers LLC (www.mopecans.com)
Nevada, Mo.-based Missouri Northern Pecan Growers, LLC, a cooperative of five pecan growers, produces 100 percent certified organic pecans free of pesticides, herbicides and fungicides. Pecans protect the environment from unnecessary pollutants.
Murphy Warehouse Co. (www.Murphywarehouse.com)
Based in Minneapolis, Minn., Murphy campuses boast a 22 percent total coverage of native vegetation that has saved nearly $1 million in lawn care maintenance over 14 years while aiding in carbon sequestration, soil conservation and stormwater management. The company also added LED lighting to its newest 350,000-square-foot campus in Eagan, Minn., which uses a third less energy and has a resulting ROI of only 4.4 years. The company also installed solar panels on five of its campuses.
New Century Transportation Inc. (www.nctrans.com)
New Century Transportation Inc., a management-owned provider of LTL and TL services based in Westampton, N.J., offers both dry and temperature-controlled solutions with more than 200 units in its network. The company helps food shippers reduce their carbon footprint with the help of annual fuel usage, emissions, and transportation metrics. The company is a SmartWay approved carrier that utilizes fuel enhancing tires and techniques to reduce emissions. In addition, paperless billing options are promoted along with recycling at the company's headquarters.
Next Generation Logistics Inc. (www.nextgeneration.com)
Inverness, Ill.-based Next Generation Logistics Inc., a management-owned company, uses its FreightMaster TMS reporting tools and key performance indicators (KPIs) to track details of miles traveled, tonnage hauled, and all associated costs. Founded in 1988, the company's three divisions focus on consulting, outsourced contract services and technology.
NFI Industries (www.nfiindustries.com)
Cherry Hill, N.J.-based NFI Industries, a three-time winner of the EPA SmartWay award, has outfitting its fleet with SmartWay-certified tires, computer-regulated speed governors, automatic tire inflation systems, wide-based tires, tighter trailer gaps, battery powered APUs, and aerodynamic and electric standby motors on refrigerated trailers. NFI recycles tires, electronics, batteries, metals, and waste oil and fluids. The company has also expanded its natural gas fleet. Propane-powered forklifts and a recycling program are used across NFI's 20+ million square feet of North American warehousing space. The headquarters operates solely on solar power. The intermodal division also participates in sustainability through double-stacking containers to create better fuel efficiency.
Orbis Corp. (www.orbiscorporation.com)
Oconomowoc, Wis.-based Orbis Corp. uses a proprietary lifecycle assessment to compare reusable and single-use packaging to help customers calculate their greenhouse gas emissions, solid waste and electricity related to reusable packaging. The company's reusable plastic totes, pallets, dunnage and bulk systems are used over and over during the course of their service life. At the end of their life, they can be recovered, recycled and reprocessed into new packaging products without entering the solid waste stream.
Paragon Software Systems Inc. (www.paragonrouting.com)
Frisco, Texas-based Paragon Software Systems uses an advanced algorithm designed specifically for optimizing road-based transportation operations and digital mapping to calculate the most cost effective delivery schedules with minimized mileage. This results in lower fuel usage and hence, lower carbon emissions, making it the system of choice for over 3,300 systems installed at more than 1,000 client sites in over 50 countries. The software is used for planning, optimizing and managing transportation schedules on a daily basis; rationalizing fixed routes; managing transportation resources; planning and modeling at strategic level in own-fleet operations and 3PL business development; and managing the execution of the transportation plan in real time using truck tracking technology.
PECO Pallet Inc. (www.pecopallet.com)
Wood block pallets used by Irvington, N.Y.-based PECO Pallet Inc. are built from responsibly forested U.S. timber and are constantly reused, repaired and recycled. Switching to PECO's pooled pallets can eliminate the waste, inefficiency, and safety problems associated with single-use stringer pallets. No hazardous chemicals are used on PECO Pallets. All pallets are kiln-dried to prevent infestation, moisture, and mold. The company participates in the Wal-Mart Sustainable Packaging Expo and is a member of the Reusable Packaging Association.
PendaForm Co. (www.pendaform.com)
New Concord, Ohio-based PendaForm Co. has designed a new pallet that eliminates the need for limited use wood pallets that then are sent to a landfill. The pallets, which are constructed from 100 percent recycled material, allow the company to offer customers a buy-back program that gives them the option to turn in pallets at the end of their lifecycle for a credit on future purchases.
Penske Logistics Inc. (www.penskelogistics.com)
Reading, Pa.-based Penske Logistics, an EPA Smartway Partner, implements numerous internal initiatives to become a more sustainable company, including benchmarking sustainability efforts against competitors and customers; an annual GHG emission inventory for global operations; disclosing GHG emissions information and energy usage/reduction efforts to the Carbon Disclosure Project; conducting energy audits to reduce carbon footprint; upgrading to more efficient lighting to reduce carbon footprint; recycling of vehicle fluids, solid waste, and electronics; employee/community wellness initiatives including volunteer opportunities, wellness center, fitness room, car pool program; and more.
Piazza Produce, Inc. (www.piazzaproduce.com)
Piazza Produce, Inc., based in Indianapolis, Ind., is a zero waste company that achieved this status of 90 percent or greater waste-to-landfill diversion rate by creating comprehensive recycling programs as well as commercial composting or organic waste products. In May 2013, the company became 100 percent waste-to-landfill free whereas the remaining 5 percent of non-recyclable wastes are being submitted to a waste-to-energy facility. All waste and recycling data is compiled by an independent third-party vendor, IS2 Data Management, a division of Heritage Interactive Solutions in Indianapolis, Ind.
Poole Company (www.poolecompany.com)
Based in Greenville, S.C., Poole Co. enhances the sustainability of the food and beverage industry by recycling post-consumer plastic beverage bottles to produce EcoSure – a fiber made from 100 percent PCR PET flake. The company accepts and recycles any item manufactured with 100 percent EcoSure fiber.
Power Automation Systems, Inc. (www.powerautomationsystems.com)
Lathrop, Calif.-based Power Automation Systems reduces energy consumption by providing the smallest area-per-pallet to cool (in a temperature-controlled facility), using less lighting through the use of automation and using more energy efficient technology in the movement of product. The company also automates manual functions required to move product, thereby cutting maintenance costs.
Railex (www.railex.com)
Railex, a Riverhead, N.Y.-based, nationwide private rail solution, and its customers have cut the need for 145,756 long-haul trucks, translating into 408,000 long-haul freight miles not driven (saving infrastructure), and eliminated 1.2 million metric tons of carbon emissions and 64.8 million gallons of diesel fuel. The results are measured by the full truckloads Railex moves compared to the trucks that would be necessary to move a comparable amount. Railex offers 3PL services like pick-up and forward distribution via short-haul trucking that extends its reach by a 200-mile radius from its major hubs.
The Raymond Corp. (www.raymondcorp.com)
Trucks operated by Greene, N.Y.-based The Raymond Corp. use the ACR System, an AC drive system designed to deliver faster lift and lower speeds and quick acceleration to help operators move more material in less time. The unique design behind Raymond's AC motors requires fewer battery changes. The system has fewer moving parts than DC drive systems and needs less maintenance. In addition, the lift trucks are also electric, meaning no CO2 emissions. Key lift truck performance factors can be measured and tracked via a warehouse optimization system, such as iWAREHOUSE solutions — which includes iWAREHOUSE Essential and iWAREHOUSE Enterprise.
Retrotech Inc. (www.retrotech.com)
Victory, N.Y.-based Retrotech Inc. has upgraded its software, allowing for enhanced diagnostics and reporting, providing improved visibility to key operational data. The company notes that a dairy customer recently reduced truck unloading time from two minutes to 30 seconds. The customer has also been able to store irregular/bulging pallets in the automated storage and retrieval system, so there is less forklift usage.
Reverse Solutions (www.reversesolutions.com)
Reverse Solutions, a full-service reverse logistics provider based in Meriden, Conn., directs products and packaging from landfills to recycling, composting and re-purposing programs. Materials not qualifying for one of these programs are sent to a co-generation facility, also known as "trash to energy" facilities. Reverse Solutions through its sister company Reverse Recycling provides waste stream management programs to clients to initiate or support their corporate sustainability programs.
RLS Logistics (www.rlslogistics.com)
Continually developing methods for waste reduction, RLS Logistics, a Newfield, N.J.-based provider of temperature-controlled logistics, recently retrofitted warehouses to LED lighting, putting all rooms under controlled lighting, In addition, all marketing materials are presented on tablets instead of paper brochures that can get thrown away. A new facility under construction will be equipped with smart watt energy lighting. A solar project continues to provide benefits of reduced carbon foot print and savings.
Ryder Systems Inc. (www.nctrans.com)
Ryder System, Inc. currently has approximately 400 Compressed Natural Gas (CNG) and Liquefied Natural Gas (LNG) vehicles in service supporting customers and has operated these vehicles for a combined distance of over 15 million miles. Ryder also has a Flex to Green lease program that allows businesses to test the new technology with less risk of downtime, as well as insulating them from the unknown residual risk. Customers can lease a traditional diesel powered vehicle, then switch to a natural gas powered vehicle after one year without any penalty. The Miami, Fla.-based company recently entered into a long-term agreement with Quantum Fuel Systems Technologies Worldwide, Inc. for the purchase and supply of complete CNG fuel systems that will help reduce costs and increase vehicle uptime for businesses that lease CNG trucks from Ryder.
Saddle Creek Logistics Services (www.sclogistics.com)
Lakeland, Fla.-based Saddle Creek Logistics Services' compressed-natural-gas (CNG) fleet vehicles produce 95 percent less particulate matter than comparable diesel vehicles, resulting in a significant carbon reduction. The company's transportation division is an EPA SmartWay Partner and has incorporated programs to minimize the fleet's environmental footprint. In its warehouses, Saddle Creek uses motion-sensitive lighting, quick-recharge electric forklifts and recycling programs. The company's facility in Charlotte, N.C., is Leadership in Energy & Environmental Design (LEED) certified.
Satellite Logistics Group (www.slg.com)
Based in Houston, Texas, Satellite Logistics Group helps brewers maximize their usage of stainless steel keg with Kegspediter®, a keg management solution. The service leverages proprietary software and a network of more than 1,600 distributors, combined with supply chain nodes across the country, to return kegs more efficiently. This reduces cycle time and allows a brewery to service its market with fewer kegs. Its EcoBev® service helps beverage companies dispose of non-salable beverages instead of pouring them down the drain or sending them to a landfill.
Schneider (www.schneider.com)
Green Bay, Wis.-based Schneider, an EPA SmartWay Award of Excellence winner, uses tractors with EPA-certified, near-zero emissions engines and aerodynamic trailers with low-rolling resistance tires. Company engineers spend three months each summer in conducting Society of Automotive Engineer (SAE) fuel-efficiency testing on any component that looks promising. Components and devices that meet or exceed a defined performance level are incorporated into the fleet. Driver training, incentives and route optimization deliver an additional 3.6 million gallons of fuel savings per year and eliminate 42,000 tons of carbon dioxide annually.
SCT Fleet Solutions (www.sctfleetsolutions.com)
Sanford, Fla.-based SCT Fleet Solutions, backed by Global Environment Fund (GEF), a global alternative asset investment firm dedicated to the energy, environmental and resource management industries, recently lowered its fuel consumption by six to 12 percent, reduced carbon emissions by more than 10 percent and improved the safety of fleet vehicles with speed limiters and throttle response improvement. The company has also expanded its vehicle coverage from light duty to heavy duty vehicles through the acquisition of Bullydog Technologies and remains committed to creating a truly "connected car" through the integration of multiple technologies on a single platform.
ShipXpress Inc. (www.shipxpress.com)
Jacksonville Beach, Fla.-based ShipXpress Inc. provides solutions that track, trace and proactively monitor shipments and help shippers pick the best rates/routes for their shipment transportation. By providing data and access to information for inventory-in-motion, the company provides a secure platform, which results in reduced fuel consumption across multiple modes of transportation.
State Logistics Services (www.statelogistics.com)
Buena Park, Calif.-based States Logistics installed solar panels on the roofs of two facilities that provide roughly 50 percent of their electric power over a year. With nearly 2.5 million square feet of warehouse space across southern California and Phoenix, Ariz., 33 percent of all power consumed by States Logistics was "green" due to solar and renewable energy credits. All facilities recycle paper, corrugated materials, plastic shrink wrap, pallets and all other recyclable materials. The corporate facility boasts two 6,000 gallon bio-diesel tanks that fuel the entire California transportation fleet serving the southwest U.S.
Supply Chain Optimizers, LLC (www.supplychainoptimizers.com)
Supply Chain Optimizers LLC, a Getzville, N.Y.-based management advisory firm, which specializes in packaging optimization, has achieved a 10 percent reduction in corrugate usage and a 10 percent decrease in the number of trucks being used to transport the products both from factory to DC and then to the customer. These measurements are based on a current state versus new state analysis of the way the goods are packaged and the corrugate reduction generated and then the solid measurement of the number of units transported on a truck from current state to the new design of packaging.
TMW Systems (www.tmwsystems.com)
Mayfield Heights, Ohio-based TMW Systems helps companies minimize their carbon footprint by routing more efficiently and reducing miles, better utilize existing assets by taking advantage of available capacity and operating with less trucks, and monitoring and eliminating excess idle time. TMS designs its software for reliability, flexibility and scalability to improve freight management efficiencies and profitable business operations.
US Perishables Inc. (www.usperishables.com)
US Perishables Inc., based in Oakland, Calif., uses a cold supply chain network of long haul, cross dock, storage and delivery resources to reduce transportation outlays. The solution is leveraged with TMS software to reduce miles driven, transit time, energy used for temperature control, and production and inventory carrying costs. USP's direct store delivery services insure expeditious food delivery by including unloading, temperature recording, product inspection, handling, sorting, segregating, stocking, barcoding, and other related tasks. USP has Web site tools, computer systems, automation processes, and standardized electronic forms to boost sustainability, efficiency, and reliability from order entry to POD processing.
Werner Enterprises (www.werner.com)
Through its participation in the EPA's SmartWay program, Omaha, Neb.-based Werner Enterprises has earned a ShipperIndex Factor (SIF) of 1.25, the highest score possible. The company's efficiency earned the 2013 SmartWay Excellence Award. As example, the company's beverage trailers are equipped with wide base tires and lightweight trailers and help transport more payload with less equipment. Werner's sustainability program measures increases in efficiency and MPG while monitoring the reduction of fuel usage and CO2 emissions.
Westfalia Technologies (www.westfaliausa.com)
The Automated Storage and Retrieval System (AS/RS) and its accompanying warehouse management system software from York, Pa.-based Westfalia Technologies offer designs that adapt to every business model and product inventory. In addition, hybrid designs can store products single deep, double deep or up to 12 loads deep in the rack structure, as well as use a single crane or two in any aisle. Even more efficiencies are derived from rack entry vehicles that can quickly transport pallets (or any other unit) in and out of the storage rack.
Witte Bros Exchange (www.wittebros.com)
Troy, Mo.-based Witte Bros Exchange uses vertical storing levelers on truck bay doors to provide a complete seal when the door is closed by removing the leveler from the opening. The savings are realized in the reduction in the infiltration of outside air into the refrigerated space when the door is opened and closed. This system also allows the trailer doors to swing into the building without being exposed to outside infiltration and temperature, providing energy savings for the trailer refrigeration as well. Other green measures include motion-sensored lighting, refrigeration efficiency, water efficiency and a recycling program.
Yale Materials Handling Corp. (www.yale.com)
Electric lift trucks from Greenville, N.C.-based Yale Materials Handling Corp. recapture energy during braking and lowering of loads, allowing the energy to be reused. The company also utilizes AC motor and control technology, including motors that recover potential energy. For lift trucks, fuel cell technology delivers less operational downtime as refueling takes only approximately three to 10 minutes. The Yale MO25 multi-level order selector eases picking at ground, first and second levels through its lifting platform, allowing the operator to pick from multiple levels and build the entire order right on the pallet, eliminating unnecessary product touches and travel time. The multi-level order selector can also increase inventory "pick areas" by up to 400 percent without increasing the size of the facility.
Zeeland Farm Services Inc. (www.zfsinc.com)
Zeeland Farm Services Inc., based in Zeeland, Mich., processes more than 10 million bushels of soybeans per year. Its renewable soy oil is being used to replace petroleum oil in many automotive parts. The company's co-generation engines use landfill gas to produce steam and electricity. The company's building is Silver LEED (Leadership in Energy and Environmental Deisgn) certified, based on sustainability, water efficiency, energy and atmosphere management, materials and resource management, indoor environmental quality and innovation and design.
Companies in this article