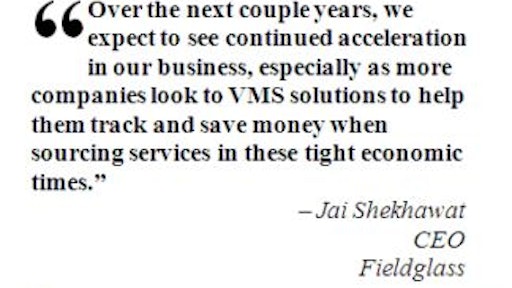 Chicago — February 17, 2009 — Contingent labor and service procurement specialist Fieldglass is pointing to solid results for last year, saying that it nearly doubled its customer base in the 2008 fiscal year, by far the biggest new business increase in company history.

The customer base for Fieldglass' InSite solution includes companies like Allstate, GlaxoSmithKline, Johnson & Johnson, Metavante and Wyeth among its customers. These companies and others use the solution across more than 55 countries to manage contingent workers in a variety of categories, including light industrial, IT and administrative, and the procurement of projects, offshore and deliverables-based work.

Fieldglass now reports more than $5 billion in annual spend under management, a significant portion of which is attributed to services, including statements of work (SOWs) and projects. Cash flow and net income positive for the third consecutive year, the company reported that it increased headcount by 25 percent in 2008.

Since adding InSite Recruiter in February 2008 for direct sourcing and management of specialized talent pools, Fieldglass said that it also has updated the solution to improve system usability and increase self-service administration capabilities. In September Fieldglass successfully completed its fifth consecutive Type 2 SAS 70 audit for internal controls while supporting InSite.

"A lot of hard work came to fruition this year, from customer acquisition to new products developed," said Jai Shekhawat, CEO at Fieldglass. "Over the next couple years, we expect to see continued acceleration in our business, especially as more companies look to VMS solutions to help them track and save money when sourcing services in these tight economic times."

According to the 2008 Staffing Buyer Survey from Staffing Industry Analysts, the prospects for the year ahead look positive for companies like Fieldglass, despite the current economy. The report cites that a little more than half of large companies surveyed used a VMS in 2008, while 73 percent expect to deploy a VMS solution by 2010.

Fieldglass said its growth plans for 2009 includes maintaining strong customer acquisition momentum, continuing product development and beefing up its customer service strategies to best support the program office.