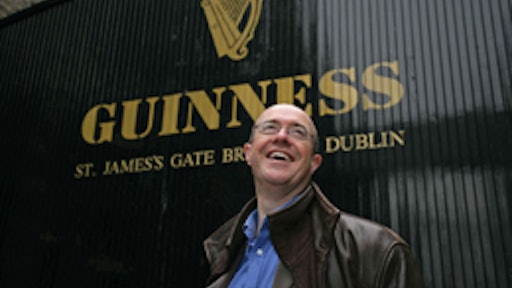 Andy Cullen and his planning and export team at Guinness thought the iconic Irish beer brewer's customer service numbers looked pretty good: 99-100 percent month after month, according to their figures. But when Cullen and his team sat down with their U.S. customer back in 2003, they learned that the customer was looking at an entirely different set of metrics, and by those numbers Guinness was barely breaking 50 percent service levels.
It wasn't just that the two parties were looking at different numbers, Cullen says now. "The problem was that the way I thought the supply chain was working was actually not the way that it was working." In fact, supply disruptions causing the breakdown in service were going undetected at Guinness. In response, Cullen not only realigned the key metric that his team tracked but also went looking for a technology solution that would allow Guinness to become proactive in how it diagnoses and addresses the hiccups in its supply chain.
BI Plus PM
Guinness' dilemma is not unique, of course. Kevin Brooks, vice president of marketing with Apexon, a provider of on-demand solutions for what it calls "active supply management," notes that supply disruptions still bedevil most enterprises despite companies' work to streamline their supply chain processes — or perhaps even because of those initiatives. "All the efforts over the past 10 years, which have been good for reducing cost, have also unintentionally pushed a lot more risk onto the operations side," says Brooks. "And in many cases any of the benefits that they would have gotten are being eroded because operations is having to run around to keep the lights on."
In short, as supply chains grow in length and complexity, as companies seek to consolidate their supply bases and lean out their own inventory, and as external service providers assume increasing responsibility for greater portions of the supply chain, enterprises are finding it at once more difficult and more imperative to detect and respond more quickly to supply chain disruptions. Yet few enterprises have managed to put in place either the systems or the processes necessary to cope with these disruptions. "People understand that they need to be more strategic about supply chain," Brooks continues, "but they're distracted by these continuous one-off disruptions."
Not that companies haven't been willing to throw money and technology at this quandary. The traditional tools to address these challenges have included business intelligence (BI) and performance management (PM) solutions, and Boston-based AMR Research has projected that companies will spend nearly $23 billion on BI/PM applications in 2006 alone. But a report earlier this year by San Mateo, Calif.-headquartered Ventana Research pointed to significant flaws in how companies are using these tools. In the report, "Performance Scorecards and Dashboards," Ventana noted that "about 70 percent of scorecard, dashboard and performance alert use is by midlevel managers," rather than by the more senior-level executives who manage companies' strategic direction. On the technology side, Ventana reported that most tools that companies are using to monitor performance are built in-house, and users of these tools complained about an inability to drill down into the data to get the details behind the headline figures, a necessary step in understanding the cause of a problem.
The solution provider community has responded to these issues in recent years by developing tools to put more of the underlying data within reach of executive users, according to Paul Hoy, manufacturing industry director at BI heavyweight Cognos Inc. Hoy notes that BI/PM tools have evolved from very specific transactional reporting (looking at inventory or general ledger statistics, for example) to a more functional-level approach (e.g., tracking production or procurement) and then to a process-oriented view that lets users view dashboards and scorecards to identify exceptions (looking at supply chain processes, for instance). "Now," Hoy says, "people are looking to tie the scorecarding and dashboards into the underlying analysis, so that if you see a metric that's off-track, you can drill down into the underlying figures to do root-cause analysis."
Looking Upstream
According to AMR researchers John Hagerty and Jeffrey Freyermuth, in a recent report titled "BI Landscape: A Closer Look at License Revenue," the BI/PM majors players include the publicly traded Actuate, Applix, Business Objects, Cognos, Hyperion, Informatica, MicroStrategy and SPSS. In addition, the analysts write that the large enterprise resource planning (ERP) vendors, including Microsoft, Oracle and SAP, "are all making a serious run at BI/PM functionality in an attempt to capture mind and market share while piggybacking on their existing presence in accounts worldwide." Hagerty and Freyermuth also point to SAS, IBM and NCR Teradata as top contenders in this space. Beneath this top tier of "majors," a growing group of more specialized solution providers is emerging to offer applications targeted at specific segments of the BI/PM challenge. These niche players are attacking the supply chain disruption challenges in three different directions: upstream, inside or downstream.
Looking upstream, enterprises are applying solutions for quality management and supplier performance management to this problem. For example, Quickie Manufacturing Corp., of Riverton N.J., is using a Web-based application from Chantilly, Va.-based InfinityQS International to gain visibility into where quality-related issues are occurring within its supply base in close to real-time. Quickie is the largest North American provider of retail household cleaning tools and related products, and the company has rolled out InfinityQS' new hosted solution, eSPC, to key suppliers in its supply chain. eSPC extends InfinityQS' traditional server-based statistical process control functionality into an online environment, giving manufacturers an enterprise-wide quality control solution that lets them share and analyze data across facilities in real time and at the enterprise level. Quickie's suppliers feed quality information into the solution, allowing the company to detect production issues within its supply chain almost immediately, well upstream in the supply chain and before defective goods or components can reach its own facilities. In addition, the granularity of the information fed through the eSPC dashboards allow Quickie's executives to analyze the nature of problems with more precision now, so that they can work more effectively, and collaboratively, with their suppliers to resolve issues. "They have more resolution into what the nature of the problems are, so that rather than trying to address it with a bat, they can address it with a scalpel," says Steve Wise, vice president for statistical methods at InfinityQS.
Quickie and one of its suppliers have already benefited by proving a particular performance parameter was impossible to meet given the current design. New designs were already being tested just days into the eSPC deployment, and issues that might have taken weeks or longer to resolve are now being fixed within days. Best of all, Quickie and the supplier were able to work collaboratively to the benefit of all parties and, ultimately, the consumer. [See sidebar "Tracking Quality at Terayon" above for another "upstream" example of the use of BI/PM tools.]
---
Looking Inside
Companies also are applying new analytical tools to the challenges of managing their own segment of the supply chain. Case in point: Canton, Mass.-based Casual Male Retail Group, the largest specialty retailer of big and tall men's apparel, with more then 520 store locations throughout the United States, England and Canada. Casual Male is using a solution from Oco Inc. to gain visibility into its sourcing and inventory management, among other things, and has reported increased profit margins as a result of using the application.
Oco, headquartered in Waltham, Mass., provides what it bills as the world's first On-Demand Business Intelligence Platform. Oco offers the solution on a fixed-time, fixed-cost deployment basis with a rather unique money-back guarantee if the customer is not completely satisfied at the end of the six weeks. The solution takes feeds of essentially all of a customer's critical business data in a process that AMR Research's Bruce Richardson compared to "mapping the business genome" for a given enterprise. Oco then organizes the data and feeds coherent information back to the customer in any of 64,000 standard reports.
For Casual Male, Oco streamlined the company's access to vital merchandize and distribution data that has allowed the retailer to better manage its 171,000 stock keeping units (SKUs) across its business. The Oco reports, for instance, may track last week's average daily volume for a given SKU, cross-reference that figure with the amount of on-hand stock and the average for the previous three weeks, and project the likelihood of an out-of-stock. The minute that one of those metrics crosses a threshold, indicating an out-of-stock, or showing items on backorder without sufficient purchase order to clear them, an indicator turns red in the appropriate dashboard and sends out an e-mail to the responsible parties to let them know they need to take action.
In another example of the solution at work, Casual Male was able to analyze a constraint in a distribution facility that appeared during the company's rapid growth. By using the reporting within Oco, the retailer identified that SKUs were being stored in more than a dozen different locations within the distribution center, representing a possible drag on the company's quick shipment program for customers. With that information in hand, Casual Male was able to work with the DC's managers to streamline the warehouse operation and improve their logistics. Overall, Dennis Hernreich, executive vice president, chief operating officer and chief financial officer for Casual Male Retail Group, has estimated that the company has increased its profit margin by 3.5 percent over the last two years by leveraging Oco's solution.
Looking Downstream
Finally, still other enterprises are looking to apply BI/PM solutions to their downstream supply chains — which brings us back to Andy Cullen and his planning and export team at Guinness.
The beer brewer is a division of Diageo, the $19.2 billion global company that was formed in 1997 with the merger of Guinness and GrandMet. Diageo is headquartered in London, but Guinness continues operations in the heart of Dublin at its landmark St. James's Gate Brewery, acquired under a famously far-sighted 9,000-year lease secured by company founder Arthur Guinness in 1759. With approximately 10 million pints of Guinness consumed on the planet each day, job one for the company's supply chain function is to ensure availability of the beer for its many devotees around the globe. So after learning that Guinness' U.S. customer — actually a sister division, Diageo North America — was rating their service levels at around 50 percent, far below Guinness' own estimate of virtually 100 percent, Cullen and his team returned to Dublin determined to increase their service levels.
The proximate cause of the disparity between Guinness' figures and those of its customer was quickly evident, says Cullen. "We had a very simplistic view of the supply chain, which was that if it left our facility on time, then surely it turned up in the States on time. But the supply chain between here and the States is reasonably complicated, and it turns out that there's a fair amount of things that can go wrong." [See sidebar "My Goodness, My Supply Chain."] As Cullen learned, the complexity introduced by the multiple steps in the beer's journey to the U.S. market — with numerous handoffs between different responsible parties — was compounded by the inherently unpredictable nature of ocean transport: Certain shipping lines performed better than others, the price of oil affected how fast the vessels moved across the Atlantic, weather could help or hinder vessel movement, and even the time of year caused variability in crossing times. In addition, things could simply go wrong: a container might not get down to the quay in time to meet the feeder vessel sailing; the feeder vessel could be delayed or canceled due to bad weather, or arrive at the deep sea port in time but not get in and offloaded in time to meet the deep sea vessel; or the deep sea vessel might be running late itself or do a "port skip," missing a port to get back on schedule, so that the beer literally missed the boat.
---
Switching from Guinness' "on time in full on dispatch" metric to "on time in full on arrival" ("OTIF on arrival") to match the customers' figures was an easy fix, but the greater challenge for the planning and export team was identifying a solution that would let the brewer accurately track the new metric as well as manage its inventory all the way across the Atlantic. Diageo uses SAP globally for ERP, and Guinness also uses Manugistics (acquired this year by Scottsdale, Ariz.-based JDA Software Group) for supply and demand planning. But Cullen says that he was looking for "something a little bit different, a little bit leading-edge" to help the company solve this particular problem.
In casting his eye around at the various software packages available, Cullen came across a company called SeeWhy, a Windsor, U.K.-based provider of what it calls a "real-time business intelligence platform." SeeWhy CEO Charles Nicholls previously had worked at Business Objects, but he says that he founded SeeWhy with a vision for a new approach to business intelligence. "The traditional way of extracting data out of operational systems, transforming it and loading it into databases, and then, once it's in the database, querying, analyzing and reporting, all that was problematic once you moved to become process-oriented and real-time," Nicholls says. Instead, SeeWhy takes an "event stream processing" approach to BI, meaning that a customer can feed transactional data into the solution on a continuous basis, and the software analyzes the data in real time, streams the results back to the customer and provides alerts when it detects anomalous events. In a sense, the software aims to take the place of the analyst who would be querying the BI database, providing reports and firing off an e-mail to the boss when something amiss turned up in the data.
SeeWhy's "always-on" capability attracted Cullen, who was looking to adopt a more predictive and proactive approach to how his team managed the movement of the company's beer. After initial meetings with SeeWhy during which the solution provider worked with Guinness to map out the complexity of the trans-Atlantic supply chain, the brewer elected to move ahead with an implementation of the SeeWhy platform, with the solution provider hosting the software for Diageo. SeeWhy worked with Diageo to configure the solution so that it would record each event along the supply chain for each shipment, and then continuously calculate for each shipment whether it would reach its destination on time. Many of the data feeds are automated, although Diageo staff do get shipment updates from carriers' Web sites and key that information into SAP. At present, Diageo sends data from its ERP system to SeeWhy at the close of every business day, and Cullen then reviews the reports coming back from the system each day to get updates on shipments en route or to check for alerts on late shipments.
Looking into the Data
In the event that something amiss pops up on the SeeWhy dashboard, Cullen can drill down into the details on a particular shipment to learn where a shipment is getting delayed and how that will impact Guinness' ability to meet its delivery obligations. The system also provides a standard daily report with month-to-date performance and a predictor for what the month-end performance is likely to be, given the current state of shipments. Cullen and his team can use all this information to take action to get individual shipments or overall service levels back on track. As might be expected, they were able to start improving Guinness' OTIF on arrival performance within months of adopting the solution. The metric currently hovers around 80 percent. "We could push it up further," Cullen says, "but if we did that we'd have an increased number of shipments arriving early."
Cullen and his team also developed new insights into the different factors that influence transit times and on-time delivery by looking beyond the "headline" information presented in the SeeWhy reports and drilling down to uncover root causes of delays or disruptions. For example, using the solution, Cullen learned that the October-December time period sees both an increase in seasonal traffic headed westbound as well as less-favorable weather, so Guinness is now able to take those factors into account in planning its shipping lead times, with the result that the product still arrives on time. In addition, the planning team has gained a better understanding of carrier performance based on the new arrival time metric. "Interestingly," Cullen says, "we learned that one of our most competitively priced shippers is producing very good customer service for us. That obviously has led down a particular track when we are seeking increased shipping capacity to meet a peak shipping requirement. Not only can we secure the capacity, but we can get it at the right price. In the past, to be honest, we would have probably gone for our most expensive carrier in the belief that they offered the best customer service because we simply didn't have the visibility to know any better."
The ability to use the predictive reports on expected month-end performance to proactively address any issues flaring up on the horizon has produced a critical change in how Guinness operates, Cullen says. "The way that we used to measure, the metric would come out maybe two weeks after the month-end and was retrospective. Now I've got a pretty good predictor two weeks into the month of where the month-end's going to be, so I've probably got an additional month of lead time available to me to take action to solve any issues. That's a lot of time in the supply chain these days."
---
Companies in this article