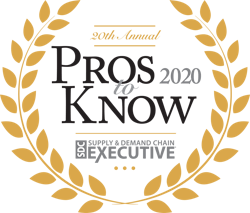 Supply & Demand Chain Executive is accepting submissions for its 20th annual Pros to Know award.
For the last 20 years, SDCE has been recognizing outstanding executives whose accomplishments and leadership abilities offer a roadmap for other industry professionals looking to leverage the sector for competitive.
To preview a PDF copy of the application before submitting, please click here. Note: all entries MUST be submitted electronically through this link.
Note: Any information provided in the submission may be used in print.
The deadline for submissions is Thursday, January 16, 2020.
For more information or questions, please contact editor Mackenna Moralez at [email protected].