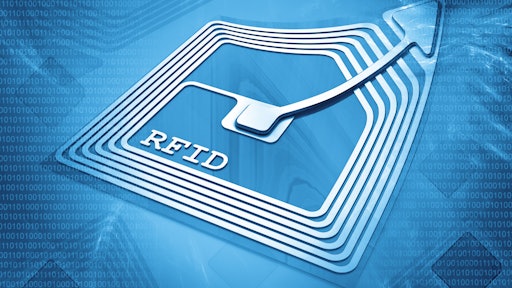 cake78/stock.adobe.com
Radio Frequency Identification technology (RFID) is by no means a new technology, but the disruption of the supply chains in recent years and the rise in sustainability demands has led to its use picking up momentum in the retail space, with IDTechEx forecasting that nearly 24 billion RFID labels will be used in retail apparel tagging by 2023.
The increased reliance on e-commerce has led consumers to increasingly expect fast and convenient fulfillment, however, ongoing supply chain disruption continues to cause problems. Businesses cannot make fulfillment promises to their customers without an accurate view of their (available) stock, so RFID technology is needed to change the way retailers manage their inventory throughout every level of their supply chain, something that has become even more important. Investments in RFID inventory tracking enables retailers to offer a flexible e-commerce fulfillment model and allows them to proactively manage inventory to a much higher standard and ensure obstacles are averted where possible.
While there has been a shift in the sector in recent years, RFID is playing a big part in how retailers approach a new stage of life cycles in the industry. This is a natural cycle for most new and transformative technologies, but the need to overcome disruptions quickly have accelerated this. Not only have many brands found merely surviving a struggle, but have stated that one of the key reasons for implementing RFID is to benefit from an omnichannel strategy, something which has gone from being just 'beneficial' to almost 'non-negotiable'.
Eliminating inventory silos
In response to the shift in consumer behavior; retailers and brands now need to break down their inventory silos and create a single view of stock across their entire supply chain. The best way to do this is by tracking every unique item's movement throughout the supply chain and collecting data in a cloud-based inventory repository. Whether it's in-store, a distribution center or through loss prevention efforts.
This enables businesses to keep track of every single item using RFID technology, from the moment it leaves the production factory to the exact moment the item is shipped, sold or returned. Through the breakdown of inventory silos, businesses can create a single view of stock across their entire supply chain, which allows items to move between stores, distribution centers and e-commerce without losing sight of a single product. This enables perfectly matched demand and supply anywhere and at any time.
Knowing what is in stock and where items are located at all times throughout the supply chain has become essential. Retailers have come to understand that although customers may be shopping across separate mediums it is essential that they have a clear view of their inventory across their entire supply chain. RFID is incredibly beneficial in creating a seamless, standardized customer experience by including valuable data about retailers' consumers and their interactions with products and goods.
Regardless of the sales channel, RFID allows purchase information to be communicated across all connected platforms. This not only alerts retailers to a sale, but it also represents one less product in their inventory and a demand for supply chains to meet.
Meeting the need for advanced supply chain insights
By definition, 'supply chain management' means the cooperation between suppliers, customers and other partners. As such, sharing data and insights among those partners is crucial to operating efficiently and the foundation to build trust. Tracking stock movements and status changes in real-time is especially important within complex supply chain structures, where products are regularly shipped and transferred between partners, warehouses, distribution centers, and stores. Cloud-hosted data from each product's digital twin can share real-time data on its provenance, journey and real-time location through the supply chain. As a result, it is possible to create visibility where products come from, where they are and where they need to go.
With major supply chain disruptions opening the eyes of the industry to challenges and expectations that can occur overnight, technology has now progressed at a faster pace. While the industry-wide challenge of inventory excess is no secret, few know the best course of action to solve it as there are a number of reasons the excess can occur. Some of the key contributing factors include lack of visibility into what is present in the retail channels, wanting to have the right product readily available to customers. Luckily, RFID can and does help retailers achieve this.
Retailers can expect supply chains to continue to become entirely transparent, as consumers will keep demanding more from manufacturers, brands and retailers as they become more conscious of supply chains, manufacture, product provenance and environmental impacts. With the use of RFID, supply chain risks can be drastically reduced, making retailers not only more efficient, but sustainable and in line with consumer expectations now and in the future.