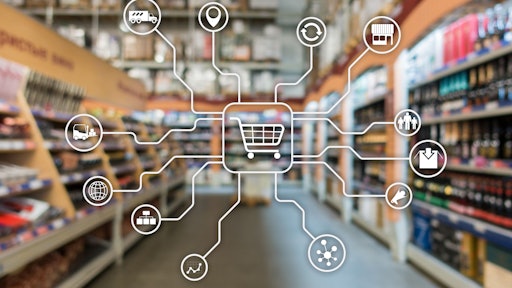 Funtap/stock.adobe.com
The performance gaps between retailers operating a supply chain through automated technologies and a supply chain that continues to operate through a legacy, manual-driven system is exponential in today's fast-moving omnichannel world. In some cases, it can be a matter of a retailer responding to supply chain issues in real time versus a retailer responding days or even weeks later.
With the rise of omnichannel shopping, grocery is moving faster than ever, making it more challenging to keep up with the number of channel-changing shoppers. Consider the latest SymphonyAI Retail CPG household data on global grocery shopper trends:
In Q4 2022, 67% of online households were omnichannel shoppers — that's two-thirds of total online households.

This represents a one-year increase of more than 5% from the number of omnichannel shoppers in online households in Q4 2021, when the number was less than 62%.
That number will likely continue to grow, further challenging retailers to find the optimal way to maintain inventory on shelves in-stores, adjust for online orders for in-store pickup, manage curbside pickup orders and fulfill orders for delivery.
Retailers that continue to rely on manual systems will fall further behind, left scrambling to keep up with product movement in the end-to-end supply chain, leading to out-of-stock headaches, overstock pains and, ultimately, savvy omnichannel shoppers feeling less confident in their grocer of choice.
Omnichannel visibility is paramount
Retailers today need a complete view of how products are moving online and in-store. Manual tracking requires considerable labor and statistical demand forecasting requires specialized expertise to run predictive models attempting to analyze across channels. AI, however, can quickly optimize supply chain planning, deliver accurate demand forecasting and help assortment planning in real time across channels.
Again, as our latest global research demonstrates, omnichannel shopping is now the norm:
In Q4 2022, nearly 43% of households that have shopped online were considered long-term users of the channel, having shopped the channel consistently in the last 12 months.

This is up from the same quarter a year earlier, where it was 41.7% of households.
Omnichannel shopping is not going anywhere. Retailers need to better manage inventory to meet shoppers when and where they shop, using automation to provide live, connected analysis of what's happening across the supply chain. Teams gain granular insights into the movement of products from different ordering systems, into the warehouse, off to transportation for fulfillment or out to a third-party delivery service from a store.
Let's look at two specific benefits of AI-based automation versus manual systems.
1. Retailers can gain more accurate forecasting
A forecast is only as accurate as the data and the model being used and as omnichannel shopping makes the data more complex, it also makes it more difficult for traditional statistical models to accurately predict consumer purchase patterns and demand patterns. Retailers monitoring these patterns through manual processes could experience more holes compared to automated processes.
What's more, retail is high volume and machine learning can understand historical patterns through consistent and new data sets that generate continual learnings. Humans, through a manual process, can't detect behavioral changes with the same speed and accuracy.
Using AI-based demand forecasting, models keep up with real-time changes and generate much more accurate forecasts. Additionally, they can leverage contextual data, adding in variables such as weather, seasonality, major local events and more to enhance forecast accuracy. While team members still supervise the AI and can delve into the data for granular insights, AI-based forecasting enables retailers to make better decisions faster.
2. Product transparency enhances shopper loyalty
Retailers looking to efficiently manage fresh items — across channels — need immediate insights to optimize sales of perishable items. Another benefit of automation in fresh and kitchen management, where time is particularly of the essence, is the ability to move fresh items quickly through the supply chain and the store to minimize waste and spoilage.
Managing inventory with automation tracks the origin of a food item, incorporating data on a product's sell-by date and more that can help reduce food waste. The technology can handle catch-weight items and changes in multiple selling units that impact fresh item management on shelves.
An automated system can also analyze the ingredients of a kitchen product to provide retailers with ways to enhance product transparency for shoppers. The AI can monitor nutritional information, allergens, product sourcing issues and more that retailers can easily convey with item or shelf labelling or through online content.
Time is money
The power of technology in today's retail world is astonishing, and retailers should weigh where automation can improve their supply chains and grow their businesses. With AI-based solutions that provide demonstrable ROI, the business case is compelling.
Automated, AI-driven and updated technologies can support retailers, helping them drive analytics, optimize demand planning and improve supply chain efficiencies in real time. Retailers can also reduce the workload of their statisticians and data scientists, allowing them to focus on more strategic aspects of the businesses and easing recruiting challenges for these hard-to-fill roles.
AI powers a low-touch and more accurate demand forecast, providing a clear, real-time glimpse of inventory and supply chain requirements inside the store and online. The quicker retailers can react to omnichannel shopping behaviors, the more efficient the supply chain, the more satisfied the shoppers — and the more profitable the retailer.