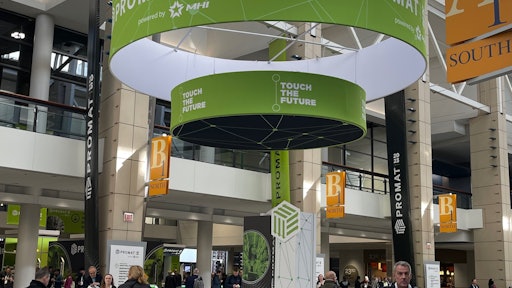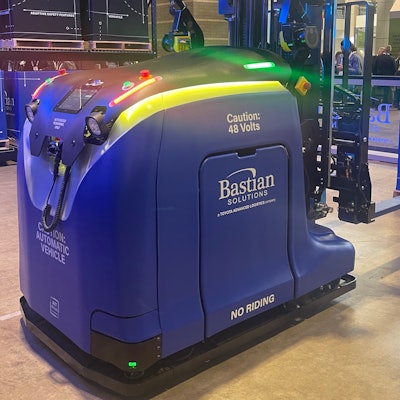 When you think Chicago, do you think robotics? If you visited MHI's ProMat, you might. From Bastian's C18 automated forklifts to AutoStore's Bins, technology took the stage to show off all of the incredible strides being made in every facet of logistics today. It's not new — disruption over the past few years has catapulted the "in the works" innovation to fruition, on a quest to improve supply chains everywhere. But seeing it up close and in person shows the true scope of an industry that isn't slowing down anytime soon.
For every million square feet of space, it's estimated that a warehouse needs 100 lift trucks. And what's more, people are required to keep these warehousing spaces moving. With the staffing shortages we've been reporting on over the past year, which are estimated to grow to 82M by 2030, warehouses need to find ways to adapt. Yale showcased their forklift technology as a creative model for customer driven design that makes for faster production, technology integration and an intentional customer network. Their sensors and safety systems keep products equipped to ensure workers are safe on the job. As Raymond celebrates 100 years of business, they described their mixed network of solutions that includes the iwarehouse system to provide telematics and visibility data for better process design and automation strategy.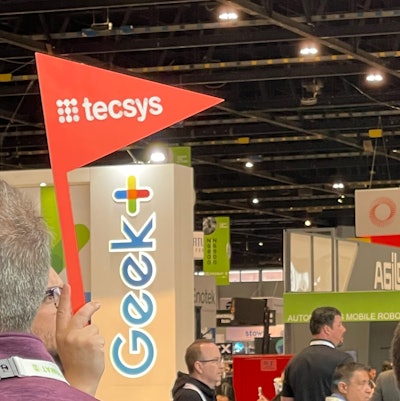 Some processes, with engineering designs I can't quite wrap my head around, are moving to full autonomy. I watched the Bastian C18 autonomous vehicle drive around a warehouse floor and learned about new drone designs that house themselves during the Tecsys tour — that led a group through the show floor and explored innovations from Zebra, SVT Robotics and more — and I even got a t-shirt at the end.
Off the floor, there was plenty of connections being made and celebrations to commend the achievements on display. Supply & Demand Chain Executive and Food Logistics hosted the 2023 Industry Partner Party with roughly 100 attendees, to congratulate them on being named Rock Stars of the Supply Chain and Pros to Know.
To close out my coverage of the event, I attended the session with producer, director and actor Ron Howard who used his background, from directing Apollo 13 to acting as Richie Cunningham in my childhood favorite show Happy Days, to explain that being good at your job happens by doing the job and leads to an earned mutual respect from people in your field — because it's not just automatically given.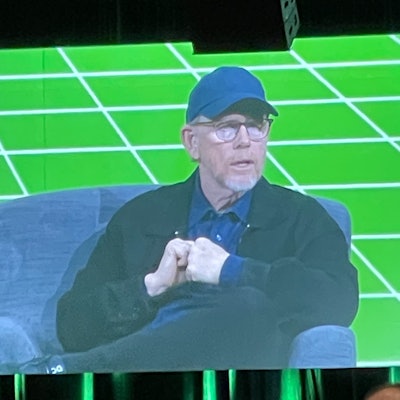 Ron Howard also said something that stuck with me. "Outlier stories that prove the impossible is possible, those are the ones to chase." As an editor in the supply chain, it's my job to write and report on the happenings within the industry. ProMat proved to me that my job does in fact explore outlier stories, as companies and the amazing people in them cultivate solutions that might seem totally impossible, until you see them making it possible after all.