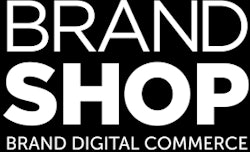 Brandshop
Shelton, CT—Sept. 21, 2015—Consumers can be fickle and their demands and preferences are constantly evolving, so brands must quickly adapt or risk losing market share to competitors. Understanding what consumers want is the single most important step and lays the groundwork for proactive change.
BrandShop set out to explore consumer preferences as it relates to brands in a comprehensive study of online shoppers throughout the U.S. The results are staggering:
82 percent of consumers expect to be able to transact, not just engage, on a brand website.
88 percent of consumers prefer to buy directly from a brand if given the option.
72 percent of consumers are not fully satisfied with the current shopping experience offered by their favorite brands.
Consumers are 57 percent more likely to start their shopping journey on a brand's website than on a retailer's, yet an overwhelming proportion of end transactions occur on retailers' channels.
Consumers transact on third-party channels out of necessity, not desire.
Consumers emphasize the quality and quantity of content as key drivers for online purchases.
Consumers hold the brand responsible for any shortcomings in the product experience, regardless of where the transaction occurred.
Based on these realizations, it is apparent that there exists a huge gap between consumer expectations and the current reality of branded shopping. In an age in which transactions can occur anywhere and anytime, brands must enable direct transaction capabilities on its own digital channels. By creating brand marketplaces, brands can best represent their values and their products without solely relying on retailers who are less equipped to provide the full brand experience.
Additionally, brands must deliver informative and engaging content to convey authenticity. Research is a crucial step in a shopper's journey, and the right content can give consumers the confidence to convert right then and there. It is absolutely critical for brands to convert organic site traffic into satisfied and loyal customers. Most importantly, a brand must control the brand experience at every point of the customer's journey, from discovery to fulfillment.
BrandShop can help brands stay competitive by carefully crafting an end-to-end digital commerce experience with consumers in mind. BrandShop provides a high level of scalability for brands looking to enable direct-to-consumer transactions. Merging technology with operational expertise to effectively build, grow and operate a full-scale e-commerce operation, BrandShop offers:
Desktop and mobile site development and maintenance.
Strategy, design and demand marketing.
Content management and merchandising.
Transaction capabilities and order management.
Warehousing, fulfillment and delivery.
Knowledgable customer service at every step.
Companies in this article
Request More Information
Fill out the form below to request more information about
These Consumer Preferences Can Give Brands the Edge They Need