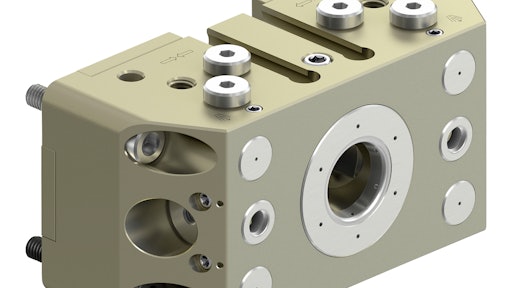 The slim robot couplings with optimized interfering contours of the SCHUNK VERO-S NSR series have been setting benchmarks in highly efficient, robot-supported pallet exchange on machine tools in a weight class from 1 kg to 1,000 kg for many years. With the compact VERO-S NSR mikro 60 miniature coupling, SCHUNK now transfers the principle of rapid pallet exchange into the growing world of small robots. Due to the patented dual stroke system, the 60 mm wide module has a weight of 150 g and provides high maximum moments of up to 12 Nm (Mx and Mz). It is suitable for reliable pallet handling of up to 5 kg (at maximum 100 x 100 mm). Locking is done in a form-fit and self-retaining manner. For unlocking, a pneumatic system pressure of 5 bar is sufficient, and can also be carried out with non-lubricated air. The repeat accuracy amounts to 0.02 mm.
High process safety in unmanned operation
The special hybrid design of the module ensures a high robustness at a low weight. All functional parts are made of hardened stainless steel; and the remaining parts are made of high-strength, hard anodized aluminum alloy. For supply of the clamping devices the module can be equipped with SCHUNK standard media transfers for pneumatic pressure, electrics or fluids. To ensure that the coupling is process-reliably functioning it is sealed against chips and coolant. Additionally, the cleaning function is integrated as standard for automated operation, to ensure a chip-free flat work surface between pallet and robot coupling.