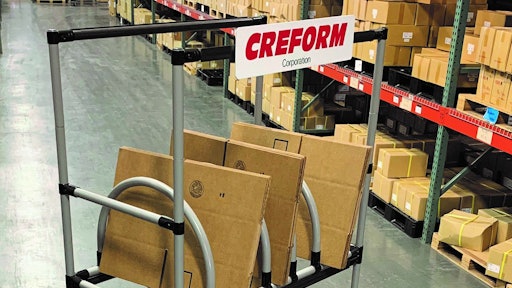 Creform
Creform Corporation has developed a supply storage cart to support a user's in-process packaging work area. The uniquely designed cart holds cardboard boxes of different sizes, for easy identification and retrieval.
The cart is built with light and sturdy 28 mm diameter plastic coated steel pipe and metal joints and features 21 compartments with seven on each of three levels.
Each compartment features a cross pipe floor as well as dividers for separation and retention. The dividers feature bent pipe that makes loading and unloading easy.
It can be reconfigured, the levels can be changed, and the dividers re-positioned all with a simple tool.
The cart features four 4 in. diameter swivel casters with rubber wheels for easy, stable and safe movement. The wheels lend themselves to easy positioning of the cart for housekeeping or reorganization and two of the casters feature brakes that can be engaged to lock the cart in place. Creform carts can also be developed with feet, rather than wheels when the application requires. It has a small footprint with overall dimensions of 36" W x 20" D x 85" T. and is designed to hold up to 300 lb.
As with all Creform carts, higher capacity and custom cart sizes and configurations are possible with the Creform system of 28 mm, 32 mm and 42 mm plastic coated steel pipes and metal joints. They can be configured for ESD (anti-static) applications and are available as a kit, an assembled structure or in the component form for a complete DIY solution.
A wide variety of pipe color options are available and are accessories such as label holders and hooks to name a few. The modular design of Creform carts allows the user to add only the accessories needed.