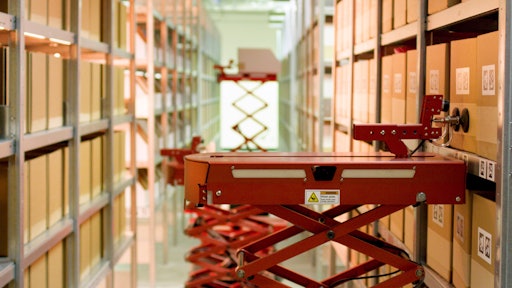 inVia Robotics
inVia Robotics announced Ecentria has deployed its Robotics-as-a-Service (RaaS) system to automate order fulfillment in the Ecentria distribution center (EDC) in Aurora, Ill.
inVia's integrated automation system, which includes a fleet of autonomous mobile robots and AI-driven software, is now live in EDC, the primary distribution center supporting OpticsPlanet, Inc., an Ecentria company. The system gives Ecentria a flexible robotics solution that can scale along with dynamic e-commerce order volumes.
Through these operations, OpticsPlanet offers a wide selection of sport optics, tactical and military gear, scientific products, hunting gear, professional-grade products and eyewear.
"With a diverse range of products and customers, we were looking for an automated warehouse solution that could easily scale and adapt in support of our mission to always provide exceptional service," says Andrew Mironov, managing director, head of operations at Ecentria. "inVia Robotics delivered on both and proved that it could increase order efficiency and accuracy, which makes the ultimate difference to our customers."
The inVia Picker robot automates the storage and retrieval process and works alongside people to skillfully pick and move products swiftly and accurately through the order fulfillment process. The robots are directed by robotics management system (RMS) software that continually analyzes EDC's warehouse to optimize operations and increase throughput. EDC has also chosen to manage replenishment through inVia's system, which helps maintain inventory accuracy, ensuring customers receive the items they want when they want them.
The system employs advanced AI algorithms to adapt to fluctuations in demand in real-time and adjust warehouse mapping to create more efficient paths and processes inVia's holistic platform adapts to customers' existing layouts and software, and its unique inVia Connect integration tool allowed quick and simple integration with EDC 's existing warehouse management software (WMS). Ecentria deployed the solution through inVia's RaaS model, which delivered immediate ROI and eliminated the costly burden of ownership.
"Ecentria DC, the primary distribution center supporting OpticsPlanet, Inc., is the latest e-commerce business to benefit from inVia upgrading its warehouse operations to keep pace with the rapid increase in online orders and consumer demands," says Lior Elazary, co-founder and CEO of inVia Robotics. "We are excited to bring the productivity and accuracy benefits of automation to companies of all sizes, helping them increase both consumer and employee satisfaction through more efficient order fulfillment."