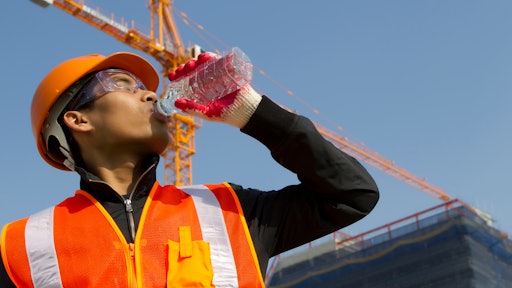 Getty Images
Even the most modern warehouse contains its share of inherent risks and dangers to workers if proper precautions and planning are not in place. While technology and innovation have delivered safety improvements, efficiencies and other benefits in today's warehouse, the fact remains that in any environment containing heavy equipment and inventory, numerous moving parts, and people and machinery executing a multitude of functions, risk will continue to be present.
For proof, consider these statistics about some of the most common aspects of the warehouse — forklifts, and simple slip and fall accidents:
Forklift accidents alone result in 95,000 injuries and 100 deaths each year.
Slips, falls and trips account for 15% of accidental deaths in warehouses every year.
These incidents remain all too common, and yet can be avoided by following some relatively easy steps and tips:
Training is critical. Before using any piece of machinery or equipment, from forklifts to routers, personnel must be properly trained on equipment operation and safety procedures. Retraining should also occur regularly to help assure that employees continue to follow good practices and are aware of any updated information. Hand in hand with a robust training protocol is the requirement that no one operate any piece of equipment without proper preparation and, if necessary, certification. Personnel throughout the facility should also be trained in general safety and basic first aid.
Always remain alert. From forklifts to robots to machines, danger is literally around every corner in a warehouse or manufacturing facility. Workers must remain alert at all times to avoid collisions and other mishaps that can all too easily occur. Employees should not walk while using tablets or mobile phones, and should remain "heads-up" anytime they are in motion through the facility.
Use the right safety gear. In general, gloves, ear plugs and steel toe boots should be a minimum requirement for proper dress in the warehouse. Depending on functions and activities, employees will also need hard hats, goggles and other protective equipment when carrying out some tasks. Be sure that you have the right safety equipment on hand for every employee and scenario that may arise, since this gear is a key part of preventing injuries.
Be proactive about preventing slips. It's a good idea to take a comprehensive look at your facility and identify any areas where slips, trips and falls are most likely to occur. If any incidents have happened in the past, be sure to zero in on those areas, as well. Once you've identified these risk zones, use measures such as grip tape, anti-slip tape, treaded floor plates and other safety equipment to take strides toward thwarting slips, trips, falls, and other incidents that can occur due to a lack of traction or space for comfortable movement.
Follow proper forklift procedures — every time. Forklift safety is critical, yet because the forklift is such a commonly used part of a warehouse, basic safety procedures can be overlooked. Forklift operators must follow proper operational and safety procedures every time they use the forklift — no matter how light the load or short the distance. This attention to detail not only helps to guard against the most easily prevented incidents, it also instills the right mindset for more difficult jobs. It's simply too risky to decide when to follow proper procedure on a case-by-case basis.
Create and adhere to regular maintenance schedules. Malfunctioning or improperly maintained equipment is dangerous equipment. All equipment throughout the facility should be regularly maintained according to manufacturer specs (or more stringently), and machinery in need of maintenance should be addressed or shut down. A rigid maintenance plan is one of the greatest safeguards against unpredictable, dangerous events.
With these tips in mind, you're ready to take the right steps toward protecting employees, equipment and yourself from the dangers present in every warehouse. Be sure to consult the accompanying infographic for even more best practices.
Creating a Safe and Efficient Warehouse from Qualitrol.