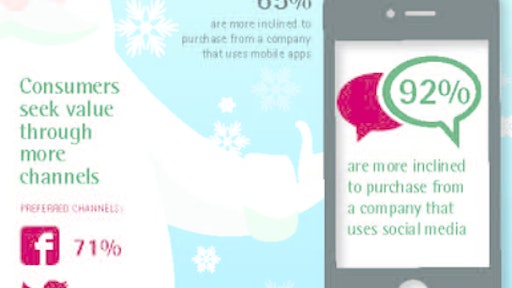 With Black Friday and Cyber Monday just days ahead, many ecommerce retailers had to enforce measures that would support their commerce model and supply chain processes to support the influx of consumers who will do their holiday shopping online this year.
According to the National Retail Federation (NRF), online sales this holiday season will amount to over $500 billion in online sales.
With that in mind, Accenture, a global management consulting, technology services and outsourcing company, released a new study which shines a light on consumers' purchasing behavior and use of shopping channels—specifically online—at this busy time of year.
Data analysis
Nearly three out of four (72 percent) consumers ages 20 to 40 in the U.S. and the United Kingdom use mobile devices while in-store to compare prices. But the majority leave before making a purchase.
The Accenture Interactive survey— conducted by Coleman Parkes—aimed to determine which shopping channels are used most frequently; how consumers move between channels; how social media influences purchasing decisions; and the value consumers place on price, privacy and personalized shopping experiences.
The research also shows that while consumers in this age group are concerned about online privacy, they will permit retailers to track their shopping behavior to personalize their shopping experience.
More than half (52 percent) of the 2,000 consumers surveyed in each country believe that in-store prices are higher than online prices. While 60 percent say that online prices entice them to visit a store where they can compare prices and view merchandise up close, 48 percent still go home to buy the products from that retailer online, but 32 percent buy products online from a different retailer. Only 20 percent make their final purchase in-store.
"The showrooming trend can pose a threat to retailers, given that nearly a third of our respondents make their final online purchases with other stores," said Baiju Shah, Managing Director of Strategy and Innovation for Accenture Interactive. "But consumers don't want to shop online exclusively and our work with retailers shows that physical stores don't have to compete on price alone but rather focus on the whole experience. Retailers need to create a seamless, multi-channel experience that blends the digital and physical, and delivers convenience, price and relevance."
Personalization outweighs privacy concerns
The survey shows that the consumers surveyed by Accenture Interactive are extremely interested in having a more personalized shopping experience, despite their concern for privacy protection. In fact, 64 percent say they would be receptive to receiving text messages when visiting a store, informing them of offers that match their past shopping interests. And 60 percent strongly agree that it is acceptable to receive advertisements on their smartphone if they opt into them.
Despite the fact that 86 percent of those surveyed say they are concerned about Websites tracking their online shopping behavior, 85 percent are aware that such tracking goes on but they understand that tracking enables companies to present offers and content that matches their interests. Nearly half of the respondents (49 percent) are receptive to their favorite stores or brands using their tracking data to inform their future purchases and make them aware of product availability.
When asked to make a choice, 64 percent of respondents say it is more important that companies present them with relevant offers against only 36 percent who say companies should stop tracking their Website activity. At the same time, however, 88 percent strongly agree or agree that companies should give them the flexibility to control how their personal information is used to tailor their shopping experience.
"It is clear that consumers are demanding a more individual relationship with retailers and in the emerging 'forever prospect' model of retailing, that means service and product experience can be more critical than price," said Shah. "Consumer marketing needs to address the current disconnect between offline and online shopping and enhance the physical store front with tailored digital experiences."
Social media established at the heart of retailing
The survey confirms the importance of social media, with 92 percent of respondents more inclined to purchase from a company that makes use of social media channels. For 67 percent of the respondents, Facebook is their preferred social media channel. The survey also showed that 80 percent of consumers are more likely to buy from a company that uses online and email communications and 70 percent are more inclined to buy from companies using mobile applications.
Additionally, respondents selected Internet advertising as the channel "most likely" to steer them toward buying (47 percent), followed by radio advertising (45 percent), print (31 percent), mobile (19 percent) and television (15 percent).
For an in-depth look at how key supply chain technology and service providers must go to market to address the demanding retail space, stay tuned for the December issue of Supply & Demand Chain Executive, which will go live on December 12th.
For more details regarding the Accenture report, visit http://bit.ly/UanRsy.
Companies in this article