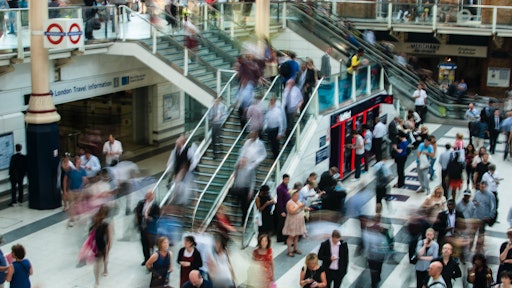 Unsplash
E-commerce continues to become a standard within the industry, but customers are still searching for a personalized experience that can translate from online to in-store. Companies are looking toward Amazon and how it's leading its tech innovations to further its brick and mortar presence.
John Bruno, VP of Product Management at Elastic Path, details on what future stores will look like and what technologies will drive changes before brick and mortar goes out of business in this Q+A with Supply & Demand Chain Executive.
SDCE: What are some ways that companies can embrace digital transformation? Can you give an example of a company that is doing that well?
Bruno: Digital transformation doesn't need to be a big overblown process. The companies that transform themselves the most do so by experimenting and learning, or as some might say "failing fast." Whether you are Dominos delivering an Alexa skill for ordering pizza, Warby Parker allowing consumers to try on eyeglasses via augmented reality, or a distributor making your products available via a warehouse vending machine, look to a customer, their journey, and their experience to identify areas for experimentation. The experiments that work unlock the requirements for new experiences and the technologies that underpin them.
SDCE: What are some ways that companies can create personal experiences that translate from mobile to in-store?
Bruno: Mobile devices with fingerprint sensors and facial recognition provide easier mechanisms for authentication. This level of authentication reshapes how the world thinks about the buy online pick up in store (BOPIS) and self-service experiences. Now brands and retailers can push location-based promotions, streamline package pick up with lockers, or even allow customers to shop and walk out of the store without ever having to talk to an associate.
SDCE: Can you explain how the "Amazon Effect" is taking over the industry? How are traditional brands staying above water?
Bruno: The "Amazon Effect" is really about nailing some of the key drivers behind experience: how easy the process is and your likelihood to complete a successful purchase. Traditional brands are hurting when it comes to the long tail of their product catalogs or the inexpensive, simple products. Amazon wins for speed of transaction, competitive prices and speed of fulfillment. Traditional brands do well by delivering the most compelling experiences for the products they care about the most, the high-value, more considered transactions. If brands deliver compelling experiences there, and meet acceptable thresholds for fulfillment, customers return for the experience on the long tail items.
SDCE: How can companies innovate their brick and mortar presence?
Bruno: Traditional in store technologies are not designed for the digital world. For many, the most sophisticated technology is a legacy POS system. But today, connected mobile devices are pervasive and less expensive than traditional POS terminals. Innovators are increasingly leveraging their digital commerce platforms to power the in-store POS or clienteling experience. Doing so brings the customer context into the store to deliver more personalized experiences and empowers employees to deliver new levels of service.
SDCE: In what ways will traditional brands need to change their warehousing operations to accommodate e-commerce?
Bruno: More and more, customers are embracing online orders, so it's not simply about passing those orders downstream and fulfilling them more quickly. It's about injecting data and insights from warehouse operations into the buying process. It's about providing the buyer an accurate count of inventory at the time of purchase so orders don't get cancelled. It's about connecting inventory, location, shipping options and customer preferences to fulfill orders when and how the buyer wants them. It's a whole new level of personalization, but on the plane of warehouse operations.
SDCE: How will technology innovations improve the customer experience?
Bruno: Technology can support the customer experience in so many ways. Immediately people think about automation and personalization, but transparency and optionality are what come to mind next. Businesses that are able to harness all of their data, deliver it in an easily consumable way, and allow the buyer to control their own destiny over product, price, immediacy, and fulfillment destination are going to be tomorrow's winners.