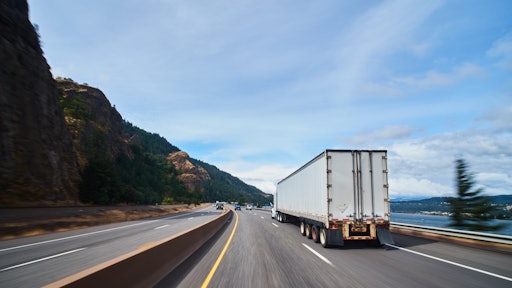 maxwellmonty/stock.adobe.com
Supply chain shortages and delays continue to make headlines on a daily basis. At this point, the narratives are well-known, and increasingly well-worn: Supply chains are in a state of crisis because giant container ships are getting stuck and ports are increasingly backed up, while consumer demand continues to surge. Supply chain pros can see through the clickbait and understand the deeper reasons for supply chain disruptions, but what about consumers?
In March 2022, APQC set out to understand how ordinary consumers perceive supply chain disruptions and the extent to which their understanding aligns with that of supply chain professionals. We'll refer to the group of ordinary consumers as "average Joes" with the understanding that "Joe" could also function as a nickname for the average female consumer—Joanna or Joelle, etc. The 320 valid research participants were split nearly evenly between these two groups, with 48% of respondents representing average Joes and 52% representing supply chain pros. The results of the research show that supply chain pros and average Joes alike are developing more nuanced understandings of supply chain. Our findings also help to dispel misperceptions about the real causes of supply chain disruption and how supply chain pros as well as the broader public are experiencing them.
Average joes got a crash course in supply chain
Persistent media coverage of supply chains and consumer experiences of shortages or outages are driving a deeper familiarity with supply chains among average Joes. Only 15% of this group said they had not heard of supply chain today, compared to 31% of average Joes five years ago. More than one in five of these respondents (21%) said that they have in-depth knowledge and experience with supply chains and how they work, compared to 11% who said they had this understanding five years ago. Not surprisingly, supply chain pros also said they had become more knowledgeable, with 58% reporting in-depth knowledge of supply chains today compared to 33% who said this was the case five years ago.
Both groups developed more nuanced views of supply chain
It would be easy to assume that the average Joe would say that supply chains are strained because of transportation issues, having read about overwhelmed ports and empty shelves in the news. Interestingly, our data shows a lot of agreement about the causes of supply chain disruption—and it's not necessarily related to transportation. Instead, both groups identified people related issues—specifically labor shortages and public health concerns—as the top two challenges. Transportation challenges fall toward the bottom of the list, just above price hikes.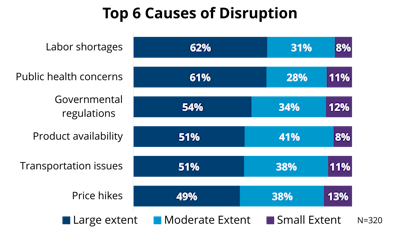 The uneven impacts of supply chain disruption
APQC also found that there is no unified experience when it comes to suffering from supply chain disruptions. The largest share of respondents from each group (53% of supply chain pros and 42% of average Joes) said they've faced multiple, ongoing disruptions related to supply chains. About another third of each group said they've only experienced minor disruptions. Less than 10% of each group fell along the extremes, reporting that they either experienced no disruptions or an overwhelming number of disruptions.
Most common impacts from supply chain disruption
Personnel issues, materials shortages, and surging demand caused prices for many products to skyrocket in 2021 and 2022. For that reason, it's no surprise to see that a large majority of respondents (76%) identified higher prices as the most significant impact from supply chain disruptions in the past year. Supply chain pros and average Joes are also seeing longer times for orders to arrive (70% of respondents), an increase in delayed, canceled, or incomplete orders (59%), and more empty shelves, shortages, or out of stock situations (55%).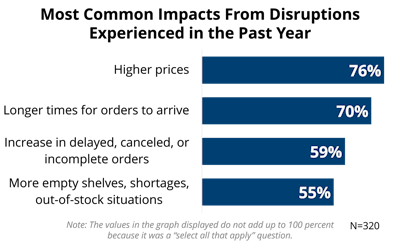 Everyone is concerned about supply chains
Respondents across the board are worried about supply chains, although the pros are more worried than the average Joe. More than three-fourths of supply chain pros (76%) say they are either extremely concerned or moderately concerned about the future of global supply chains, compared to 57% of average Joes.
Supply chain pros know that supply chains are still reeling from the impacts of a global pandemic and geopolitical conflict. Average Joes may not understand all the details, but they still see and experience these disruptions and are paying attention. Business leaders would be wise to act quickly to forge deeper relationships with strategic suppliers, cover critical personnel gaps with strategic workforce planning, and work to dispel common misperceptions about what's really happening in their supply chains.