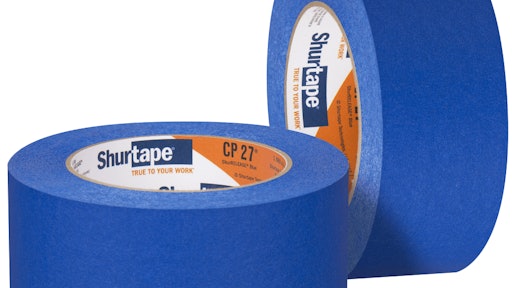 Shurtape Technologies
As the country continues its attempts to slow the spread of the Coronavirus disease (COVID-19), national healthcare leaders are emphasizing, now more than ever, the importance of social distancing. While keeping the Center for Disease Control's (CDC) recommended distance of six feet apart may seem like a reasonable request, it can be a challenging proposition based on a business' size and location.
Manufacturing facilities, for example, are faced with a need to keep their operations up and running to protect their bottom lines and ensure essential supply chains move smoothly—all while safeguarding the health of their employees. To address these concerns, some manufacturers are testing and implementing high-tech social distancing measures within facilities. These include wristbands that alert workers when they are less than six feet apart.
While technology-reliant devices are novel and interesting, they are also costly, have the chance of failing or glitching and are only effective when workers remember to wear them during their shifts. And, that's for facilities that make the large upfront investment.
How do facility managers and safety officers keep people six feet apart in retail settings, healthcare environments, schools, offices and more?
One of the most reliable, economical and versatile ways of reminding individuals to adhere to safe social distancing practices is through the use of tape.
Floor marking tapes have been around for decades, with colorful applications in use in a wide variety of settings, from athletics in gymnasiums to wayfinding in large facilities. More robust than painter's tape and longer lasting than general-purpose tapes, these specialized products are an effective solution for social distancing.
The colorful history of tape for health and safety

The manufacturing industry is already primed to pay close attention to tape and what it signifies. Manufacturers use tape to visually indicate protocols and guidelines imposed by the Occupational Safety and Health Administration (OSHA). Workers know that black- and yellow-striped tape indicates an area where extra caution must be taken, and yellow tape shows traffic patterns or paths of egress.
Additional OSHA-approved floor marking tape colors include green, blue, black, red, white, orange and black and white striped. Each has its own visual cue for employees and stands out from a wide variety of flooring due to bright colors and thick widths.
The CDC and OSHA do not require or recommend specific colors or patterns of tape when using as a social distancing tool; however, it is an ideal solution in instances such as marking lanes, forming lines, designating waiting spots and workstations and setting the direction for foot traffic. Therefore, it is a good idea for the facility's environmental health and safety director to determine which tape colors work best for social distancing, so the markings are cohesive throughout the building to avoid confusion for workers.
Health and safety personnel should gravitate toward using wider, brighter tapes, especially in high traffic areas.
Products designed for specific surfaces and traffic patterns

However, when it comes to purchasing and applying tape, there are other points to consider besides the color. For example, different types of tape have different levels of adhesion. When placing tape on the floor, it is important to consider the surface, as well as what type of traffic the tape will have to endure each day. Will it need to withstand the rigors of carts and forklifts on a concrete floor, or be able to stay in place on the breakroom's laminate flooring against daily foot traffic?
A concrete floor with heavy traffic, including small vehicles, requires an aggressive duct tape with premium adhesive and high tensile construction. Tough duct tapes are made to endure rigorous environments and hold strong, so they should be placed in areas where the tape doesn't need to be removed frequently and there isn't concern about floor damage or adhesive residue being left behind. Such tapes should be considered for directional arrows to dictate the flow of traffic in order to avoid congested aisleways or unnecessary worker contact.
For areas where the tape may need to be removed and replaced often because of adjusted CDC or OSHA guidelines, such as to mark flooring to create queues for temperature checks or time clocks and marking six-foot distance spacing in lines and at workstations, a color line set tape is the perfect choice. Offered in a variety of colors—keeping in mind that all social distancing color coding should be cohesive throughout the facility—this versatile tape works just as well outdoors as it does indoors and features a plastic backing that withstands scuffing, foot traffic and carts.
Another option, floor marking tape, is engineered for more delicate surfaces, such as wood and tile, and areas where facility managers may be concerned about adhesive residue being left behind. This easily conformable tape is ideal for breakrooms and cafeterias, where taped lines may need to curve or bend, weaving workers between tables and along counter lines. Floor marking tape is durable enough for high foot traffic areas but is temporary and leaves little to no residue.
For social distancing directives that need to be placed higher off the ground, reusable, non-adhesive barricade tape is most effective. When wrapped around aisle markers or posts, facilities can create queues and waiting areas—inside or outside—as well as restrict workers from off-limits locations with general purpose barricade tape printed with warnings such as "danger" or "caution" or a colorful woven barricade tape. Both types of barricade tapes are weather-resistant and resist sagging, even when stretched over distances for a long time period.
How cleaning products affect tape
While it is important to select a tape that is appropriate for the type of surface it is adhering to, almost no tape is resistant to cleaning products. The harsh chemicals in cleaning products break down the tape's adhesion solvents. And, once the tape's backing barrier is lifted by mops, buffers or waxers, there is the potential for cleaning chemicals to react with the adhesive. This will affect how long the tape sticks to the surface.
And, frequent cleaning is necessary when following the CDC's COVID-19 guidelines. Because of this, it is even more important to consider the level of the tape's adhesion and its backing material. It's recommended to use a medium adhesion product with a PVC backing.
Heavy duty duct tapes are almost impervious to cleaning solutions, but the strong adhesive is detrimental to most flooring surfaces. Again, these tapes should only be considered for concrete flooring surfaces where facility managers are not concerned about surface damage or adhesive residue.
A simple tool for complicated times
No one knows how long social distancing guidelines will remain in place or how often the CDC may alter the specific recommendations and guidelines. Tape is a simple, economical and versatile way to keep up with the changing times.
COVID-19 presents industries with many challenges. Tape enables facilities to restructure social distancing patterns and regulations on the fly. With proper considerations, changes are as easy as removing a piece of tape and replacing it with a new one.