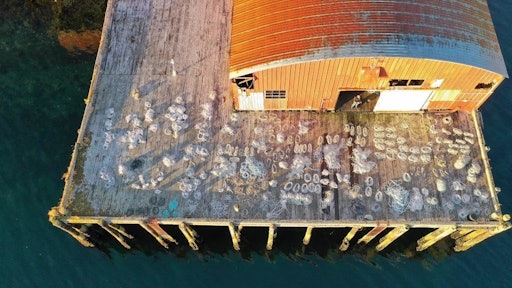 Alaska Rug Company
When the Coronavirus disease (COVID-19) pandemic put a majority of the United States on lockdown, one of the most patriotic things a consumer could do at that time was shop small and shop local.
Since March, consumers have made a dramatic shift to online shopping.
According to a Ware2Go survey in May, 88% of respondents reported their shopping habits had changed due to the pandemic. For example, 87% of respondents are shopping online, and 64% state they have replaced traditional weekly shopping trips with online ordering.
As for Alaska Rug Company, the "shop local" mindset is appreciated, as the small business continues to manufacture its products in the United States.
"The company started when my husband, Robert, and I decided to quit smoking in the winter of 2010. We needed something to keep our hands busy to break the habit and started knot tying. We own and reside at the Port Bailey Cannery, and with that, we inherited lots of old fishing gear, rope and line, so we had lots of raw materials to use for our knot tying," says Alaska Rug Company owner, Anita Shane. "I have always loved rugs and thought it would be a great way to re-purpose and recycle the retired fishing gear on the property. After the first year, we started making so many other items and mostly because Etsy customers requested various items. Once we made something, I took pictures and it became part of our product line. Now we carry so many items made with rope."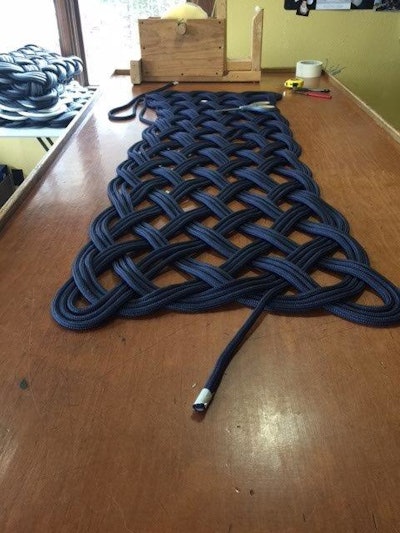 Traditionally, rugs are made from wool, silk or cotton. However, in the 20th century, synthetic fibers like polypropylene, nylon or polyester have often been used as they are less expensive. Shane explains that while the main material for their rugs is rope, materials can change depending on how much time the line was in the sea and how much wear it has seen.
"We make custom rugs within a two- to eight-week time period. We differ from other rug companies in that we use mostly recycled fishing line unless otherwise requested, to braid and knot our rugs," Shane explains. "Our rugs are virtually indestructible, resistant to mold, mildew, salt water and sun, so [you] really get your money's worth while doing your part in recycling. All our products are tagged with Made in Alaska cloth tag as well as Alaska Rug Company cloth tag."
Getting the rope for the products was easier than expected, Shane explains. She is connected with local organizations that help remove marine debris from beaches and recycles the derelict fishing gear.
In addition, word spread quickly within the fishing community that the company was repurposing old line, so various fishermen got in touch to pass off their materials to save money.
"We advertise on local Facebook groups and work with companies, like NetYourProblem.com, that connects fishermen and communities with recyclers of all kinds," says Shane. "We also had quite a bit of old gear on site, which we have used about 80% of over the last nine years. When we go to the town of Kodiak to get supplies and groceries, we will swing by the landfill and pick out of the fishing gear area what we can get that hasn't been buried."
In order to make a rug, the rope must be cleaned, which can be done through the rain. Shane explains that to get the rope thoroughly spotless, she flips the coils every week. She then goes through to assure that all hooks and ganions are removed and stretched out.
"We normally coil into 200-foot sections and then stack in [our] warehouse," says Shane. "If it still needs [to be] cleaned out, we will tie it off to dock and let the ocean do a lot of the work, as the tide comes in and out twice a day. We then will sit coil on dock to dry in sun or bring it to the house and dry by the fire if its material that is needed for an order."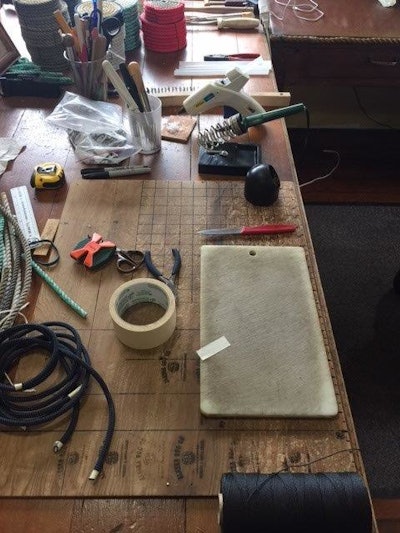 As it is only Shane and her husband making the products, they make sustainability a priority. She explains that they only use paper bags on site as packaging materials, and the company itself is solely an online-based company.
Since starting in 2010, approximately 700 miles worth of raw materials have bypassed oceans and landfills.
"I think sustainability is becoming more important for all companies, across all industries because it improves brand image and gives competitive advantage," says Shane. "I love that more people care about that environment and the impact we have on it, so I am proud to own an eco-friendly company."
Alaska Rug Company does offer customization to its products. The company offers dying, spray painting or even purchasing new ropes for their customers.
"Each item does vary, so I try my best to be clear on all my sites and listings that the item received might be slightly different from one pictured. We assure that the rope is all cleaned thoroughly and will not use damaged line with online sales. Within Alaska stores, the line that has markings on it such as rust from where a hook laid on it in tub sells the best," Shane explains.
Now more than ever though, it is important to shop for products that are manufactured in the United States, as it is crucial to help maintain the economy.
Shane explains that shopping local can also help reduce transportation costs and lower the company's overall carbon footprint.
"Manufacturing in the United States supports American families and the future of our country. In the big picture, we are so small, but when we do purchase items needed such as cleats, rope and nails for our signs, we buy from American-based companies and it's something that has become more important to me in the last few years."