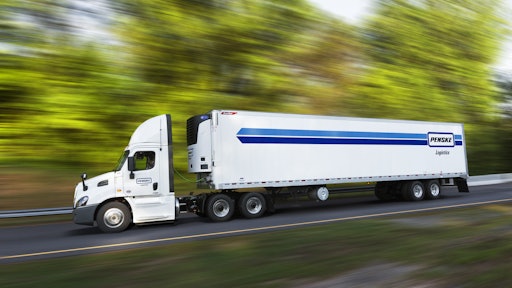 Author John Naisbitt has said, "Trends, like horses, are easier to ride in the direction they are going." When it comes to the challenges facing third-party logistics (3PL) providers and what they are doing as a result, it appears he is correct. Identifying the trends and where they are heading, then doing what it takes to get your 3PL moving in the right direction, appears to be the best approach.
The reality is 3PL has entered a period of rapid change. Its growth has been tremendous; a trend that's expected to continue well into the future. Technology and mobile applications are revolutionizing the way things are done. And, within this context, 3PL providers are also navigating through a growing regulatory environment and intense competition for business, all while dealing with a labor shortage and increased customer demands. Add to all of that, industry consolidation, emerging and disruptive Uber-like supply chain models, and the continued evolution of omnichannel fulfillment, and it is clear that today's 3PLs must be at the top of their game to thrive.
"The good news is that these challenges are driving more companies to consider outsourcing transportation and logistics functions," states Steven Sensing, president of Global Supply Chain Solutions for Ryder System Inc.
Marc Althen, president of Penske Logistics, agrees, "Outsourcing to 3PLs remains robust and there is a lot of great opportunity for business growth."
It's safe to say that it is an exciting and challenging time to be a 3PL, and the most successful ones will be those who learn to leverage these changes to their benefit; becoming more efficient in their operations and increasing customer satisfaction along the way.
Supply and Demand Chain Executive recently spoke to 3PLs across the country to identify their pain points and the solutions they've arrived at to drive industry change and successfully meet the challenges of the increasingly competitive 3PL landscape.
Complexity, Communication and Collaboration
"As the world continues to change faster than ever, our challenge is to change just as fast. Supply chains are only getting more complex, requiring a more collaborative relationship between 3PLs and their customers," reports John Wiehoff, CEO for C.H. Robinson.
Continued globalization has greatly impacted 3PLs. According to Jeff Suchevits, head of Industrial Vertical—Americas at APL Logistics, most companies' supply chains now include an element of globalization, either because they manufacturer outside the continental United States or they buy from suppliers that do. This, he says, has changed the supply and demand chain complexity due to factors that include: border crossings, numerous handoffs, more exposure and increased transit times.

"These challenges have introduced a staggering number of new elements that companies cannot afford to ignore when making supply chain choices, and with which they often need supply chain help," Suchevits says.
The growth of omnichannel is also impacting 3PLs, reports Duane Sizemore, senior vice president of marketing and business development at Saddle Creek Logistics Services. He says traditional supply chain models that segment processes and departments will not be effective in his environment. The increasing demand to get products where they need to be "quickly, seamlessly and cost effectively," he says, means it's essential that "shippers, 3PLs and other partners establish collaborative relationships to ensure optimal omnichannel distribution."
"With a shortage of capacity and tighter regulations, collaboration is key between trading partners," agrees John Simonsen, vice president of corporate development at Yusen Logistics Inc. "It is imperative that shippers share their plans and forecasts with their 3PLs, which enables them to plan for capacity, ensure service levels and minimize supply chain disruptions."
Stand Out from the Crowd
Companies interviewed for this article noted a few things 3PLs can do to differentiate themselves from the competition.
Be a Good Partner. All 3PLs indicated a need for strong partnerships. C.H. Robinson, for example, has unique and strong relationships with contract carriers that allow it to optimize outcomes, price competitively and solve challenging logistics issues. The 3PL also operates a proprietary global technology platform, Navisphere, which enables customers to track shipments all over the globe.
Penske Logistics' Althen believes in the importance of becoming trusted advisors, and reports Penske achieves this by identifying and measuring key performance indicators (KPIs), which enables customers to clearly define their requirements upfront and helps the 3PL manage expectations. "We use our technology platform and face-to-face meetings to keep customers well-informed and build continuous improvement programs into all processes."
According to Suchevits excellent KPI alignment with shippers and partners is necessary from the get-go. "It's our job [the 3PL], to extract specifics from a company. Ideally this should be done before a contract is signed; that is the best time for both parties to align goals and establish a fair and equitable arrangement."
Sensing adds communication and collaboration is not a one-and-done proposition. "We also build in ongoing communication protocols, from regular calls and meetings to quarterly business reviews. This ensures constant communication and the ability to address issues, as well as opportunities, as they arise."
It helps to have strong relationships and touchpoints at multiple levels within the organization, adds Simonsen, who points out "relationships may start with a salesperson but are carried through to the operational level and go all the way to the senior decision makers."
Specialize and Innovate. Another path to success includes being an industry innovator. To that end, APL Logistics developed a multifunctional, simultaneous global optimization tool—ShipmentOptimzer; created an efficient cars-in-containers solution called AutoDirect; developed a warehouse carbon footprint calculator; introduced a robust supply chain collaboration tool known as ShipmaxAlliance; and brought private rail solutions—AutoLinx and IndiaLinx—to India.
Innovation also became easier when APL Logistics decided to specialize in four key vertical markets, rather than be, as Suchevits notes, "all things to all companies. We believe our focus on automotive, retail, consumer goods and industrials allows us to do a far better, stronger and more focused job of providing relevant solutions and services."
Ryder also puts its focus on key industries—automotive and industrial, consumer packaged goods (CPG), retail, technology and health care. "We have developed deep expertise in these industries, and understand their unique challenges. We are also very good at sharing best practices across industries," states Sensing. "Something that has worked well in a more mature supply chain environment, such as the automotive industry, can actually benefit a less developed supply chain model like what you might find in health care."
Employ Lean Principals. Lean strategies can help 3PLs eliminate waste and drive efficiencies. Saddle Creek ensures ongoing service excellence by establishing a culture of continuous improvement and incorporating Lean principals whenever possible to improve processes and drive out costs. This is an area APL Logistics has also looked to for successful improvements. Suchevits reports the company's Lean initiatives have "garnered more than $45 million in documented savings since their inception," and adds that they were able to "pass along more than half of those savings directly to customers."
Tackle Technology
The best solutions are those that focus on the customers' top priorities—processing and delivering orders faster, improving inventory visibility and ensuring seamless service across all channels," Sizemore says, and those that use technology, such as network optimization, product customization, fulfillment automation, and cost saving freight/parcel programs.
Saddle Creek has implemented a new warehouse management system (WMS) for omnichannel customers. This advanced technology gives customers visibility into current inventory, order management capabilities and integrated platforms to readily share information across channels. The company has also invested in automated fulfillment and material handling solutions (pick-to-light, automated label application/manifesting, etc. "We've also invested in top-tier transportation management solutions including a transportation management system (TMS), mobile communications and real-time reporting to enhance visibility, improve communication, increase efficiency and control costs," Sizemore says.
Ryder also considers technology an important part of its growth strategy. Its TranSync is a patent-pending automated tool that provides customers with dynamic transportation planning between their private fleets and third-party carriers. The tool helps customers make better transportation decisions and save money by analyzing the best combination of transportation modes at the lowest total network cost in real time.
Recruit the Right People
All of these things are for naught, however, if a company lacks the workers to do the job; a very real concern in today's 3PL world.
"Whether you are talking about the ongoing truck and driver shortage here in the United States, or the dearth of qualified warehouse personnel in India, our industry has a massive need for a wide range of supply chain talent that's not being adequately met through the current pipeline," says Suchevits. "All signs point to this becoming even more of a challenge, and ultimately limiting transportation flow in the next few years."
3PLs have had to get proactive and creative when recruiting workers to the fold. For the truck driver shortage, "Ryder has a network of 50 recruiters across the United States dedicated to recruiting driver talent," he says. "We've also launched initiatives to attract military veterans and women into our driver talent pool. We partner with the U.S. Chamber of Commerce Hiring Our Heroes program as well as Women in Trucking."
As a result, Ryder has seen its U.S. veteran workforce grow by 10 percent, and its driver population grow by 12.5 percent year over year.
While Penske also recruits diverse associates that includes veterans and recent graduates, but Althen states, "We've also ramped up our advertising efforts to boost awareness of our overall brand, and we're leveraging a variety of online and social media recruiting tactics."
Though 3PLs face a diverse and ever-changing landscape, all the 3PLs interviewed for this article agree on one thing, there is real opportunities for 3PLs as they move toward the future, especially with the growth of e-commerce and omnichannel retailing.
As things change, so too will 3PL, Althen predicts.
"There is a lot of activity in transportation management, and we are seeing the emergency of a hybrid dedicated/brokerage model, with larger emphasis on being placed on the use of Big Data in customer modeling," he says. "The market for outsourcing logistics services is growing at two to three times the rate of growth in the economy. Those providers who bring scale and expertise plus hands-on execution capabilities will be well positioned to grow."
The State of 3PL by the Numbers
44% - Report having difficulty in finding or attracting talent.
85% - Of 3PL providers say the use of 3PL services has contributed to overall logistics cost reductions.
88% - Said 3PLs offer new and innovative ways to improve logistics effectiveness.
94% - Of 3PL providers report successful customer relationships that yield positive results.
- Source: 2016 Third Party Logistics Study: The State of Logistics Outsourcing