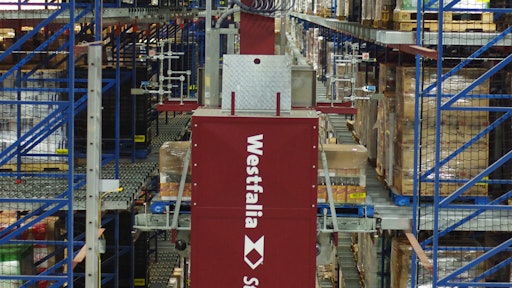 "Your neighborhood dry cleaner likely installed a garment-on-hanger carousel in the 1970s to hold more garments in the same space, give you your dry cleaning faster, and be certain they give you your suit and not your neighbors," analogizes Chris Lingamfelter, vice president of integrated system sales and strategy, Intelligrated. Now, warehouse and distribution organizations are doing the same thing with automated storage and retrieval systems (AS/RS), and for basically the same reasons: to increase storage density, boost pick rate, improve order accuracy and decrease labor costs. An AS/RS employs various computer-controlled systems to automatically place and retrieve loads from pre-specified storage locations. As opposed to a laborer physically moving from location to location, the AS/RS transports the items or stock-keeping units (SKUs) to the appointed laborer or destination.
"Increased online shopping now requires most distribution centers to pick, pack and ship smaller, more frequent orders. The most efficient way to process these orders is to use mini-loads or shuttles, which bring a case or tote to a goods-to-operator (GTO) picking station. Most distribution centers in the United States operate on a principal of operator-to-goods (OTG) whereby the operator has to travel to the product, either by walking or by riding on a vehicle," continues Lingamfelter. "An AS/RS turns this dynamic around, using a mini-load or shuttle system to automatically bring product to the operator. By eliminating the travel time, the operator becomes 25 percent more efficient in a highly dense batch-pick environment, and up to 75 percent or more in a large distribution center (DC) with single-order picking across very long travel distances. As with all automation equipment, distribution center operators trade capital investment in return for reduced operations expense.
Benefits of an AS/RS include:
A return on investment (ROI) that, although it varies, can range from three to five years.
Maximized storage density, potentially delaying costly brick-and-motor expansions.
Reduced labor and equipment costs, while increasing workplace safety.
Increased warehouse efficiency, accuracy and productivity.
Better inventory accuracy and reduced inventory levels.
The flexibility to grow the system in storage capacity and throughput.
A prospective lifespan of 20 to 25+ years.
Less land usage, lower energy consumption, less waste and lower maintenance costs.
Why AS/RS
According to Staci Cretu, marketing and communications manager at Westfalia Technologies, Inc., "Order fulfillment is more complex process than ever. In today's fast-paced business environment, customers demand and expect more, as their orders are more frequent, contain more diverse SKUs and require more customized solutions. There is no room for delay, errors or delivery of low-quality products. Integrating an AS/RS with warehouse materials-handling systems simplifies the picking process to improve order fulfillment.
"Due to driver shortages and high turnover rates, the reliability of trucks is adversely affecting the warehousing industry. In order to overcome today's trucking and transportation issues, and make the entire logistics plan more reliable, warehousing and distribution companies are implementing just-in-time (JIT) order fulfillment strategies. The idea behind JIT order fulfillment is to prepare orders right when the truck arrives on site, as efficiently and quickly as possible. However, with a manual labor force and a traditional warehouse storage system, JIT order fulfillment is almost impossible. Instead of spending more money, increasing staff or expanding existing real estate, organizations are looking to an AS/RS."
One of the reasons that AS/RS implementation is steadily on the rise now is because omnichannel and just-in-time fulfillment are exponentially becoming a business must. "Omni-channel fulfillment processes are placing critical constraints on materials-handling processes, in particular meeting specific shipping criteria—same day or next day," Chris Castaldi, director of business development at W&H Systems, says. "An AS/RS in this situation can stage items for shipping, and then properly sequence them for distribution, helping managers streamline their operations more efficiently. Ever higher speeds and multiple flows of items in storage are among the trends currently being seen in automated storage and retrieval systems for wholesale, retail and production warehousing."
Furthermore, there is more than one way to take advantage of an AS/RS's benefits. While the primary function of an AS/RS is the storage and retrieval of inventory, other applications can additionally enhance operational efficiency. These AS/RS applications can include:
Order picking to replace manual labor by automating the fulfillment process.
Product sequencing or buffering to improve the pallet-building process by enabling the sequenced palletizing of items in ways that comply with customer requests. This supports mixed-unit load, full-case break-pack order fulfillment, order consolidation and sequencing for route-based delivery
Manufacturing buffering to decouple manufacturing processes, permitting greater efficiency in staging or assembly.
Lingamfelter chimes in, "We believe that more and more AS/RS systems will be sold in North America. As these systems gain popularity, prices will fall, opening up more opportunity to apply the technology more broadly, benefiting more distribution center operators. They have been popular in Europe for some time, where land, wages and labor regulations are higher. However, a shrinking workforce and wage pressures, such as increases in the minimum wage, are creating a market in the USA that more closely resembles Europe. With Baby Boomers nearing retirement age, distribution centers are finding themselves having to increase productivity and accuracy with less labor. Adding an AS/RS system that reduces the labor content is an attractive solution for many DC operators."
"Especially when it comes to travel time between pick locations," Cretu concurs. "An AS/RS brings the products close to the shelves with high velocity, while the storage and retrieval machine (S/RM) assures that the picker always has product available in the right position. There is no redundant or repetitive manual material handling, so human error is minimized. On top of greater productivity and faster picking, distributors increase order accuracy and reduce product damage. Also, an AS/RS helps keep workers safe. There is no need for arduous lifting and forklifts are not driving around in the same aisles as people."
What's Out There?
The most advanced contemporary AS/RS can accommodate virtually any order-picking strategy. Cretu elaborates, "It is possible to incorporate pick tunnels within the rack structure to operate with pick-to-light/voice technologies, as well as to configure the system to handle products of various shapes and sizes, high movers and slow movers, and even non-palletized items. With an AS/RS, organizations can establish efficient picking processes, routes and sequences to enable better overall performance of the warehouse. Although the methods behind order picking will stay the same, the tools enabling it will become more advanced and in line with companies' specific needs."
Lingamfelter believes that business ROI is driving the implementation of AS/RS solutions: "Unlike other vendors who sell a widget, we design a solution around the customer's business objective. The technology used depends on the customer's objectives and the physical environment. Some of the factors we consider include the size of the warehouse, whether or not the product is ambient, the necessity of a cooler or freezer environment, how many SKUs in inventory and shipped per day, full or mixed-load pallets, semi-automated or fully automated, etc. Taking all of the design criteria and customer objectives into consideration assists us in determining the best solution to implement at a certain location."
Potential Sidebars
AS/RS Options
According to Chris Castaldi, director of business development at W&H Systems, there are three basic kinds of AS/RS:
Mini Load AS/RS
This AS/RS provides a high-speed, high-density buffer that replaces conventional static rack to maximize vertical storage space within a compact footprint. The mini load AS/RS moves and stores irregularly shaped goods or parts placed in: stacking totes, collapsible totes, nesting containers and case/cardboard boxes. Items are transported to and from this AS/RS by conveyor, shuttle fork, side belt, side clamp, sorting transfer vehicle (STV) or automatic guided vehicle (AGV).
Gantry Load AS/RS
This AS/RS incorporates a gantry or lifting beam design for optimum volume utilization and maximum performance. This type of AS/RS is designed for small load applications, and may be installed across a length of up to 32.8 feet and can be used for building heights of up to 59 feet. It accommodates different types of load handling devices, working as a compact and highly dynamic storage and retrieval solution for single- or double-deep storage of totes, cartons or trays.
Pallet Load AS/RS
This heavy-duty AS/RS automatically handles pallet loads, rolls or containers using lifting carriages with telescopic forks and/or cabs. Single- or double-deep loads can be accommodated, and pre-engineered extraction and insertion devices are available to suit your product type and size. Large products are handled gently and consistently.