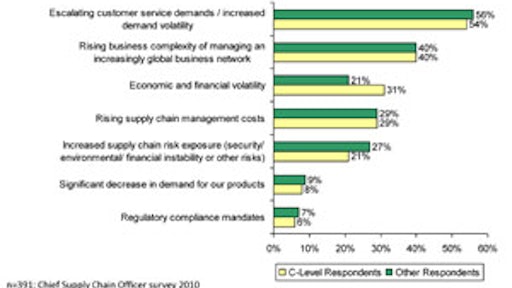 By Editorial Staff
A growing number of C-level executives view their supply chain capabilities as vital to differentiating their companies in the marketplace, and the chief supply chain officer has emerged as the key stakeholder for enabling supply chain transformation.
That is one of the top findings from the recent "2010 Chief Supply Chain Officers' Report," a collaboration between SCM World, a leading online global community for supply chain executives, and Aberdeen Group, one of the top industry analyst firms covering the supply chain space. The report was released at the CSCO Summit, held June 15-16 online with registered participants that included more than 2,500 senior global supply chain, operations, procurement and logistics executives.
Research for the report included a survey of 396 supply chain professionals, including 50 C-level executives. Just over half (56 percent) of the organizations surveyed were in manufacturing, while 23 percent were service providers, 11 percent distributors, 7 percent retailers and the remainder contract manufacturers.
The findings highlighted the increasing extent to which C-level executives, in particular, view supply chain capabilities as vital to their companies' success. While 33 percent of C-level respondents said that supply chain was a market strategy competitive differentiator, and 29 percent saw the function as a customer service competitive differentiator, just 19 percent of top-level executives viewed supply chain primarily as a cost-savings opportunity.
Interestingly, the corresponding figures for respondents from outside the C-suite (i.e., director/vice president or manager/head) were 21 percent, 28 percent and 31 percent, suggesting that Supply Chain, as a function, is still viewed in the enterprise at large more as a cost center than as a competitive differentiator.
Increasing Customer Demands
All the participants in the study largely agreed that heightened requirements from customers were the top pressure prompting organizations to focus on improving supply chain management within their organizations. In all, more than half of respondents (54 percent of C-levels, 56 percent of others) cited "Escalating customer service demands & increased demand volatility" as the leading pressure. Second on the list was "Rising business complexity of managing an increasingly global business network," cited by 40 percent of all respondents.
C-level executives are more focused on economic and financial volatility as a top concern (cited by 31 percent of C-levels, versus 21 percent of others). Practitioners outside the corner offices were more focused on increasing supply chain risk exposure, including security, environmental and financial stability (cited by 27 percent of "others," versus 21 percent of C-level respondents). (See Figure 1 above.)
The high regard for supply chain within the C-suites could be beneficial for Supply Chain as a function as it seeks approval to invest in new tools and new talent as enablers of transformation. However, the differences in perception of the supply chain within different constituencies in the enterprise could inhibit that transformation if Supply Chain is unable to express its requirements in a way that aligns with their senior leaders' view of the function's value.
Reuben Slone, executive vice president of supply chain at OfficeMax and co-author of "The New Supply Chain Agenda: The 5 Steps that Drive Real Value," notes in the report that supply chain executives must be able to "speak the language of the CEO, CFO and the board" to be effective. "Slone and other top performing supply chain leaders know that to be a part of driving company strategy, they have to relate all of their actions and results to what matters to the CEO," the report continues.
CSCOs Take Action
Not surprisingly, given the fragile state of the economy and generally weakened level of demand, the top action being taken by supply chain professionals to strengthen their companies was to reduce inventory at all levels, cited by 58 percent of C-level executives and 66 percent of other respondents. Roughly half of C-level and non-C-level participants in the study (54 percent and 52 percent, respectively) said that their companies had restructured the supply chain organization to gain additional efficiencies.
The report outlines the process capabilities essential to supply chain excellence and compares how "best-in-class" organizations apply those capabilities versus "average" and "laggard" enterprises. Nearly eight in ten (79 percent) of best-in-class organizations reported that they had the ability to find and access supply chain data necessary for decision-making, versus 58 percent of laggard organizations. Similar percentages applied to the application of cross-functional metrics (78 percent and 58 percent, respectively, for best-in-class and laggard organizations).
The gap was much narrower for more advanced capabilities, such as the ability to make mid-course changes to shipments through reallocation or re-routing of in-transit shipments. Here, only 35 percent of best-in-class organizations report having this capability, versus 28 percent for laggards.
The report also outlines the organizational and technological capabilities that distinguish best-in-class organizations from average and laggard enterprises, providing case studies that illustrate how critical capabilities can produce significant bottom line impact within diverse companies. In addition, the report provides recommended actions to help laggard and average organizations elevate their performance to best-in-class status, and advice for best-in-class organizations to continue their path to excellence.
The "2010 Chief Supply Chain Officers' Report" currently can be accessed free of charge (registration required) at www.scmworld.org.