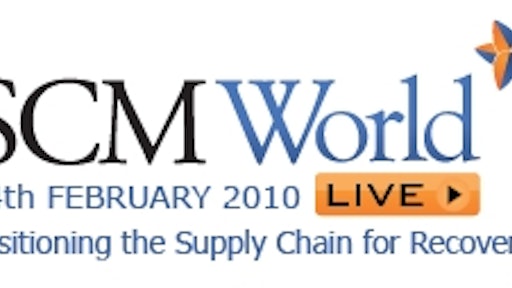 By Editorial Staff


Supply chain leaders looking to bring competitive advantage to their enterprises must focus not only on the traditional metrics of operational excellence but also on metrics tied to innovation excellence if they hope to succeed.

That was the message delivered by Kevin O'Marah, group vice president of supply chain research with Gartner Research, to the audience of senior supply chain executives attending the SCM World Live 2010 virtual conference.

O'Marah kicked off the February 24 event, held in an online environment for more than 3,500 registered attendees, with a talk on "Critical Success Factors Driving Supply Chain Leaders," presented in conjunction with Quentin Roach, senior vice president and chief procurement officer at Bristol-Myers Squibb, and Robert Blackburn, senior vice president and global head of supply chain at BASF.

Senior supply chain executives from global enterprises Eaton Corporation, Electrolux, GE Aviation, IBM, Jarden Corp, OfficeMax and Vodafone Procurement Company also spoke at the event, which included keynote presentations by Professor Hau L. Lee, of the Stanford Graduate School of Business, and Nari Viswanathan, vice president and principal analyst in the Supply Chain Management Practice at Aberdeen Group.

The event, free for registrants, provided a venue in which to hear top thinkers in the industry and to network with leading analysts, academics and fellow participants. (Supply & Demand Chain Executive was the Platinum Media partner of the event.) Interested supply chain executives who missed the event can still view and listen to the recorded presentations on demand, as well as access slide decks or download podcasts of the speeches, at www.scmworldlive.com.

Building Innovation Excellence

In his opening talk, AMR's O'Marah said that introducing the concept of competitive advantage into the conversation around supply chain takes the topic of supply management outside its traditional functional realm. To bring competitive advantage to the business, he explained, supply chains need to be measured against two dimensions, both operational excellence (with traditional metrics like perfect order and total supply chain cost) and innovation excellence (which includes measurements like time-to-value and return on research and development). Driving innovation excellence requires that the three principle domain areas within the enterprise — Supply Management, Demand Management and Product Development — operate in alignment with one another. "If the three domains of the business understand one another and work well together, a business should be able to achieve higher cash flows, higher profits and ... a higher price-to-earnings multiple," O'Marah said.

O'Marah cited research comparing how different companies define the scope of what falls under the purview of supply chain management within their organizations, using AMR Research's Top 25 Supply Chains as the benchmark for excellence. The research showed that while most organizations include such traditional functions as plan, source and deliver within the realm of supply chain management, Top 25 enterprises are significantly more likely to also include such functions as new product design and launch, post-sales support, customer management, and strategy and change management.

Quentin Roach with Bristol-Myers Squibb followed O'Marah and offered a concrete example of how the supply management organization is extended its reach into activities that traditionally had been left to other functions in the enterprise. Risk management has traditionally been viewed as addressing issues like supply continuity and supplier monitoring. But at Bristol-Myers Squibb, Roach said, supply chain has worked to redefine risk management to also encompass issues like financial solvency of suppliers and problem resolution that previously might have been handled exclusively by the finance or quality functions, respectively.

Lessons from the Downturn

In the presentation "Lessons Learned in the Downturn — Using the Recession as a Catalyst for Supply Chain Innovation," Bjorn Vang Jensen vice president, global freight and logistics services with Electrolux, discussed how his company had responded to the downturn, in part, by seeking out areas where supply management could drive immediate benefits — a task that he described as "extraordinarily hard." The challenge for Electrolux, as for any company of size, is tied up in the changing nature of the supply chain itself. "The view of the supply chain as a sequential chain is a hopelessly outmoded way of looking at business," Vang Jensen noted. "Supply chains long ago changed into supply webs with an almost incomprehensible interconnectedness of the individual elements."

Nevertheless, Vang Jensen spotlighted several areas where Electrolux took action as the recession took hold. For example, the company moved quickly to renegotiate service provider contracts, but it ensured that this was only done in a mutually rewarding and voluntary fashion. "One of the means we applied was to offer suppliers the opportunity to reduce charges in exchange for perhaps either more volume and/or longer-term contacts," Vang Jensen said. "And we found a lot of suppliers were very willing to engage in this type of initiative."

Looking Ahead

Oliver M. Sloane, managing director of SCM World Live organizer RaptureWorld, said that response was extremely positive to the live event, with more than 2,500 attendees during the course of the day and many more logging in after the event to access the presentations and download slide decks and audio podcasts of the discussions.

"The feedback on the event has been exceptional — and that's from speakers, delegates and sponsors," said Sloane. "I've had numerous conversations with senior supply chain executives who attended, and all have been very positive. I think people were fairly blown away with the quality of the content, coupled with the fact that there was no fee to attend and of course no travel costs or time out of the office."

Sloane said that as a result of the conference, his organization has received many inquiries from supply chain, procurement and operations executives interested in joining the SCM World online community (www.scmworld.org) to access similar content available on a member's only basis.

The next event for SCM World is the Chief Supply Chain Officers' Summit, a two-day virtual event scheduled for June 15-16, 2010. Confirmed speakers for the event include supply chain and IT leaders from such companies as Cardinal Health, Carlsberg, Cisco, Goodrich Corporation, Johnson & Johnson, LG Electronics, Motorola, Unilever and Volvo. More information on this upcoming event is available at www.cscosummit.com. ¦

More information on the SCM World Live 2010 virtual conference also is available at www.SDCExec.com/SCMWorldLive2010.


Companies in this article