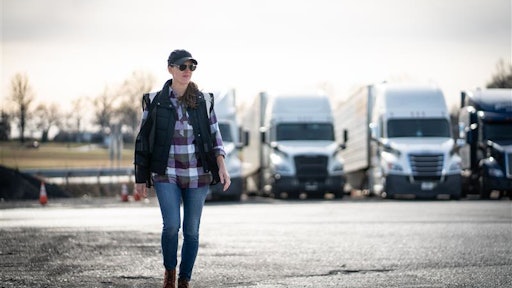 5m3photos
The drastic transformation of the global transportation situation continues to have a multi-faceted and rippling effect on the economy. With 70% of goods in the United States being delivered by truck, we are heavily dependent on truck drivers for our supply chains in the country. Not only are these drivers used for domestic goods, but they are also critical to moving imported goods into the country once they arrive at the ports. Drivers play a major role, but now we are facing a shortage of 80,000 drivers and this number continues to grow.
What's the reason? For one, the commercial driver's license (CDL) requirements are difficult for recruiting. In order to drive federally across state lines, you must be 21 years old, but most 18 year olds go into other trades and don't switch to trucking when they turn 21. The average age of drivers is also getting older with limited younger driver replenishment. Another key issue? The lifestyle is difficult as drivers are solitary, sedentary, away from home and given poor accommodations. Pay has also historically lagged compared to other trades.
The trucking industry is the lifeblood of the worldwide economy and with the trucker shortage at an all-time high, we cannot afford the likely outcome of this doubling by 2030. So how can we fix this problem?
Prioritize efficiency
To truly overcome the driver shortage and come back stronger, the industry must address critical issues head-on and adopt major changes to retain drivers long-term. One of the largest problems is consumer goods not being readily available as needed. If that wasn't a problem in itself, the added issue of shippers not having accessibility or control of the technology and tools they need to correct it is only making matters worse. Providing shippers with attainable access and control to both operations and business opportunities will begin to lift this noticeable strain.
Since the driver pool is limited, the way to extract more capacity is to be more efficient in the use of trucks. Technology is used to make smart decisions on what transport mode to use and aggregate or consolidate freight. Technology can also play a critical role in measuring and improving the loaded weight inside trucks, given the fact that the current average weight is well below the available capacity of these trucks. New technologies also allow shippers to make more efficient use of loaded miles vs. empty miles and limit the amount of downtime in loading and unloading, creating more efficiency across the board.
Improve the ecosystem for drivers
One critical component of solving the driver shortage problem is by making drivers more appreciated within the supply chain. One way to do this is improving driver accommodations at the point of loading, unloading and while on the highway. Additionally, while women make up 46% of the overall workforce, they only make up 6% of the total driver workforce. Improved conditions could make this potential workforce more comfortable choosing driving as a career option.
To strengthen relationships with drivers, certain changes in policy that put the driver first must be considered including increased pay and improved working conditions. Additionally, businesses can offer new incentives such as stipends for trucking training or "guest worker programs" to fill in gaps in scheduling. Increasing compensation and benefits can also increase the driver pool. At the right price point, more people will be willing to drive versus considering other career decisions.
Recognize the urgent call for transparency
Transparency and honesty will be essential in the recovery and stabilization of the supply chain in the year ahead. By utilizing real-time data, importers are given direct access to a transparent and singular point of truth throughout the supply chain. But, this transparency needs to carry over to the drivers as well.
Modifications must be made to traditional practices and trucking companies should work with shippers who prioritize technology to improve the overall transportation management process. It's critical that the industry makes the shift toward more efficient shipping transactions and accessible transactional data that provides full visibility across the board.
Learning to adapt and create solutions that prioritize drivers and move goods in the fastest, most cost-effective manner will not only save time and energy but will ultimately create a more efficient system. This will be an evolving process – one that will need to be adapted and modified to have the most successful outcome for easing the driver shortage problem. By starting with transparency about what is being adopted and what is or isn't working, we will head toward a healthier future of the industry – one that is built on supporting frontline transportation workers.